Main content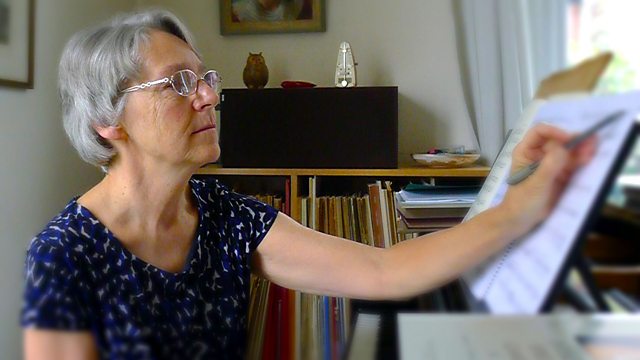 Nicola LeFanu talks about her research and publications about the neglect of female composers. With A Penny for a Song, Invisible Places and The Story of Mary O'Neill (excerpt).
Nicola LeFanu chats with Donald Macleod about her research and publication on the neglect of women composers
Composer Nicola LeFanu has been at the heart of British contemporary music for several decades, and at the forefront of promoting the works of her fellow women composers. In 2017 LeFanu turns seventy, and in conversation with Donald Macleod she looks back at her distinguished career including commissions from many leading artists. LeFanu also chats about some of the composers who have influenced her including her mother Elizabeth Maconchy, and also her husband David Lumsdaine.
By the mid-1980s Nicola LeFanu was busy working on another opera, this time a commission from BBC Radio 3. 'The Story of Mary O'Neill' is a work specifically for the radio and is about the fortunes of an Irishwoman who emigrates to South America. As LeFanu's career in the UK went from strength to strength, she researched and published an article called 'Master Musician: An Impregnable Taboo'. This article provided details and statistics demonstrating that the work of women composers were being neglected at that time. Her research received a lot of attention, and in 1987 LeFanu also became a founding member of Women in Music. One year later, LeFanu composed her 'Lament', to mark two significant anniversaries: firstly it was the year when Nelson Mandela turned seventy, but was still in prison; secondly, 1988 was also the year in which Australia celebrated its bicentennial marking the arrival of British settlers.
A Penny for a Song
Tracey Chadwell, soprano
Pamela Lidiard, piano
Invisible Places
Gemini
The Story of Mary O'Neill (excerpt, Scene 2)
Mary ..... Sarah Leonard (soprano)
BBC Singers
John Poole, conductor
Elizabeth Maconchy: Symphony for Double String Orchestra (1st mvt)
BBC Scottish Symphony Orchestra
Odaline de la Martinez, conductor
Nicola LeFanu: Lament
Bridget Cary, viola
Kate Romano, bass clarinet
Jinny Shaw, cor anglais
Neil Heyde, cello
Producer Luke Whitlock.