Main content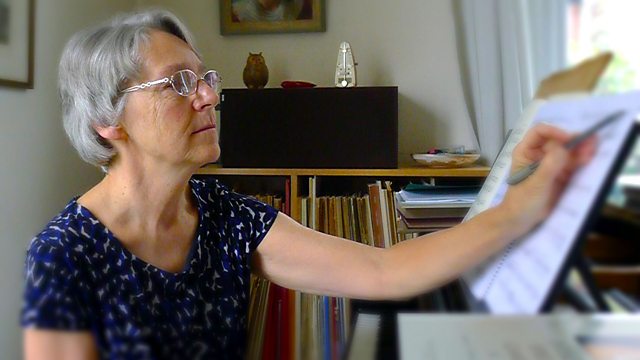 Studying in Oxford and London
Donald Macleod hears from British composer Nicola LeFanu about how she was inspired by the music of Alexander Goehr.
British composer Nicola LeFanu talks to Donald Macleod about being inspired by the music of Alexander Goehr
Composer Nicola LeFanu has been at the heart of British contemporary music for several decades, and at the forefront of promoting the works of her fellow women composers. In 2017 LeFanu turns seventy, and in conversation with Donald Macleod she looks back at her distinguished career including commissions from many leading artists. LeFanu also chats about some of the composers who have influenced her including her mother Elizabeth Maconchy, and also her husband David Lumsdaine.
Nicola LeFanu was born into a creative environment. Her father was the scholar and writer William LeFanu, and her mother the composer Elizabeth Maconchy. LeFanu didn't set out to be a composer and initially was more interested in the theatre. One seminal moment came when she heard music by Alexander Goehr, The Deluge. LeFanu subsequently started to compose more works, whilst her musical language changed. From this point onwards she received tuition from various composers, including Jeremy Dale Roberts and then Alexander Goehr. LeFanu didn't remain long studying with one person for as she puts it, she didn't want to be told the answers but instead find these out for herself. Her first critical success was a work for solo oboe called Soliloquy, which was published whilst she was still studying at Oxford. From there LeFanu went on to the Royal College of Music, and after this made her way in London as a freelance composer.
A Penny for a Song (Seas are Wild Tonight)
Tracey Chadwell, soprano
Pamela Lidiard, piano
But Stars Remaining
Alison Smart, soprano
Jeremy Dale Roberts: Winter Music
Lontano
Odaline de la Martinez, conductor
Nicola LeFanu: Soliloquy
Jinny Shaw, oboe
The Same Day Dawns
Jane Manning, soprano
Kathryn Lukas, flute
Ian Mitchell, clarinet
Adrian Levine, violin
David Smith, cello
James Wood, percussion
Nicola LeFanu, conductor
Producer Luke Whitlock.
More episodes
Previous
You are at the first episode