Main content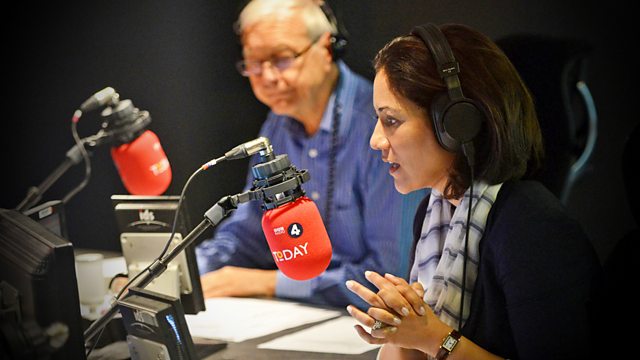 28/04/2017
Morning news and current affairs. Including Yesterday in Parliament, Sports Desk, Weather and Thought for the Day.
Today's running order
0650
Donald Trump has said that a "major conflict" is possible with North Korea though he would prefer to solve the standoff over the country's nuclear and missile programme through diplomacy. Victor Gao is a Chinese foreign relations expert.
0710
UKIP Leader Paul Nuttall will launch his party's campaign for the general election with a speech in London today. Mr Nuttall has confirmed he will stand for Parliament in the election ending days of speculation about whether or not he would run for a Commons seat.
0720
Labour has pledged to build a million new homes over five years if it wins power at the general election. Jonathan Goring is the managing director of Lovell.
0725
A man carrying knives near the Houses of Parliament has been wrestled to the ground by armed police and arrested on suspicion of terrorism offences. Lord Carlile is the former independent reviewer of terrorism legislation.
0730
Today will be exploring some of the big issues ahead of the 2017 general election. Mishal Husain broadcasts from a development of new homes in Merseyside and speaks to Michael Sergison who dreams of buying his own home.
0740
Liverpool is gearing up for huge celebrations to mark the 50th anniversary of The Beatles' Sgt. Pepper's Lonely Hearts Club Band. Claire McColgan is the artistic director at Liverpool City Council and commissioner for Sgt Pepper at 50: Heading for Home.
0810
There are an estimated 250 thousand new households created in England but far fewer new homes are being built. Those that do exist are often unaffordable to buy or rent for those on average incomes. Mishal Husain broadcasts from a new housing development in Merseyside in Victoria Place and speaks to Housing Minister Gavin Barwell.
0830
Who are the unlikely Americans who voted for Donald Trump? Justin Webb has been looking at communities whose view of Trump and of Republicans is not as clear-cut as commentators thought it would be.
0835
A special fund set up to improve patient access to cancer drugs in England has been condemned as a 'huge waste of money'. Baroness Delyth Morgan is the crossbench peer and chief executive of the charity Breast Cancer Now.
0840
Tim Farron, leader of the Liberal Democrats, has announced a manifesto pledge to reverse a Conservative decision to end the housing element of Universal Credit for 18 to 21 year olds. John Shipley is the Liberal Democrat shadow minister for housing.
0845
"The housing market is broken" was the government's own admission in its White Paper on housing in February. Anne Baxendale is the director of policy at Shelter and and Dr Olivier Sykes is lecturer in European Spatial Planning.
All timings subject to change