Main content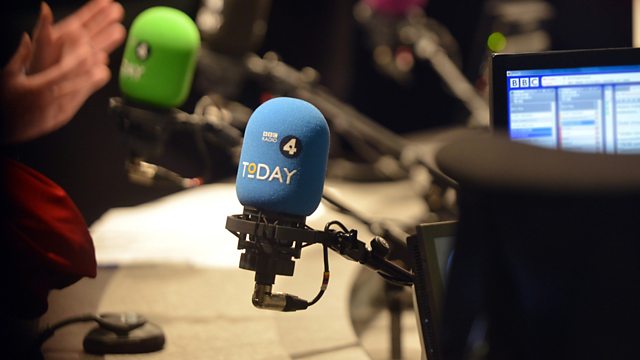 27/04/2017
Morning news and current affairs. Including Yesterday in Parliament, Sports Desk, Weather and Thought for the Day.
Last on

Today's running order
0650
In Australia, a Christian lobby group has called for Britain to keep out of the country's long running debate on same-sex marriage. Hywel Griffith reports from Canberra.
0710
Labour will produce figures that show its councils are building an average of nearly 1,000 more homes than their Tory counterparts. Jeremy Corbyn has pledged to build a million homes over five years - half of them council houses. John Healey is the shadow housing secretary.
0720
The General Affairs Council is meeting this morning in Luxembourg to discuss the draft guidelines for the Brexit negotiations. Katya Adler is the BBC's Europe editor.
0730
Controllers and scientists must wait until Thursday to hear from the probe Cassini which has been sent to Saturn. Professor Carl Murray is the only UK member of the Cassini Imaging Team.
0740
A new exhibition of Pablo Picasso's art opens this week at the Gagosian Gallery in London around the theme of minotaur's and matadors. The BBC's Nicola Stanbridge reports.
0750
US senators have been briefed by the Trump administration on the seriousness of the threat from North Korea, and the President's strategy for dealing with it. Paul Wolfowitz is the former US deputy secretary of defence under George Bush.
0810
Boris Johnson has used his first intervention in the election campaign to mount the Conservatives' most personal attack yet on Jeremy Corbyn. Boris Johnson is the foreign secretary.
0830
TV presenter Diane Louise Jordan who was accused of harassment has been found not guilty. The young woman who made the claims about Diane Louise has pleaded guilty to perverting the course of justice. She was given an 18-month suspended sentence.
0835
Two years ago the sole Conservative MP in Scotland held on as the SNP took 56 of the 59 seats. This year the Tories are hoping to win as many as 10 seats in June. Scotland Editor Sarah Smith reports.
0840
Statistics from the Crime Survey for England and Wales (CSEW) and police recorded crime are published by the Office for National Statistics. How useful are statistics when it comes to understanding crime in society? Tom Gash is visiting professor in criminology at the University of Kent and Tom Gash is author of Criminal: The Truth about Why People Do Bad Things'.
0850
The White Working Class are largely completely misunderstood by apparently "elite liberal" policy makers according to the thesis of a new book by an American law professor. Joan C Williams is author of White working class cluelessness in the America and Professor Matthew Goodwin is professor of politics at the University of Kent.
All timings subject to change
Broadcast