Main content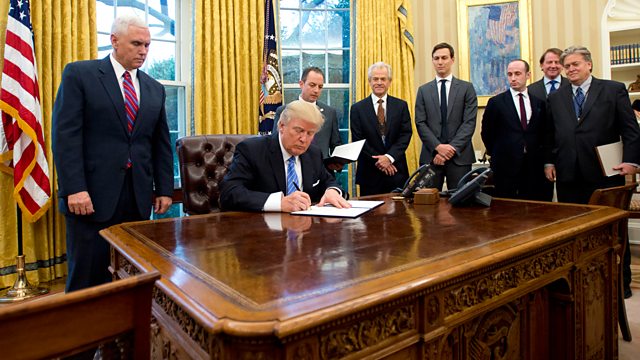 What has Trump done for women? Grandparenting, Erin Kelly, Stalking
What has Trump done for women in 100 days? How does it feel when your grandchildren move abroad? Tackling stalking online and in the real world. Erin Kelly on writing about rape.
New research into stalking and homicide suggests that stalking plays a part in more than nine out of ten murders of women by men. And they say it can happen within a relationship - a fact the law fails to recognise. And they found surveillance, which can include stalking on social media, in more than six out of ten cases. The research by the Suzy Lamplugh Trust and the University of Gloucester looked at over 350 instances of homicide when a woman was killed by a man. So what is stalking and what's the link between stalking, violence and even murder? And what needs to be done to tackle the problem? Jane is joined by Victoria Charleston, Senior Policy Officer of the Suzy Lamplugh Trust, and by Dr Jane Monckton Smith, who wrote the report.
What's the impact on grandchildren and grandparents when adult children decide to move abroad? Jane Garvey talks to a listener whose son and daughter-in-law have decided to leave the UK for a new life in Auckland, taking their three young children with them, Helen Russell, British mum and author of Leap Year who lives in Denmark with her husband and young son, and clinical psychologist Dr Angharad Rudkin from Southampton University.
Diana Furchtgott-Roth, who was a campaign advisor and part of the Trump transition team, and Hadley Freeman, Guardian columnist, discuss the impact on US women so far of the first hundred days of Donald Trump's presidency.
Erin Kelly's fifth novel, He Said/She Said is a psychological thriller with sexual violence at its centre. One of the main characters, Laura interrupts a man and a woman. Months later, she finds herself the star witness at a rape trial, her ordeal second only to the victim's own. Her doubts only creep in after the verdict. Here, the question is not whodunnit but did he really do it? Erin talks to Jane about the difficulties of using rape as the engine of a plot and the responsibility she felt while writing this novel to real-life victims of sexual violence.
Presenter: Jane Garvey
Producer: Erin Riley.
Last on
Chapters
Grandparenting

Duration: 13:25

What has Trump done for women?

Duration: 09:52

Erin Kelly

Duration: 09:42

Credits

| Role | Contributor |
| --- | --- |
| Interviewed Guest | Diane Furchtgott-Roth |
| Interviewed Guest | Hadley Freeman |
| Interviewed Guest | Erin Kelly |
| Interviewed Guest | Helen Russell |
| Interviewed Guest | Angharad Rudkin |
| Presenter | Jane Garvey |
| Producer | Erin Riley |

Broadcast
Podcast
Women's voices and women's lives - topical conversations to inform, challenge and inspire.