Main content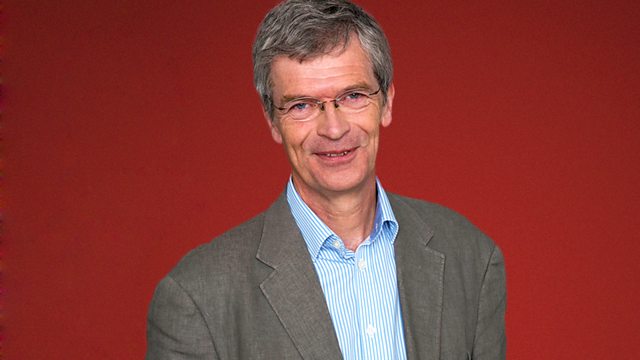 22/04/2017
Alyn Shipton's selection includes requests for tracks by pianist and composer George Shearing on the day a blue plaque is unveiled in London in his memory.
Performers:
Artist  George Shearing
Title  Conception
Composer Shearing
Album  From Battersea to Broadway
Label  Proper
Number  Properbox 40 CD 4 Track 3
Duration  2.57
Performers George Shearing, p; Marjorie Hyams, vib; Chuck Wayne, g; John Levy, b; Denzil Best, d. 27 July 1949.

Artist  Louis Armstrong
Title  Dardanella
Composer Bernard / Black / Fisher
Album  Louis Armstrong Box
Label  Storyville
Number  108 8609 CD 4 Trck 5
Duration  2.38
Performers: Ed Hall, cl; Billy Kyle, p; Dale Jones, b; Barrett Deems, d. 23 June 1956. Plus long notes at the end from Louis Armstrong, t; and Trummy Young, tb.

Artist  Harry Sweets Edison
Title  The Very Thought of You
Composer Noble / Chadwick / Gosling
Album  The Swinger
Label  Verve
Number  314 559 868-2 CD 1 Track 2
Duration  6.05
Performers Harry Edison, t; Jimmy Forrest, ts; Jimmy Jones, p; Freddie Green, g; Joe Benjamin, b; Charlie Persip, d. Sep 1958

Artist  Oxford Classic Jazz
Title  You're the Cream in my Coffee'
Composer Brown / Da Sylva / Henderson
Album  Put t'Kettle On Lad
Label  OCJB
Number  CD008 Track 13
Duration  3.23
Performers Mike Wills, cl; Nick Gill, p; Ian Joachim, tu; Andy Crisp, d.

Artist  Nat Gonella
Title  Blue Turning Grey Over You
Composer Waller / Razaf
Album  British Traditional Jazz a Potted History
Label   Lake
Number  LACD 3000 CD 1 Track 3
Duration  3.15
Performers Nat Gonella, t, v; Pat Smuts, ts; Harold Hood, p; Jimmy Messini, g; Tiny Winters, b; Bob Dryden, d. 10 Jan 1936.

Artist  Dick Hyman
Title  Wild Cat Blues
Composer Fats Waller, Clarence Williams
Album  Gulf Coast Blues
Label  Stomp Off
Number  SOS 1141 Side A Track 4
Duration  4.18
Performers Dick Hyman, p. 1986

Artist  George Shearing / Mel Tormé
Title  Pick Yourself Up
Composer Fields, Kern
Album  Complete Concord Recordings
Label  Concord
Number  CCD7 2144-2 CD 7 Track 12
Duration  4.21
Performers Mel Tormé, v; George Shearing, p; John Leitham, b; Donny Osborne, d. 1990.

Artist  Gerry Mulligan / Astor Piazzolla
Title  Anos de Soledad
Composer Piazzolla
Album  Summit
Label  Ariola
Number  88.874-1 Track 3 
Duration  4.07
Performers:  Astor Piazzolla, bandoneon; Gerry Mulligan - baritone; Angel "Pochi" Gatti – teclados; Tullio De Piscopo – drums; Giuseppe Prestipino – electric bass; Albert Baldan – marimba; Gianni Zilioli – marimba; Fillipo Dacco - guitar; Bruno De Filippi - guitar; Umberto Miguel Ángel Benedetti – violin; Renato Riccio – viola; Ennio Miori –cello; Orquesta de Cuerdas, 1975

Artist  Paul Gonsalves
Title  Bluz For Liz
Composer Burrell
Album  Cleopatra Feelin' Jazzy
Label  Impulse
Number  AS 41 Side 1 Track 3
Duration  5.40
Performers Paul Gonsalves, ts; Dick Hyman, org; Hank Jones, p; Kenny Burrell, g; George Duvivier, b; Roy Haynes, d. 1963
Artist  Al Jarreau
Title  Spain
Composer Corea, Jarreau, Maren
Album  This Time
Label  Warner
Number  Track 6
Duration  6.31
Personnel:  Al Jarreau, v; Larry Williams, kb; Abraham Laboriel, b; Steve Gadd, d. 1980

Artist  Freddy Randall
Title  Since My Best Gal Turned Me Down
Composer Quicksell / Ludwin
Album  Great British Jazz: As Good as It Gets
Label  Smith and Co
Number  1143 CD 1 Track 4
Duration  2.47
Performers:  Freddy Randall, t; rest tbc.

Artist  Erskine Hawkins
Title  Tuxedo Junction
Composer Dash / Hawkins / Johnson
Album  L'Histoire des Big Bands
Label  Chante Du Monde
Number  574 1481.90 CD 4 Track 11
Duration  3.16
Performers:  Erskine Hawkins, Dud Bascombe, Sam Lowe, Marcellus Green, t; Edward Sims, Robert Rangem tb; William Johnson, Jimmy Mitchelle, Julian Dash, Haywood Henry, reeds; Avery Parrish, p; William McLemore, g; Leomie Stanfield, b; James Morrison, d. 18 July 1939.

Artist  George Shearing
Title  Send in the Clowns
Composer Sondheim
Album  My Ship
Label  Verve
Number  821664-2 Track 12
Duration  4.32
Performers G Shearing, p, v.