Main content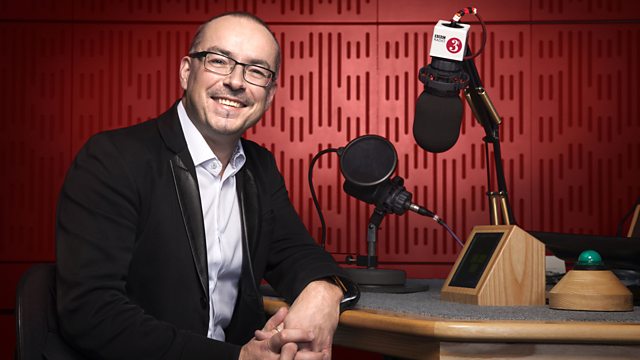 Andrew McGregor with William Mival and Kate Molleson
Andrew McGregor celebrates Record Store Day 2017. With Building a Library: Mahler's Symphony No 2; Music reviews, focusing on mainly 21st-century music; Disc of the Week.
Andrew McGregor celebrates Record Store Day 2017 and 60 years of Record Review with a special programme broadcast live from Spiritland, a listening café just north of King's Cross in London.
0930
Building a Library: William Mival assesses recordings of Mahler's epic Symphony No. 2 'Resurrection' and makes a recommendation.
A journey from the darkness of a funeral march via the terror of the Last Judgement through to the light of redemption and, finally, resurrection is not to be undertaken lightly. In the case of Mahler's second symphony it takes around 80 minutes and needs a massive orchestra including 10 horns, 8 trumpets, 4 trombones and a battery of percussion with 2 sets of timpani, bass drum, cymbals, tam‑tams, snare drums, bells (and a twig cluster). It also calls for organ, soloists and chorus.
Since its first recording in 1924 the 'Resurrection' has been a challenge for sound engineers, big-name conductors and orchestras alike, all striving for the cathartic transcendence a great performance should deliver.
1035
Andrew Rose of Pristine Audio describes how he uses the latest digital technology to make old recordings sound better than ever before.
1055
Kate Molleson reviews recent releases of mainly 21st-century music.
1145
Andrew chooses an outstanding recent release on vinyl as his Disc of the Week.
Last on
9am
STRAVINSKY: The Firebird (Suite, 1911); Petrushka; The Firebird (Suite, 1919); Les cinq doigts; No. 2 from Three Easy Pieces; Valse pour les enfants; The Rite of Spring (Part I: The Adoration of the Earth)
MOZART: Fugue in C Minor, K426
Beecham Symphony Orchestra, Sir Thomas Beecham (conductor), Royal Albert Hall Orchestra, Sir Eugene Goossens (conductor), Berlin State Opera Orchestra, Oscar Fried (conductor), Igor Stravinsky (piano), Philadelphia Orchestra, Leopold Stokowski (conductor), Soulima Stravinsky (piano)
PRISTINE CLASSICAL PASC496 (CD)
Tchaikovsky: "1812" Overture & Capriccio Italien - Vinyl Edition
TCHAIKOVSKY: 1812 Overture Op. 49; Capriccio italien Op. 45
Minneapolis Symphony Orchestra, Antal Dorati (conductor)
MERCURY 4789757 (2 Vinyl LPs)
Reich: Clapping Music & other works
REICH: Clapping Music; Music for Pieces of Wood; Sextet
Neil Percy, LSO Percussion Ensemble
LSO LIVE LSO5073 (LP)
Pieces of Africa
ADDY, O: Wawshishijay for vocals, Donno, Brekete, Pretia, Gidi & Aketse "Our Beginning"
EL DIN: Escalay for tar & string quartet "Waterwheel"
HAKMOUN: Saade for voice, sintir, oud, bander & string quartet ("I'm Happy")
MARAIRE: Mai Nozipo, for ngoma, hosho & string quartet ("Mother Nozipo"); Kutambarara, for vocals, mbira, hosho, chorus & string quartet ("Spreading")
SUSO: Tilliboyo for kora & string quartet ("Sunset")
TAMUSUZA: Ekitundu Ekisooka for string quartet
VOLANS: String Quartet No. 1 - White Man Sleeps
Kronos Quartet, with Hassan Hakmoun, Dumisani Maraire, Foday Musa Suso, Hamza El Din
NONESUCH 7559794495 (2 LPs)
Handel: Neun Deutsche Arien & Brockes-Passion
HANDEL: Neun deutsche Arien, HWV202-210; Brockes Passion HWV 48
Ina Siedlaczek (soprano), Lautten Compagney, Wolfgang Katschner (lute and director)
AUDITE AUDITE97729 (CD)
9.30am - Building a Library
Composer: Gustav Mahler
Piece: Symphony No. 2 in C minor, 'Resurrection'
Reviewer: William Mival
Building a Library: Mahler's Symphony No. 2 in C minor, 'Resurrection'
Recommended recording:
Arleen Auger, Janet Baker, City of Birmingham Symphony Orchestra, City of Birmingham Symphony Chorus, Simon Rattle (conductor)
Available in a compilation set: Simon Rattle – The CBSO Years
WARNER CLASSICS 2564610055 (52CD) 
Or individually as a download
Other recommended recordings:
Below is a shortlist of other recordings which William Mival also liked, although we can't guarantee the availability of these discs.
Kathleen Battle (soprano), Christa Ludwig (mezzo), Konzertvereinigung Wiener Staatsopernchor, Vienna Philharmonic Orchestra, James Levine (conductor)
ORFEO C837112B (2CD)
Victoria Elliot (soprano), Eugenia Zareska (mezzo), Halle Orchestra, Sir John Barbirolli (conductor)
BARBIROLLI SOCIETY SJB107879 (2CD)
Eteri Gvazava (soprano), Anna Larsson (contralto), Orfeon Donostiarra, Lucerne Festival Orchestra, Claudio Abbado (conductor)
DG E4775082 (2CD)
10.30am – Pristine Audio
Pristine Audio founder Andrew Rose describes the extraordinary work involved in restoring old recordings to and beyond their former glory with examples from the 30s, 40s and 50s with artists including Alfred Cortot, Arturo Toscanini and Serge Koussevitzky. 
10.55am – New contemporary releases with Kate Molleson
FELDMAN, M: Three Voices
Juliet Fraser
HAT HUT RECORDS hat[now]ART198 (CD)
Mala Punica
WEEKS: Mala punica; Walled Garden
Exaudi, Hortus Ensemble, James Weeks (conductor)
WINTER AND WINTER 9102392 (CD)
Kate Whitley: I am I say
WHITLEY: I am I say; Viola Concerto; Five Piano Pieces; Three Violin and Piano Pieces; Duo for Violin and Viola
Sarah-Jane Lewis (soprano), Ashley Riches (bass), The Multi-Story Orchestra, Choirs from Kender, Lyndhurst and John Donne Primary Schools, Peckham, Shiry Rashkovsky (viola), Rolf Hind (piano), Eloisa Fleur-Thorn (violin), Kate Whitley (piano), Asher Zaccardelli (viola), Christopher Stark
NMC NMCD229 (CD)
Raindamage
HANSSON, U: Þyo; Skin continuum
SIGURDSSON: Raindamage; Antigravity
VILMARSSON: noa::ems; [:n:]
Nordic Affect
DORIAN SONO LUMINUS SLE70008 (CD)
Howard Skempton: The Rime of the Ancient Mariner
SKEMPTON: Only the Sound Remains; The Rime of the Ancient Mariner
Christopher Yates (viola), Roderick Williams (baritone), Birmingham Contemporary Music Group, Martyn Brabbins (conductor)
NMC NMCD234 (CD)
Finland: Choral Works
LINKOLA: Mieliteko
RAUTAVAARA: Canticum Mariae virginis; Cancion de nuestro tiempo - Song of Our Time; Orpheus singt
SAARIAHO: Nuits, adieux
SIBELIUS: Rakastava, JS160c (text: Kanteletar); Finlandia Op. 26
TALVITIE: Kuun kirje
Vokalensemble Stuttgart, Marcus Creed (conductor)
SWR MUSIC SWR19031CD (CD)
11.45am – Highlight from the BBC Music Magazine awards
MOZART: Don Giovanni, K527
Dimitris Tiliakos (Don Giovanni), Vito Priante (Leporello), Myrto Papatanasiu (Donna Anna), Kenneth Tarver (Don Ottavio), Karina Gauvin (Donna Elvira), Guido Loconsolo (Masetto), Christina Gansch (Zerlina), Mika Kares (Il Commendatore), MusicAeterna, MusicAeterna Choir, Teodor Currentzis (conductor)
SONY 88985316032 (3CDs or 4LPs)
11.50am – Disc of the Week
Shostakovich: Cello Concertos (The Russian Years)
SHOSTAKOVICH: Cello Concerto No. 1 in E flat major Op. 107; Cello Concerto No. 2 in G minor Op. 126
Mstislav Rostropovich (cello), Moscow Philharmonic Orchestra, Gennady Rozhdestvensky (conductor), USSR State Symphony Orchestra, Evgeny Svetlanov (conductor)
WARNER CLASSICS LP0190295871932 (Vinyl – Limited edition for Record Store Day)
Also available on CD:
Shostakovich: Cello Concertos (The Russian Years)
SHOSTAKOVICH: Cello Concerto No. 1 in E flat major Op. 107; Cello Concerto No. 2 in G minor Op. 126
Mstislav Rostropovich (cello), Moscow Philharmonic Orchestra, Gennady Rozhdestvensky (conductor), USSR State Symphony Orchestra, Evgeny Svetlanov (conductor)
WARNER CLASSICS 9029589222 (CD)
Broadcast