Main content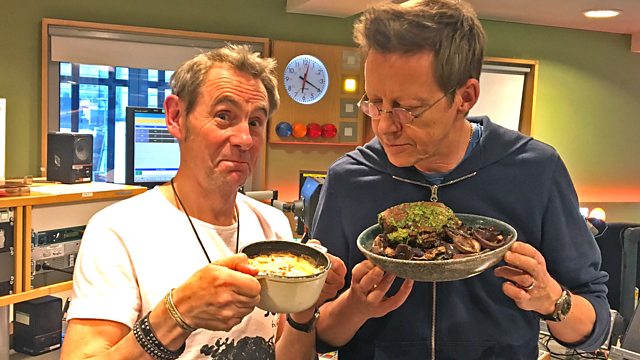 Beef mini-roast with a chutney and coriander glaze
Beef mini roast with a chutney and coriander glaze is on offer from resident cook Nigel Barden in this week's Foodie Thursday. Plus Jack Savoretti performs a live number from the Cheltenham Jazz Festival.
Beef Mini Roast with a Chutney and Coriander Glaze
by Simply Beef and Lamb
Serves 2-3
Prep time: 10 minutes
Cooking time: 35-40 minutes
Ingredients:
1 x 350-400g/12-14oz beef mini roast (Nigel used beef topside)
Salt and freshly milled black pepper
5ml/1tsp coriander seeds, crushed
1 whole garlic bulb, unpeeled and broken into cloves
2 red onions, peeled and cut into quarters
15ml/1tbsp rapeseed oil
30ml/2tbsp fruit chutney
30ml/2tbsp freshly chopped coriander leaves
 Method:
Preheat the oven to Gas mark 5, 190°C, 375°F. 
Place the joint on a large chopping board.  Make several incisions over the joint. Season on both sides and coat in the crushed coriander seeds.
 Put the onion and garlic on the base of a non-stick roasting tin, drizzle with the oil, position the beef on top and open roast for 30 minutes, basting occasionally with any meat juices.  In a small bowl mix the chutney and coriander together. 
Remove the tin from the oven and brush the beef with the chutney and coriander glaze. Return to the oven for a further 5-10 minutes. Slice the beef and serve with the garlic, red onions and cheesy potatoes.