Main content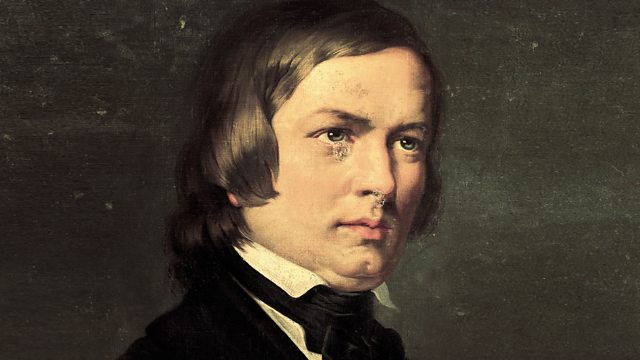 Donald Macleod focuses on signs of a decline in Schumann's mental and physical health, as well as the remarkable story of his Violin Concerto.
It was an offer Robert Schumann only wished he could have refused. But lacking other job opportunities, the composer reluctantly accepted Dusseldorf's offer of the post of Director of Music, with responsibility not only for a semi-professional orchestra, but also for a choir. All this week Donald Macleod looks at Schumann's Dusseldorf years and the creative stimulus this move provided for the composer, his triumphs as well as his many failures. In less than five years, Robert would write some third of his entire output, composing concertos, choral works and symphonies. Despite the composer's tragic illness, he lost none of his powers of invention, and was indeed on the brink of enjoying both popular as well as critical success.
In today's programme, the composer develops an unhealthy interest in table-tapping and séances, whilst also writing a Mass and a Requiem. Donald Macleod recounts the remarkable story of his Violin Concerto (unearthed, it is claimed, partly through psychic activity), and the Schumanns' successful tour of Holland, where they discovered that Robert's music was almost as well known as at home. Despite ominous signs of declining mental and physical health, the Holland tour will end with popular acclaim, and also a baffling question from the Queen of Holland: "And are you musical, too?"!
Mass, Op. 147 (Tota pulchra es, Maria; Offertorium)
Cologne Chamber Chorus
Peter Neumann, director
Violin Concerto in D minor
Christian Tetzlaff, violin
Frankfurt Radio Symphony Orchestra
Paavo Järvi, conductor
Märchenerzählungen, Op. 132 (movts 1 & 2)
Adrien Boisseau, viola
Pierre Genisson, clarinet
Gaspard Dehaene, piano
Introduction and Concert Allegro, Op. 134
Orchestra dell'Accademia Nazionale di Santa Cecilia
Jan Lisiescki, piano
Antonio Pappano, conductor.