Main content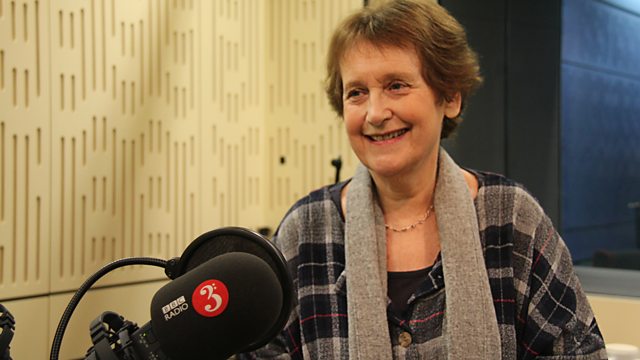 Tuesday - Rob Cowan with Wendy Cope
With Rob Cowan. Including Musical challenge; Music in Time: Couperin keyboard suites; Artist of the Week: Giuseppe Sinopoli, featured conducting Schumann's Symphony No 2.
9am
Rob sets the tone and mood of the day's programme with a range of music to intrigue, surprise and entertain.
9.30am
Take part in today's musical challenge: which location is being depicted in this piece of music?
10am
Rob's guest this week is the poet, Wendy Cope. After spending 15 years as a primary school teacher, Wendy released her first collection of poetry and it became a surprise bestseller. She's since published three more collections and her poetry has become renowned for being humorous and terse, even when tackling serious subjects such as death. As well as writing poetry for children, she has been commissioned to write poetry to celebrate the 30th anniversary of the Endellion String Quartet, and the 400th anniversary of the death of Shakespeare. As well as sharing some of her favourite classical music, Wendy will be discussing her work and life as a writer, and reading some of her music-inspired poetry.
10.30am
Music in Time: Baroque
Today Rob heads back to the Baroque period to explore how François Couperin re-invented the keyboard suite.
Double Take
Rob explores the nature of performance by highlighting the differences in style between two recordings of Brahms's Hungarian Dance No.1.
11am
Artist of the Week: Giuseppe Sinopoli
Rob's featured artist is the Italian conductor Giuseppe Sinopoli. Sinopoli was not only an immensely talented and original conductor, but also a gifted composer, whose sudden death at the age of 54 was particularly tragic when you consider that many celebrated conductors continue to work well past retirement age. Rob's choices include highly distinctive performances of symphonies by Schubert, Schumann, Liszt and Webern, as well as Beethoven's 1st Piano Concerto (with Martha Argerich as soloist) and the conclusion of Richard Strauss' hair-raising operatic masterpiece Salome.
Schumann
Symphony No.2 in C major
Vienna Philharmonic Orchestra
Giuseppe Sinopoli (conductor).
Music Played
Wendy Cope's First Choice

Wendy Cope's Second Choice

Wendy Cope's Third Choice

Music in Time: Baroque

Double Take

Artist of the Week: Giuseppe Sinopoli
Musical Challenge: Mapping the Music
Answer: Camberwell Green. The piece we played was Mendelssohn's Op.62 No.6 'Spring Song' from his collection of Songs without Words. This piece was written whilst Mendelssohn was staying in Camberwell Green & is sometimes subtitled as such