Main content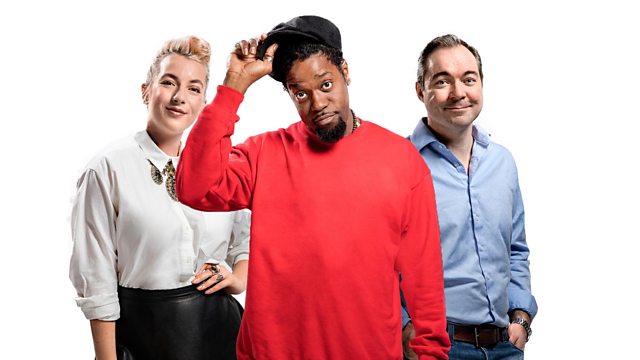 Yazz Ahmed
Soweto Kinch with a set by British/Bahraini trumpeter and flugelhorn player Yazz Ahmed and her septet, from this year's Bristol International Jazz Festival.
PLAYLIST
DISC
Artist              Soweto Kinch
Title                The Healing
Composer     Kinch
Album            The Legend of Mike Smith
Label              Soweto Kinch Recordings
Number        SKP003 CD 2 Track 39
Duration       56"
Performers: Soweto Kinch, as, rhodes, prog; Shabaka Hutchings, ts; Karl Rasheed-Abel, b; Graham Godfrey, d. . 2015
Yazz Ahmed's Ahmed Family Hafla recorded live at the Bristol Jazz and Blues Festival.
1) Jamil Jamal (Yazz Ahmed)                               7'24"            
2) Paradise In The Hold (Yazz Ahmed) 9'16"
3) La Sabateuse (Yazz Ahmed)                           7'06"
4) The Lost Pearl                                                     7'50"
5) 2857                                                                     8'00"
6) Her Light                                                              8'23"
7) Organ Eternal                                                     8'32"
Personnel: George Crowley, bcl, Ralph Wyld, vib, Naadia Sheriff, keys, Dudley Phillip, bgtr, Martin France, d, Corrina Silvester, perc.
Emma and John Etheridge's Guitar Review
DISC
Artist              Ralph Towner
Title                My Foolish Heart
Composer     Victor Young/Ned Washington
Album            My Foolish Heart
Label              ECM
Number        2516
Duration       3'51"
Performers: Ralph Towner         
DISC
Artist              John Abercrombie Quartet
Title                Sunday School
Composer     John Abercrombie
Album            Up and Coming
Label              ECM
Number        2528
Duration       4'20"
Performers: John Abercrombie, gtr; Marc Copland, piano; Drew Gress, double bass; Joey Baron, drums. 2017           
DISC
Artist              Kurt Rosenwinkel
Title                Caipi
Composer     Kurt Rosenwinkel
Album            Caipi
Label              Sunny Side Records
Number        4618
Duration       3'37"
Performers: Kurt Rosenwinkel: guitar, bass, piano, drums, percussion, synthesizer, voice
DISC
Artist              Soweto Kinch
Title                The Healing
Composer     Kinch
Album            The Legend of Mike Smith
Label              Soweto Kinch Recordings
Number        SKP003 CD 2 Track 39
Duration       45"
Performers: Soweto Kinch, as, rhodes, prog; Shabaka Hutchings, ts; Karl Rasheed-Abel, b; Graham Godfrey, d. . 2015