Main content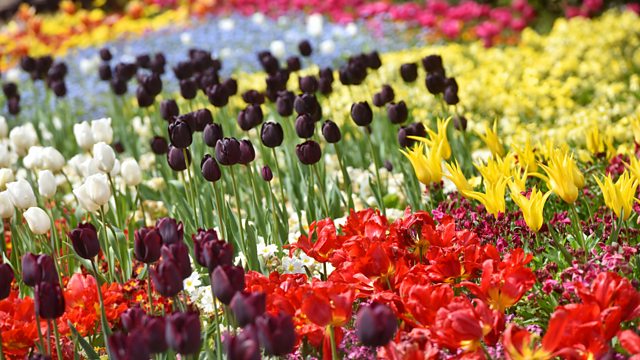 The Savill Garden, Windsor Great Park - Correspondence Edition
Peter Gibbs and the panel answer listener correspondence from The Savill Garden, Windsor. Anne Swithinbank, Pippa Greenwood and Bunny Guinness delve into the postbag.
Peter Gibbs and the panel answer listener correspondence from The Savill Garden, Windsor. Anne Swithinbank, Pippa Greenwood and Bunny Guinness delve into the postbag.
The panellists offer advice on what could be eating a Szechuan Pepper, suggest alternatives to Foxgloves and provide tips on what to grow in an unheated greenhouse.
Also, Peter Gibbs visits Ascension Island in the Atlantic to investigate hydroponic gardening.
Produced by Dan Cocker
Assistant Producer: Laurence Bassett
A Somethin' Else production for BBC Radio 4.
Postbag Savill Garden Fact Sheet
Q – My young Szechuan Pepper (Zanthoxylum simulans) has been growing in the middle of a low beech hedge.  Something is eating the bark? What is it? Slugs?
Pippa – People talk about Clematis Wilt but 99% of the time it's slugs.  So this probably is too.
John – It's related to the citrus family like Choisya or Rutaceae. 
Pippa – Keel slugs do the most damage.
Q – Can you recommend tall, colourful alternatives to Foxgloves?
Bunny – Verbena bonariensis.  Verbascum bombyciferum 'Polar Summer'. 
Anne – Hesperis matronalis ('Sweet Rocket').
Pippa – Hollyhocks.  With the Verbascums you might get Mullein Moths which have huge caterpillars
Q – How can I get rid of Spanish Bluebells?
Bunny – Cover the ground but they could survive for years in darkness.  I think the only way is chemical.
Q – I have a yellow and blue themed garden with with Rhododendron Luteum, Berberis Aurea, Festuca Glauca, Ceratostigma Griffithii, Gentiana Sino-Ornata, Molinia Caerulea and Euonymus 'Emerald and Gold', providing seasonal interest.  Can the panel recommend any more suitable blue and/or yellow plants (either flowers or foliage) for my narrow front garden? The soil is acidic, moist and well-drained, and the site is fairly well sheltered.
John -  Caryopteris.  Potentillas. 
Anne – Camassias. 
Q – I have a Vibernum on my balcony in Athens. It's 4ft (1.2m) high in a big pot.  Many leaves are going brown and it is not blooming. What is wrong?
Pippa – It could be too hot and dry.  Look for vine weevil and other grubs at the roots.
Bunny – You need to water it much better and get the pot in a big saucer of water so it can stay more moist
Anne – This is usually a woodland plant
Q – I've often heard the GQT panel recommending adding lime to the soil.  Which plants would have the same effect?
Bunny – Homemade compost, if it's aerobically made, is normally about pH8 which is alkaline so that will help.  Clematis and brassicas.
Anne – I've never heard of mulching a limey plant but things like mushroom compost is quite limey.  Wood ash compost is highly alkaline but it can scorch foliage and roots so mix it with something else too
Q – I have an unheated greenhouse and am bored of growing the same things (tomatoes, peppers etc).  What else could I grow?
Anne – Camellias.  Rhododendron fragrantissimum.  Jasminum polyanthum.  Canary Island Cytisus.  Bulbs like Tigridias, Gloriosas, Zantedeschia, Canna lilies. 
Bunny – Wasabi.  Lemon verbena.  Green tea. 
Anne – Devalia. 
Q – I have a three-year old Trachelospermum jasminoideswith an oily, soot-like deposit on the foliage.  What is it and what can I do?
Pippa – Scale insects will be behind this.  There are biological controls you can use or chemicals – depends on your preference. 
In the spring wood there is a carpet of Erythronium revolutum (something violet.)  Also Hostas. 
Q – What do I do with grub-infested soil? I don't want to waste it.
Bunny – Put the soil in an open area of the garden with big, thuggish plants.  Potted plants are much more affected by the grubs.
Pippa – There is a Vine Weevil nematode that works very well.
Q – How can I stop doves from eating my Wisteria beds apart from netting?
Anne – Spray with something similar to a rabbit/deer spray might work. 
Bunny – There's a calcium spray for pigeons which could work. I use a pretend bird and plastic snakes to scare the real birds away