Main content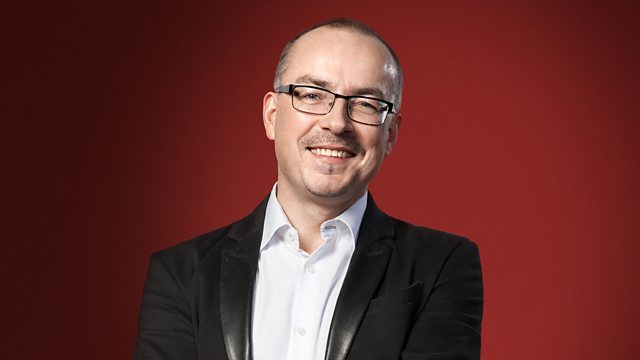 Andrew McGregor with Helen Wallace and Hilary Finch
With Andrew McGregor. Including Building a Library: Rachmaninov's Cello Sonata; Hilary Finch discusses recent releases of songs by Schubert, Brahms and others; Disc of the Week.
with Andrew McGregor.
0930
Building a Library on Rachmaninov's Cello Sonata. Helen Wallace recommends a version of this passionate and turbulent piece of chamber music. The Cello Sonata was overshadowed by the huge success of Rachmaninov's hugely popular Piano Concerto No. 2, which was also premièred in 1901. However lovers of the concerto will recognise the same sound world in the chamber work.
1030
Andrew and Hilary Finch discuss recent releases of Songs by Schubert and Brahms etc from Bo Skovhus, Benjamin Appl, Roderick Williams and Johan Reuter.
1145
Andrew chooses an outstanding new release as his Disc of the Week.
9am
JS Bach: Angenehme Melodie
BACH, J S: Cantata BWV210a 'O angenehme Melodei'; Cantata BWV216a 'Erwahlte Pleissenstadt'
Katja Stuber, Franz Vitzthum, Daniel Johannsen, Deutsche Hofmusik, Alexander Grychtolik
DEUTSCHE HM 88985410522 (CD)
SHOSTAKOVICH: Preludes & Fugues for piano (24) Op. 87 (complete)
Peter Donohoe (piano)
SIGNUM SIGCD396 (2CD)
Szymanowski: Litany to the Virgin Mary, Stabat Mater & Symphony No. 3 'Song of the Night'
SZYMANOWSKI: Stabat Mater Op. 53; Litania do Marii Panny (Litany to the Virgin Mary) Op. 59; Symphony No. 3 'The Song of the Night' Op. 27
Aleksandra Kurzak (soprano), Agnieszka Rehlis (mezzo-soprano), Dmitry Korchak (tenor), Artur Rucinski (baritone), Warsaw Philharmonic Orchestra, Choir, Jacek Kaspszyk (conductor)
WARNER CLASSICS 90295864507 (CD)
MAHLER: Das Lied von der Erde
Jonas Kaufmann (tenor), Wiener Philharmoniker, Jonathan Nott (conductor)
SONY 88985389832 (CD)
9.30am - Building a Library
Composer: Sergei Rachmaninov
Piece: Cello Sonata, Op. 19
Reviewer: Helen Wallace
Building a Library: Rachmaninov's Cello Sonata Op. 19
Recommended recording:
Truls Mork (cello), Jean-Yves Thibaud (piano)
ERATO 4820672 (2CDs) [available as CD and download]
Other recommended recordings:
Below is a shortlist of other recordings which Helen Wallace also liked. 
Heinrich Schiff (cello), Elisabeth Leonskaja (piano)
Available on CD only, as part of
Rachmaninov: The Complete Works
DECCA 4786765 (32 CDs)
Historic recording
Mastercellist
Mstislav Rostropovich (cello), Alexander Dedyukhin (piano)
DG 4716202 (2CDs) [available as CD and download]
10.20am – Bach St John Passions
BACH, J S: St John Passion, BWV245
Murray (Evangelist), Ashley Riches (Christus), Sophie Bevan (soprano), Robin Blaze (countertenor), Benjamin Hulett (tenor), Neal Davies (bass-baritone), Robert Andrew Ashwin (Pilate, Peter), Peter Jaekel (organ), Crouch End Festival Chorus, Bach Camerata, David Temple
CHANDOS CHSA5183(2) (2Hybrid SACD)
BACH, J S: St John Passion, BWV245
James Gilchrist (Evangelist), Neal Davies (Christus), Sophie Bevan (soprano/Ancilla), Iestyn Davies (alto), Ed Lyon (tenor arias), Roderick Williams (bass arias/Pilatus), Toby Ward (Servus), Benedict Kearns (Petrus), Academy of Ancient Music, King's College Choir Cambridge, Stephen Cleobury (conductor)
KINGS COLLEGE KGS0018 (2Hybrid SACD)
BACH, J S: St John Passion, BWV245
Nicholas Phan (Evangelist), Jesse Blumberg (Christus), Amanda Forsythe (soprano), Terry Wey (countertenor), Christian Immler (baritone), Jeffrey Strauss (Pilate), Apollo's Fire, Jeannette Sorrell (conductor)
AVIE AV2369 (2CD)
BACH, J S: St John Passion, BWV245
Andreas Post (Evangelist), Christoph Schweizer (Christus), Veronika Winter (soprano), Franz Vitzthum (alto), Thomas Laske (baritone), Bernhard Spingler (bass), Stefan Weible (tenor), Lucian Eller (bass), Hille Perl (viola da gamba), Stuttgarter Hymnus-Chorknaben, Handel's Company, Rainer Joannes Homburg (conductor)
MDG MDG902 (2CD)
BACH, J S: St John Passion, BWV245
Lothar Odinius tenor (Evangelista, No.13), Christian Immler bass (Christus, Nos 11b, 32), Ditte Andersen soprano (Ancilla, No.9), Lenneke Ruiten soprano (No.35), Delphine Galou alto (No.30), David Hansen alto (No.7), Colin Balzer tenor (Servus, Nos 20, 24, 34), Valerio Contaldo tenor (No.13b), Felix Speer bass (Petrus, Pilatus, No.19), Les Musiciens du Louvre, Marc Minkowski (conductor)
ERATO 9029585405 (2CD)
10.55am – Hilary Finch on song recitals
Brahms: Romanzen aus Die Schone Magelone
BRAHMS: Vier ernste Gesange Op. 121; Die schone Magelone Op. 33
Roderick Williams (baritone, narrator), Roger Vignoles (piano)
CHAMPS HILL RECORDS CHRCD108 (2CD)
BRAHMS: Die schone Magelone Op. 33
Christian Gerhaher (baritone), Gerold Huber (piano)
SONY 88985413122 (CD)
SCHUBERT: Die schone Mullerin, D795
Bo Skovhus (baritone), Stefan Vladar (piano)
CAPRICCIO C5290 (CD)
SCHUBERT: Winterreise D911
Johan Reuter (baritone), Copenhagen String Quartet
DANACORD DACOCD759 (CD)
Heimat
BRAHMS: Wiegenlied Op. 49 No. 4 (Lullaby); Mondnacht, WoO 21; Mein Madel hat einen Rosenmund (No. 25 from Deutsche Volkslieder, WoO 33)
BRITTEN: Greensleeves
GRIEG: Til Norge (To Norway) Op. 58 No. 2; Seks Sange Op. 48 No. 6 'Ein Traum'
IRELAND: If there were Dreams to Sell
POULENC: Hyde Park
REGER: Des Kindes Gebet Op. 76 No. 22
SCHUBERT: Seligkeit D433 (Holty); Der Einsame, D800; Nachtstuck, D672 (Mayrhofer); Drang in die Ferne, D770; Der Wanderer an den Mond D870 (Seidl); Das Heimweh, D456 (Winkler); Der Wanderer, D489
STRAUSS, A: Ich weiss bestimmt, ich werd Dich wiedersehn
STRAUSS, R: Allerseelen Op. 10 No. 8
VAUGHAN WILLIAMS: Silent Noon
WARLOCK: My Own Country; The Bachelor
WOLF, H: Verschwiegene Liebe (No. 3 from Eichendorff-Lieder)
Benjamin Appl (baritone), James Baillieu (piano)
SONY 88985393032 (CD)
Fetes Galantes
DEBUSSY: Trois chansons de Bilitis; Fetes galantes - Set 2; Trois Poemes de Stephane Mallarme
FAURE: Cinq Melodies 'de Venise' Op. 58; La chanson d'Eve Op. 95
Bettina Smith (mezzo-soprano), Einar Rottingen (piano)
LAWO LWC1116 (CD)
11.45am – Disc of the Week
BACH, J S: St Matthew Passion, BWV244
James Gilchrist (Evangelist), Stephan Loges (Christus), Hannah Morrison, Zoe Brookshaw, Charlotte Ashley (soprano), Reginald Mobley, Eleanor Minney (alto), Hugo Hymas (tenor), Ashley Riches, Alex Ashworth, Jonathan Sells (bass), English Baroque Soloists, Monteverdi Choir, Trinity Boys Choir, Sir John Eliot Gardiner (conductor)
SDG SDG725 (2CD)