Main content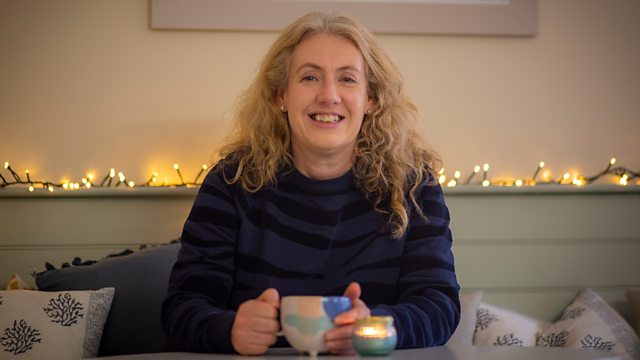 Pork
MasterChef winner Gary Maclean joins Neil Forbes at the City of Glasgow College to explore inexpensive and versatile uses for pork.
Masterchef winner Gary Maclean joins Neil Forbes at the City of Glasgow College to celebrate the inexpensive and versatility of all things porky. Gary cooks up a delicious chorizo and white bean stew with slow cooked and pan fried pork belly and Neil creates the ultimate club sandwich layering crispy dry cured bacon, chicken, mayonnaise, grain mustard and tomato sandwiched between 2 slices of pan fried sourdough. Also, food innovator Simon Preston visits Fred Berkmiller at Edinburgh's Gorgie City Farm to find out about his recent delivery of rare breed Mangalitza pigs which looking at them can be mistaken for sheep.
Gary Maclean's braised and pan fried pork belly with white bean stew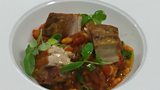 125g chorizo
50g slow cooked pork belly
1 large red onion
1 small diced carrot
½ a red chilli with some of the seeds
3 large heritage tomatoes, roughly chopped
500g passata
Fresh rosemary
100g haricot beans – soak them the night before in cold water in the fridge or used tinned
Baby basil
Olive oil
Seasoning if needed
Method
Roughly chop the chorizo and place it in a cold dry pan and let it heat up until the juices are released from the chorizo.
Add your chopped red onion, then the diced carrot and sliced red chilli
Cut your pork belly into large sausage sized portions and add to another dry frying pan and heat until crispy & brown
To the chorizo pan, add a little rosemary and the haricot beans, then the chopped heritage tomatoes with skins and seeds and simmer gently
Tear up some baby basil and wilt through the stew
Plate up your warm pork belly and  the chorizo stew and finish with a little baby basil and a drizzle of olive oil.

The Ultimate Club Sandwich by Neil Forbes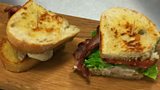 Ingredients
5 slices of streaky dry cured bacon
Some leftover cooked chicken thigh
A sourdough loaf
Grain mustard
Baby gem lettuce
Sliced tomatoes
Olive and virgin olive oil
Salt
Method
Drizzle a little virgin olive oil into a hot non-stick pan, add your streaky bacon and fry until just crispy
Heat up another pan, slice your sourdough loaf, trickle both sides with olive oil and fry until lightly browned
Now layer up the sandwich
Place your chicken on one slice of the warm bread with a little salt and a good dollop of mayonnaise
Next a lettuce leaf or two topped with some crispy bacon
A layer of sliced tomatoes and a sprinkle of salt
On the other piece of bread spread a generous helping of grain mustard and hold it all together with a cocktail stick
Podcast
Celebrate the joy of Scotland's larder with recipes, reviews, tips and delicious ideas!