Main content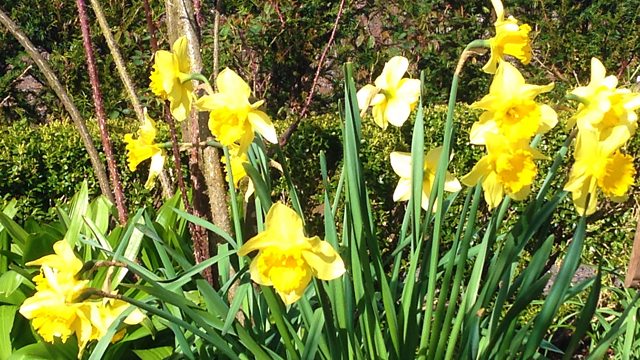 Ullswater
Eric Robson and the panel are in Ullswater. Joining him this Easter Sunday are Pippa Greenwood, Bob Flowerdew and Matt Biggs.
Produced by Hannah Newton
Assistant Producer: Laurence Bassett
A Somethin' Else production fro BBC Radio 4.
Last on
Fact Sheet
Q – We inherited hundreds of Daffodils.  The single varieties flower well but the others struggle. Why?
Pippa – It's a form of blindness.  Bit of feed and nurturing should help.
Matt – They are also affected if it is dry after they finish flowering.  Feed them with tomato fertiliser.
Q – Our garden goes down the River Eden.  What natives can I plant on the riverbank that will tolerate flooding?
Bob – Blackcurrants. 
Pippa – Marsh Marigolds.  Bog Irises.  Primulas/Primroses too if it's not too wet.
Q – Five years ago I bought a small Callistemon and each year I've potted it on in John Innes, watered it, fed it and overwintered it.  But it isn't producing the 'bottlebrush' spikes I'm looking for. What am I doing wrong?
Matt – They like a lot of sunshine.  You could try and deceive it by feeding it with high potash fertiliser.
Bob – It's being overfed.
Pippa – I think the annual repotting is making it start afresh each year. Skip a year's repotting and see what happens.
Matt – Put it into John Innes No 2 with a third added grit to grow it harder
Q – Have the panel any suggestions on how to make digging easier?
Bob – Give it up! In trials they've found that one good dig every seven years is enough.  Other than digging potatoes/carrots etc in and out, I haven't dug my veg bed in 30 years
Pippa – Get a sharp spade with a tread across the top to make putting your foot on it less painful
Q – What would the panel suggest for planting in the Knot Garden here at Dalemain?  Plants need to be vole-proof, white flowered and with a long flowering period.
Matt – As it's under the shade of a large tree it's going to be limited.   White-flowered Vinca Minor.  Liriope 'Big Blue'.
Pippa – Pulmonaria 'Sissinghurst'.  White forms of Thrift (Armeria).  Hellebores. 
Bob – White Violets.  Regal Lily.  Bladder Campion.  The Woodland Anemone. 
Correspondence:
Daphne odera 'Aureomarginata'
Daphne bholua 'Jacqueline Postill'
Daphne mezereum
Lonicera syringantha
Daphne genkwa
Q – I have a problem with Vine Weevils.  How can I get rid of them?
Pippa – Nematodes work well in containers or in light soil.  Keep the compost in the containers moist.  Never recycle compost.  Also, Vine Weevils can't fly or swim so if you can stop them reaching the surface of the containers you'll get much better results.  Pick them off in the evenings too as they are nocturnal.
Topical Tips
Greek Silver Fir (Abies Alba)
Monkey Puzzle
Tulip Fire – related to grey mould. Type of Botrytis.
Q – I've had my Mulberry tree for three years and it is alive but not doing anything.  What can I do?
Bob – Mulberries are some of the last to come into leaf. I think yours is seriously pot-bound though and it is in shock. Buy a new one!
Matt – Try a Medlar (Mespilus japonica) instead as it is hardier
Q – Are there any creepy-crawlies you'd rather not see when turning over a plant pot?
Pippa – I can't stand Caterpillars
Bob – Flatworms
Matt – Big slugs
Broadcast