Main content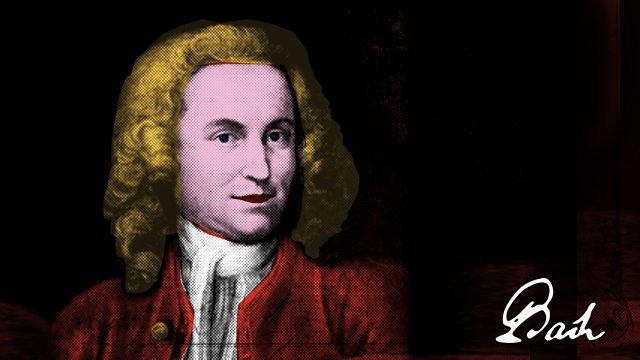 BACH: The Great Passion
Bach rehearses the first performance of his St Matthew Passion. But his choir and his musicians make exhausting demands on him, threatening to derail this gargantuan undertaking.
Simon Russell Beale as Johann Sebastian Bach in a drama revealing how the St Mathew Passion was written, composed, rehearsed and performed in the build-up to its first performance in Leipzig on Good Friday 1727.
Entering the final weeks of rehearsals, Bach struggles to complete his Great Passion while he also runs a boarding school of fifty-five pupils (some of whom are hopeless at music) and supports a continuously pregnant wife.
James Runcie's play recreates the vicissitudes and exultations of his gargantuan undertaking, while retaining the intimacy, surprise and profound sympathy which is at the heart of the work.
Arriving in Leipzig in 1727, Bach, the newly appointed Kapellmeister, sets out his plan for the staging of the Passion and the story of the persecuted Christ. He intends that it will be directly personal music, written not in Latin but in German, using the words " We" and "I" for the choruses and arias. In a radical move for the time, he insists on the individual responsibility of every musician in the unfolding drama. The story, he insists, involves us all and saves us all from the terror of death.
An exhausted Bach is increasingly impatient during rehearsals, interrupting and bullying his performers; so much so that his wife Anna Magdalena, though pregnant with her second child, is called on to mediate and prevent a walk-out.
Anna Magdalena is the only one who can bring harmony to the home as well as to the music. But it's a race against time to be ready for the first performance.
Simon Russell Beale is one of the most notable actors of his generation and was himself a chorister at St Paul's Cathedral School in London. Melody Grove, as Anna Magdalena Bach, trained at the Royal Scottish Academy of Music and Drama, where she won the James Bridie Gold Medal in 2009. She was nominated for Best Supporting Actress at the Olivier Awards 2016 and won the Clarence Derwent Award 2016 for her performance as the female lead, alongside Mark Rylance, in Farinelli and the King,
The music and choral rehearsals for this production were recorded in Edinburgh's world famous Greyfriars Kirk, with the choir and musicians of the Dunedin Consort under the directorship of John Butt, and with the choristers St Mary's Music School and choirmaster Duncan Ferguson.
John Butt - Director and Organ/Harpsichord
Soloists:
Jacob Slater - Boy Soloist
Joanne Lunn - Soprano
Robert Davies - Bass
Chorus:
Joanne Lunn
Emily Mitchell
Esther Brazil
Rory McLeery
Kenny Reid
David Horton
Robert Davies
Jerome Knox
Children of St Mary's Music School Choir:
Taylor Torkington
Madeleine Gill
Mattea Sacco
Carlo Massimo
Choir Master: Duncan Ferguson
Huw Daniel - Violin
Katy Bircher - Flute
William Hunt - Violone
Produced by Marilyn Imrie
Directed by Eoin O'Callaghan
A Big Fish production for BBC Radio 4.
Last on
Credits
| Role | Contributor |
| --- | --- |
| Johann Sebastian Bach | Simon Russell Beale |
| Anna Magdalena Bach | Melody Grove |
| Christian Henrici (Picander) | Al Weaver |
| Stefan Meissner | Adam Greaves Neal |
| Paul Christian Stolle | Stephen Boxer |
| Salomon Deyling | David Horovitch |
| Johann Gottlieb Gorner | Tom Goodman-Hill |
| Herman | Ewan Rutherford |
| Bach's Child | Damon Denton-Snape |
| Director | Eoin O'Callaghan |
| Producer | Marilyn Imrie |
| Writer | James Runcie |
Broadcasts