Main content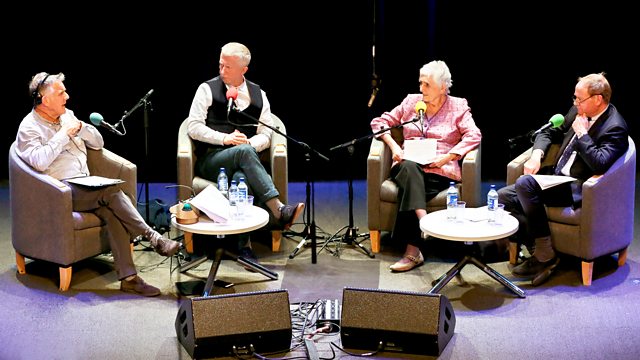 Alternative Comedy...and Beyond
Made for 4 Extra. Paul Jackson, Beryl Vertue, John Lloyd and Jimmy Mulville return to the alternative comedy of the 80s.
Instead of guest Comedy Controllers, choosing their comedy favourites, it is now the turn of those who, in their own ways, have to take the blame for many of the shows often featured on Radio 4 Extra. Between them, Paul Jackson, Beryl Vertue, John Lloyd & Jimmy Mulville have well over a 150 years of gut-busting, side-aching woofers, gags and - let's be honest - the occasional horrific mistimed silence.
In front of an audience in the iconic Radio Theatre in Broadcasting House - the home of British Radio comedy - they reveal why they do it and what it was (and is) that made them laugh.
Programme 3. Alternative Comedy... and Beyond - in which the Real Comedy Controllers return to the 80s to consider how alternative the new wave of comedy was... and to explore how their humour developed as the century drew to a close. Episodes featured include:
Lenin of the Rovers
Midfield football maestro Ricky Lenin's battle for Britain's first all-communist football team. Ricky introduces his radical thinking to Felchester Rovers. Starring Alexei Sayle, Keith Allen, Andrew McClean and Maurice Colbourne. First broadcast in February 1988.
The Mary Whitehouse Experience
David Baddiel, Rob Newman, Steve Punt and Hugh Dennis tackle buskers and January sales. With Mark Thomas. From January 1990.
Goodness Gracious Me
The Marriage Emporium is running low on Indian brides, plus a version of the classic song 'Fifty Ways to Leave Your Mother'. British-Asian sitcom with Nina Wadia. From July 1997.
On The Hour
Pre-natal beauty therapy hits the headlines. Chris Morris hosts the incisive news satire. With Steve Coogan. From April 1992.
Series Producers: Paul Kobrak and Dixi Stewart.
Made for BBC Radio 4 Extra.