Main content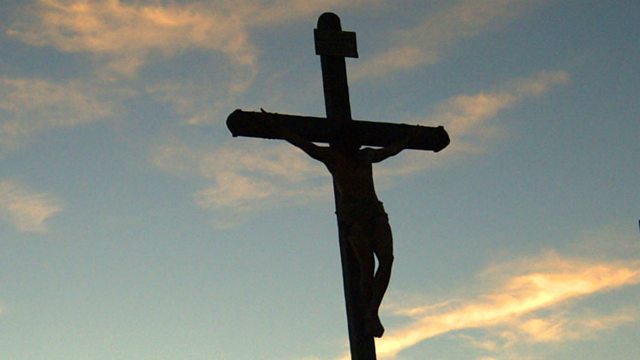 Good Friday Meditation
'My God, my God, why hast thou forsaken me?': The Rev Lucy Winkett explores Jesus Christ's feelings of abandonment and loneliness in a 21st-century context.
In the final few days, Jesus knew that that he was going to be crucified. It was a lonely time because his closest friends did not know his fate and, when he needed them most, they fled.
But it wasn't just the actual abandonment of his friends but the perceived abandonment by God that intensified Jesus' loneliness and led him to cry out:
"My God, my God why hast thou forsaken me?"
The final moments of Christ on the cross ache with abandonment and loneliness and in the Good Friday Meditation, the Rev Lucy Winkett explores these feelings in a 21st century context through conversations with a new mother, two older women who have suffered the loss of loved ones and a man whose faith has been challenged by his struggle with self-hatred.
Young mothers can feel isolated as they seek to come to terms with their new responsibilities and say goodbye to their old, independent life. Elderly people often struggle to come to terms with being alone as friends and partners die. But what about the rest of us struggling with jobs, families and finances? How is it that despite success, wealth and relationships we can feel lonely in the crowd?
Lucy Winkett investigates different types of loneliness and challenges our perceptions of what it means to be alone.
Producer: Helen Lee
Fiona Shaw reads:
Psalm 22. v14-15
Mark 14. v32-40
Mark 15. v33
'Not waving, but drowning' by Stevie Smith
'Love after Love' by Derek Walcott
Music:
'Where you there when they crucified my Lord?' - Jessye Norman
'For Love My Saviour' (St Matthew Passion)
'When I survey the wondrous cross' - the choir of Kings college Cambridge
'Be near me Lord when dying' (St Matthew Passion)
'Tenebrae factae sunt' by Poulenc
'Hope there's someone' - Anthony and the Johnsons.
Good Friday Meditation Script
LUCYOn the afternoon of Good Friday, we might imagine all was still and quiet. Jesus was dying; and the image we have in our minds are often that of a solitary cross, with sadness pervading the air. The reality was probably something more like this…….I'm out in the middle of London surrounded by busy crowds.  It's noisy, dirty, bustling with city life. Crucifixions took place outside the city walls in Jerusalem and the skyline would have been full of crosses. This form of public execution was a spectacle, designed to be seen. And so crowds gathered, having jostled Jesus when he carried his cross on the way to Golgotha, now jeering him as he died.
The isolation Jesus felt as he cried out to God asking why God had left him was not eased by the presence of the crowd. It might even have made it worse.
And so this Good Friday afternoon, I'm taking a moment to consider a theme of our modern society – loneliness – in the light of what Jesus when through on that day.
 MUSICJessye Norman first line: "Were you there when they crucified my Lord?"
 READING PSALM 22 I am poured out like water,     and all my bones are out of joint;  my heart is like wax;     it is melted within my breast;   my mouth is dried up like a potsherd,     and my tongue sticks to my jaws;     you lay me in the dust of death.   


LEAH Lucy: We're talking about loneliness on this particular Good Friday. Do you think that loneliness is just a normal part of being alive?Leah: There are different kinds of loneliness. Last night I was supposed to go to a function. It happened that I had to go on my own and I decided against it because I would have been with a lot of people and I didn't want to be on my own. LUCYI've been discussing loneliness with Leah Hoskin……a member of my own congregation….. LEAH ….if you've lost something that is the most important thing to you in the world, then you have to be alone. There is no person who can enter into that with you. It's just not possible. You're alone.
LUCY You sound like you know what you're talking about.
LEAHWhen my husband died, there was a terrible loneliness but I hadn't been with him all his life or all my life so there seemed to be more to be able to fall back on. The loss, in some ways, for his daughters and for his family was also very great and we shared it. It was different for me and I was alone. But when my daughter died, I was – and am – in that, completely alone. No one can enter into that loss because no one else was her mother. ……this is very difficult…..when Sophie died I wasn't there and when I got there, I couldn't stay. So, did I run away? I don't know. It was too much……and it's continued…on one level I get on with my life. I have very good times. I have a family. I have another daughter. I have grandchildren and great-grandchildren and friends and I'm not lonely. But it's often that I'm alone. Other people enter the loneliness of losing Sophie in a different way but for me, it never goes. That aloneness will never go because it can't change.
SCOTT On one level, I don't consider myself a lonely person……. so I would more say I'm a person who spends a huge amount of time alone – and that is out of choice…..
LUCYScott is a man in his 40s who lives by himself……he too thinks a lot about what it means to be lonely ….. SCOTT maybe I am lonely but the loneliness isn't to do with other people, it's to do with a kind of melancholy, or a loneliness inside of myself where I'm seeking a unity, a wholeness, a connection to something within me.Lucy: Do you think there's a relationship between being physically alone and being lonely or do you think that being physically alone has nothing to do with being lonely?Ashley: Being physically alone and lonely. No. Because I know people who are achingly lonely and they're in contact with people all the time.  

READING Mark 14. 32-40 (Music: Bach: For Love My Saviour, St Matthew Passion)32 They went to a place called Gethsemane; and he said to his disciples, "Sit here while I pray." 33 He took with him Peter and James and John, and began to be distressed and agitated. 34 And he said to them, "I am deeply grieved, even to death; remain here, and keep awake." 35 And going a little farther, he threw himself on the ground and prayed that, if it were possible, the hour might pass from him. 36 He said, "Abba, Father, for you all things are possible; remove this cup from me; yet, not what I want, but what you want." 37 He came and found them sleeping; and he said to Peter, "Simon, are you asleep? Could you not keep awake one hour? 38 Keep awake and pray that you may not come into the time of trial; the spirit indeed is willing, but the flesh is weak." 39 And again he went away and prayed, saying the same words. 40 And once more he came and found them sleeping, for their eyes were very heavy; and they did not know what to say to him.   LUCYMaybe having other people around but not being able to reach them……or seeing them fall asleep when he'd asked them to stay with him, increased a sense of isolation for Jesus as he knew what the next day would bring….
MUSIC/HYMN: When I survey the wondrous cross
When I survey the wondrous CrossOn which the Prince of Glory diedMy richest gain, I count but lossAnd pour contempt on all my prideREADING John 19.25-27Meanwhile, standing near the cross of Jesus were his mother, and his mother's sister, Mary the wife of Clopas, and Mary Magdalene. 26 When Jesus saw his mother and the disciple whom he loved standing beside her, he said to his mother, "Woman, here is your son." 27 Then he said to the disciple, "Here is your mother." And from that hour the disciple took her into his own home.
LUCYThere comes a time when life's circumstances plunge us into loneliness because the people we love leave us….now aged 93, Mary Mannion, has had to come to terms with the death of many friends in recent years…… MARYI used to feel very upset once upon a time but I don't now because I think if you believe, they're going home aren't they? They're going back to God. The body decays but your soul goes back to God. They're going to a better place…..in the presence of God. I feel sad they're gone of course but I think one shouldn't be afraid of death at all.Lucy: Part of the story of Good Friday is that his mother Mary stayed by the cross. Do you think about her?Mary: I do and it must be dreadful for her to watch her son on the cross. We call her 'Mary Dolorosa' don't we? Mary of the Sorrows. 'Thine own heart a soul shall pierce and out of many hearts, thoughts may be revealed.' Mary did suffer terribly as any mother would watching her son being put to death. It must have been dreadful for her. So that is why we should pray to her for she understands everybody's agony because she has been there and I think anybody who has been through it understands.
MUSIC/HYMN: When I survey the wondrous cross See from His head, His hands, His feet Sorrow and love flow mingled down Did ever such love and sorrow meet? Or thorns compose, so rich a crown
LEAHGood Friday to me – as a child – it was a day where I went to church and I heard the priest really go into detail about Christ's wounds. I found it very difficult, very painful…I longed for Easter Sunday so it was all over.Lucy: It's a tough day….and tough to stay there at the cross. A couple of years ago in the church we were talking about Mary being at the foot of the cross and there was this book by Colm Toibin – 'The Testament of Mary' – and the controversial thing he suggested was that Mary didn't stay at the foot of the cross….Leah:……of course she stayed….but if she left, then that's understandable too. It could be so unbearable…….I know that from seeing a person you probably love more than anyone….there's a wanting to embrace but there's also a wanting to run away, whichever she did was her love and the unbearableness of what had happened…..the loss. MUSICJessye Norman Oh, sometimes it causes me to tremble, tremble, trembleWhere you there when they crucified my Lord?
LUCYJesus and Mary are within reach but totally out of reach of one another.  They are somehow together alone.
READING Mark 16When it was noon, darkness came over the whole land until three in the afternoon. At three o'clock Jesus cried out with a loud voice, 'Eloi, Eloi, lema sabachthani?' which means, 'My God, my God, why have you forsaken me?' MUSIC Christ & Evangelist singing this line from St Matthew Passion…….. SCOTT (Bach: 'Be near me Lord when dying' from St Matthew Passion)
I have had experiences of acute self-hatred and self-loathing……now, that's not all I am but I have experienced that a lot and that's a hard thing to sit with because I know logically that I shouldn't have that feeling. I shouldn't feel that level of self-hatred and self-loathing. And that's the kind of feeling you want to medicate out. So – I have a prayer life. I struggle with my prayer life. And I have periods when I pray and then periods when it's just dry……it's not dry…..I can't. I feel unable to pray. Unwilling to pray. Feeling locked out of prayer. And the last time my prayer life collapsed….things were building…..and I went to pray and I was just experiencing this acute feeling of self-hatred and self-loathing….and as I went to pray, my prayer life is structured, I was unable to enter into the structure. And I just sat there and the voice said: "Let your distress be your prayer." And I sat there for 25 minutes and I just sat in distress. There was nothing I could do or say. For me, that's a very Christian perspective – using your suffering and your distress as your prayer.

LUCYLeah, when you look at Jesus on the cross on Good Friday and he says "My God why have you forsaken me?" Do you recognise that prayer?
LEAH(Poulenc's third Lenton motet)It's so hard. It hurts. You've given me something very, very hard. Yes I do recognise that prayer. Because yes – God had forsaken him…he was allowed to die. He was allowed to suffer in the most horrendous way –I want a happy ending. Which there was but not at that moment.
LUCY One of the things about Good Friday is that Jesus does look forsaken and alone – although that's not a comforting picture – but faith does comfort us sometimes. But does it also help to know that God was lonely?
LEAH Yes. It means that when I talk to God, which sometimes I do in my head and sometimes I shout out as if God were deaf – I do at times feel very very strongly that I'm being heard and understood. And God is not going to say to me as very good friends do: 'Oh, it'll all be alright…. and Sophie wouldn't want you to feel like this.' There won't be any of that stuff. I'm broken hearted…..I am alone and I am lonely and I'm angry and sad….wishful and all those things….and I can just say it all and it's heard. I do believe it's heard. LUCYLetting our distress be our prayer and trusting that this prayer is heard by God is a huge challenge especially when it seems that God is far away. A Norwegian prayer asks God: "Hold us through the age long minute when you are silent and the wind is shrill".
Time seems to stand still in Stevie Smith's poem, as she describes the picture of a drowning man whose desperate calls for help are mistaken by others for enjoyment – 
POEMNobody heard him, the dead man,   But still he lay moaning:I was much further out than you thought   And not waving but drowning.  Poor chap, he always loved larkingAnd now he's deadIt must have been too cold for him his heart gave way,   They said.  Oh, no no no, it was too cold always   (Still the dead one lay moaning)   I was much too far out all my life   And not waving but drowning. 
 LUCY It's not difficult to feel, even in a busy life that sometimes we are "much too far out". Our achievements can be mistaken by others for success when inside we might be struggling to stay afloat.
Loneliness can strike not just in the dark night of the soul but when the sun is high, at midday, when all seems to be as it should be.  Even when it seems to everyone else that your life looks great - after the birth of your first child for example, the isolation of being a first time Mum can be very tough to deal with – as Leah Heale explained when I met her – and seven month old Zak…
LEAHHe was born at a quarter to nine in the morning…he slept most of the day…that's what I expected and I thought: 'Great. Everything's going to plan. He's asleep.' I decided to stay in the post natal ward that night just so that I could get breast feeding mastered. But he cried all night and I couldn't work out the breast feeding part – it was very difficult. I just remember walking the halls like a ghost at 3am in the hope of getting him to sleep.Leah: ….it was a very lonely time that first night. Lucy: Was it hard to admit it?Leah: Yes. Because I didn't want to let people down so soon. (laughs)I think I didn't want to let myself down also. I didn't want to admit to those feelings. I'd never felt lonely before really.And the overwhelming feeling of this new responsibility bearing down on me…it wasn't an amazing feeling, it was a really scarey feeling. I remember one day I went down to the promenade in Brighton because I thought: 'If I stand there and see all the other mums with the pushchairs, I'm not going to feel like this anymore' and it did help for a bit.Lucy: Even though you didn't speak to them?Leah: No….just seeing them and thinking: 'I'm not the only one.'Lucy: What you're saying is that it's very mixed and people always want you to accentuate the positive but it's a whole maelstrom of things including loneliness.Leah: Yes exactly. (many baby noises from Zak) 
LUCYSo maybe loneliness isn't so much about the physical state of being alone, but the gap between the relationships we have and the relationships we want. And often our shame in not being able to express this loneliness to anyone else in case they think we're a failure. The yearning we can feel is powerfully expressed in Antony and the Johnsons's song about facing not only our own life but our own death…..

MUSIC: ANTHONY AND THE JOHNSONSHope there's someone   Who'll take care of me   When I die, will I go     Hope there's someone   Who'll set my heart free   Nice to hold when I'm tired     There's a ghost on the horizon   When I go to bed   How can I fall asleep at night   How will I rest my head     Oh I'm scared of the middle place   Between light and nowhere   I don't want to be the one   Left in there, left in there     LUCYBut perhaps also relieving our loneliness isn't always about being with other people, although that can help. The writer Jeanette Winterson has written that the opposite of loneliness isn't company but "return". 
Remembering who we are inside, and knowing that person to be loved and accepted by God, can ease the loneliness we feel, whoever we're with and whatever our circumstances.
The poet Derek Walcott died this year but this "return" seems to me to be here in his poem Love after Love
POEMThe time will come  when, with elation,  you will greet yourself arriving  at your own door, in your own mirror,  and each will smile at the other's welcome,  and say, sit here. Eat.  You will love again the stranger who was your self.  Give wine. Give bread. Give back your heart  to itself, to the stranger who has loved youall your life, whom you ignored  for another, who knows you by heart.  Take down the love letters from the bookshelf,the photographs, the desperate notes,  peel your own image from the mirror.  Sit. Feast on your life. 
LUCYSoon, Jesus will say that all is accomplished. He will give up his spirit to the God who breathed life into all that lives. He will return.
And for the people left behind?
The artist Mark Cazalet imagined in his Stations of the Cross for a convent in East London what Mary, the mother of Jesus, would have done on the evening of Good Friday. In her own grief and loneliness, the artist imagined that she went to visit someone she thought might understand:  Judas's mother:  and he painted this picture.  Two women talking gently together about their terrible, terrible day. Two mothers whose sons had died in the story of the world's salvation, returning to the truth of the matter, the horror - and the promise of beauty - in God's Good Friday.
And so this afternoon, we leave them there, with a prayer that the loneliness each of us so readily feels, finds a home in the loneliness of Christ, and in finding a home there, is dissolved into love.
MUSICJessye Norman humming