Main content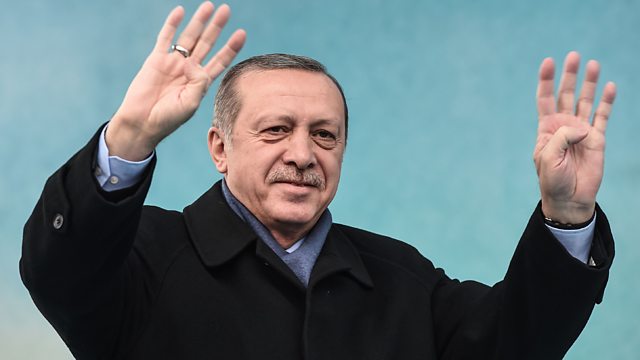 Should we worry about Turkey?
What Turkey's referendum means for the UK's foreign policy, with David Aaronovich.
What does Turkey's referendum mean for the UK's foreign policy?
The UK has long seen Turkey as a bastion of stability in the Middle East: a Muslim-majority democracy, a NATO member and ally against so-called Islamic State; a physical and ideological bridge between east and west; and a fascinating and pleasant place to take our families on holiday.
That stability is increasingly in doubt. A series of bloody terror attacks has made many holidaymakers think twice about Turkey. More fundamentally, Turks are in the midst of a bitter referendum campaign that could change how they're ruled. On the face of it, they should be united about Sunday's constitutional referendum.
Most agree the current constitution, drafted by on the orders of the military following a coup in 1980, needs change. Yet the two sides have literally been throwing punches.
Leading campaigners have been physically attacked; there's been a brawl in parliament. The Yes camp, led by the government, has painted its opponents as terrorists. The No camp say it's a power grab by the increasingly authoritarian president, Recep Tayyip Erdoğan.
"The wrong choices have the potential to deliver catastrophe well beyond Turkey's borders," a UK parliamentary report found recently. "Turkey's democracy and democratic culture are under severe pressure."
In this edition, David Aaronovich hears from:
Chris Morris, the BBC's long-time Turkey watcher
Ziya Meral, Resident Fellow, the Centre for Historical Analysis and Conflict Research
Firdevs Robinson, Turkish journalist and broadcaster
Gulnur Aybet, senior advisor to President Erdogan
Producer: Neal Razzell.
Turkey's president says the Gulen movement was behind a recent coup attempt - what is it?

What will happen if the Islamic State loses its state? David Aaronovitch investigates.