Main content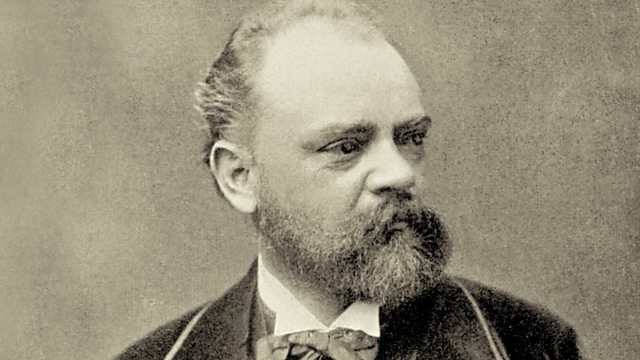 Donald Macleod focuses on two completely contrasting, yet pivotal, works: Dvorak's Stabat Mater and Moravian Duets. Plus the Symphonic Variations.
Donald Macleod explores two completely contrasting, yet pivotal, works - Dvorak's Stabat Mater and Moravian Duets. Plus, a rare gem: his Symphonic Variations.
Long before the famous journey to the New World, the celebrated visits to this country, before even the great shaggy beard...there was once a young composer, obsessed with Wagner, scratching out a meagre living in obscurity in Prague - waiting patiently to snatch his moment as the most outstanding and distinctive musical voice his nation had ever heard. This week, Donald Macleod explores the critical period in the late 1870s when Antonin Dvorak first made his name, drawing musically from no fewer than four of Dvorak's early symphonies, his Piano and Violin Concertos, his much-loved Slavonic Dances, his String Quintet in G, and host of stage and chamber works.
Amidst the growing professional fame of the late 1870s, there was tragedy in Dvorak's family life as he lost the first three of his children to be born. A proud family man and deeply religious soul, Dvorak poured his grief into his much-loved Stabat Mater - a work that would later make his name in Great Britain. Meanwhile, a set of delightful Moravian Duets set tongues wagging in Germany - and won him a Berlin publisher. Could the man from the so-called "backwater" of Bohemia be set for his biggest break?
Quis est homo qui non fleret (Stabat Mater)
Ilse Eerens, soprano
Michaela Selinger, alto
Maximilian Schmitt, tenor
Florian Boesch, bass
Collegium Vocale Gent
Royal Flemish Philharmonic Orchestra
Philippe Herreweghe, conductor
Five Moravian Duets, Op 29
Elisabeth Schwarzkopf, soprano
Irmgard Seefried, contralto
Gerald Moore, piano
Symphonic Variations
Baltimore Symphony Orchestra
Marin Alsop, conductor
Piano Concerto in G minor, Op 33 (2nd mvt)
Stephen Hough, piano
City of Birmingham Symphony Orchestra
Andris Nelsons, conductor.