Main content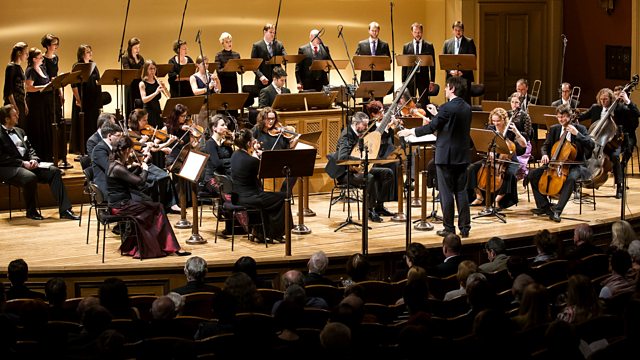 Vatican City, Moscow, Dublin, Prague
Ian Skelly presents the first part of the European Broadcasting Union's annual day of music to mark Holy Week, with concerts from Vatican City, Moscow, Dublin and Prague.
Ian Skelly guides us on our annual journey around Europe for a series of concerts to mark Holy Week. Part one includes concerts from Vatican City, Moscow, Dublin and Prague.
11am - from Assunta Hall, Vatican City
A concert of music following the Stations of the Cross, performed by Ensemble Mirabilis Harmonia.
Pergolesi: Adagio, from Concerto in G for flute, two violins and continuo
Alphonsus Maria de' Liguori: Excerpt from 'Il Duetto' or 'Canto della Passione'
Anon: Su legno vergognoso, aria for soprano, two violins and continuo
Telemann: Aria from Schaut die Demut Palmen tragen, TW1:1245, from 'Der Harmonischer Gottes-dienst'
Telemann: Es scheint, aria from 'Der für die Sünde der Welt gemarterte und sterbende Jesus' (Brockes Passion)
Giuseppe Maria Po detto 'Il Finale': Spine che pungete, aria from 'Cantata Spirituale del XVIII secolo'
Biber: The Crucifixion, No. 10 from 'Rosary Sonatas', for viola d'amore and continuo
Anon: Ohimè qual io ti veggio, aria from 'Passione di Cristo'
Anon: O qual sovra la Croce, from 'Cantata per la Passione de Nostro Signore', for soprano, two violins, flute and continuo.
Ensemble Mirabilis Harmonia
Ilenia Tosatto (soprano)
Valerio Losito (violin, viola d'amore)
Giorgi Tosi (baroque violin)
Susanna Valloni (baroque flute)
Ulrike Pranter (baroque cello)
Angela Naccari (harpsichord)
12pm - From Alexandrovsky Concert Hall, Moscow
A concert of music by Metropolitan Hilarion of Volokolamsk (secular name, Grigory V. Alfeyev) who combines being a bishop of the Russian Orthodox church with studies in theology along with composition.
Hilarion Alfeyev: Stabat Mater
Hilarion Alfeyev: Song of Ascent
Zhilya Ismailova (soprano)
'Masters of Choral Singing' Grand Chorus of Russian State TV and Radio Music Centre
Moscow Synodal Choir
National Philharmonic of Russia
Vladimir Spivakov (conductor)
1pm - from Christ Church Cathedral, Dublin
A sequence of music for uilleann pipes and pipe organ which will explore the connections between traditional Irish slow airs and the music of the French Classical organ school. Followed by David Hill's arrangement of Fauré's Requiem, for SSA choir, organ, violin, cello harp and baritone.
David Bremner (arranger): Spirit of the Times, for organ and pipes
Fauré: Requiem in D minor, Op.48, arr David Hill
Gavan Ring (baritone)
Dianne Marshall (harp)
Bogdan Sofei (violin)
Adrian Mantu (cello)
David Bremner (organ)
Mark Redmond (uilleann pipes)
RTE Mixed Children's Choir
Mary Amond O'Brian (conductor)
2pm - From the Rudolfinum, Prague
Collegium Vocale 1704 and Collegium 1704 perform the contrasting music of Bach and Zelenka - Bach's grounded in German Lutheran tradition, while Zelenka's exhibits a Catholic ethos and Italian sensibilities.
Zelenka: 1st Lamentation for Maundy Thursday from Lamentatio Jeremiae Prophetae, ZWV.53
Zelenka: De profundis in D minor, ZWV.50
Bach: Ich habe genug, BWV.82
Jan Martinik (bass)
Aneta Petrasova (alto)
Vaclav Cizek (tenor)
Tomas Kral & Lukas Zeman (basses)
Collegium Vocale 1704
Collegium 1704
Václav Luks (conductor)
Photo of Collegium 1704, Collegium Vocale 1704 and Vaclav Luks (c) Petra Hajska 2017.
More episodes
Previous
You are at the first episode