Main content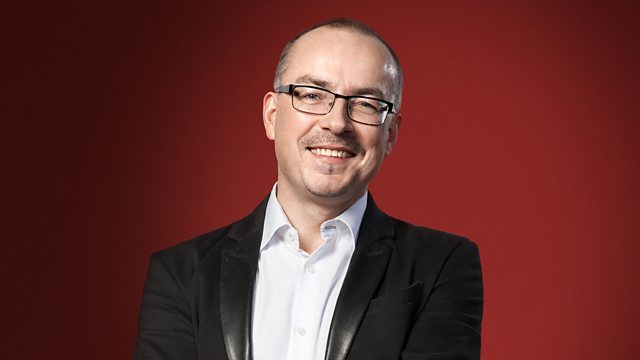 Andrew McGregor with Sarah Walker and Verity Sharp
With Andrew McGregor. Including Building a Library: Kodaly's Dances of Galanta; Recent folk releasees, including Eliza Carthy and the Wayward Band, Chris Wood and Twelfth Day.
Andrew McGregor with something of a folk theme as Radio 3 visits Hull for its Uproot festival.
0930
Building a Library on Kodaly's Dances of Galanta. Sarah Walker recommends a recording of Kodaly's joyful orchestral work based on the Hungarian dances of the border town of Galanta where he lived as a boy. As he remarked: "At that time there existed a famous gypsy band and this was the first 'orchestral' sonority that came to the ears of the child..."
10.30
Verity Sharp looks at some recent releases of British folk music from Eliza Carthy and The Wayward Band, Chris Wood, Twelfth Day and classics from Anne Briggs.
1145
Andrew chooses an outstanding new release as his Disc of the Week.
9am
Kate Loder: Piano Music
LODER, K: Twelve Studies, Book 1; Twelve Studies, Book 2; Three Romances: No. 2 in A flat; Pensee Fugitive in A flat; Voyage Joyeux in A major; Mazurka in A minor; Mazurka in B minor
Ian Hobson (piano)
TOCCATA CLASSICS TOCC0321 (CD)
French Piano Concertos
BOULANGER, N: Fantasy for Piano and Orchestra
FRANCAIX: Piano Concerto
RAVEL: Piano Concerto in D major (for the left hand)
TAILLEFERRE: Ballade
Florian Uhlig (piano), Deutsche Radio Philharmonie, Pablo Gonzalez
SWR MUSIC SWR19027CD (CD)
Hommage A Fritz Kreisler
KREISLER: Tambourin Chinois Op. 3; Chanson Louis XIII and Pavane (In the style of Couperin); Allegretto (in the style of Boccherini); Slavonic Dance in E minor; Dirge of the North; Liebesleid; Liebesfreud; Schon Rosmarin; Syncopation; Rondino on a Theme by Beethoven; Indian Lament; Marche miniature viennoise; Humoreske (after Dvorak); La Gitana; Andante cantabile (after Tchaikovsky); Toy Soldiers' March; Recitative & Scherzo Caprice Op. 6; Caprice Viennois Op. 2; Praeludium and Allegro (in the style of Pugnani)
Barnabas Keleman (violin), Zoltan Kocsis (piano)
BUDAPEST MUSIC CENTRE BMC250 (CD)
Schubert: Fantasie in F Minor & other piano duets
SCHUBERT: Fantasie in F minor for piano duet, D940; Four Landler D814; Marches caracteristiques (2), D886: No. 1; Variations in A flat major on a original theme, D813; March D819 No. 3; Polonaise Op. 61 No. 1 D824, D minor; Rondo for piano duet in A major, D951
Andreas Staier, Alexander Melnikov (fortepiano Graf by Christopher Clarke)
HARMONIA MUNDI HMM902227 (CD)
9.30am - Building a Library
Building a Library: a weekly look at a piece of music, a comparison of the available recordings, and a recommendation.
Composer: Zoltán Kodály
Piece: Dances of Galánta
Reviewer: Sarah Walker
Building a Library: Kodaly's Dances of Galanta
Recommended recording:
Budapest Festival Orchestra, Ivan Fischer (conductor)
(Currently available as a download only)
The original CD issue was on:
PHILIPS 4628242 (coupled with)
KODALY: Hary Janos Suite; Tancnota (Dancing song); Dances of Marosszek; Gergely-jaras (St. Gregory's day)
Other recommended recordings:
Below is a shortlist of other recordings which Sarah Walker also liked, although we can't guarantee the availability of these discs.
London Philharmonic Orchestra, Sir Georg Solti (conductor)
AUSTRALIAN ELOQUENCE ELQ4806599 (2CD)
London Symphony Orchestra, Istvan Kertesz (conductor)
AUSTRALIAN ELOQUENCE ELQ4804873 (CD)
10.20am – Elgar releases
Elgar Rediscovered: An Anthology of Forgotten Recordings
ELGAR: Elegy for String Orchestra, op. 58; Sonatina; Serenade; La Capricieuse, op. 17; Coronation March, op. 65; Coronation Ode, op. 44; Scenes from the Bavarian Highlands, op. 27; The Dream of Gerontius op. 38: Kyrie; The Fringes of the Fleet; The Pipes of Pan; Sea Pictures, op. 37; Concerto for Violin & Orchestra in B min. op. 61; Salut d'Amour op. 12
GERMAN: Coronation March & Hymn
BBC Symphony Orchestra, Edward Elgar, May Grafton, Alfredo Campoli Salon Orchestra, Alfredo Campoli, Herold Pedlar, London Philharmonic Orchestra, Landon Ronald, The Imperial Bandsmen, Sheffield and Leeds United Choirs, Henry Coward, Stanley Roper, Mrs Baker, Sheffield Choir, Henry Coward, Guardsman 2068, Frederic Austin with orchestra, Maartje Offers, Orchestra conducted by John Barbirolli, Albert Sammons, Symphony Orchestra, Henry Wood, Gerald Moore
SOMM SOMMCD0167
Elgar & Tchaikovsky: Cello Works
ELGAR: Cello Concerto in E minor Op. 85
TCHAIKOVSKY: Variations on a Rococo Theme Op. 33 (original version)
Johannes Moser (cello), L'Orchestre de la Suisse Romande, Andrew Manze (conductor)
PENTATONE PTC5186570 (Hybrid SACD)
Elgar: Symphony No. 1 & Introduction and Allegro
ELGAR: Introduction & Allegro for strings Op. 47; Symphony No. 1 in A flat major Op. 55
Doric String Quartet, BBC Symphony Orchestra, Edward Gardner (conductor)
CHANDOS CHSA5181 (Hybrid SACD)
10.50am – Verity Sharp on folk music recordings
Big Machine
Eliza Carthy and the Wayward Band
TOPIC TSCD592
From Here: English Folk Field Recordings (curated by Stick in the Wheel)
Jack Sharp, Eliza Carthy, John Kirkpatrick, Bella Hardy, Martin Carthy, Nicola Kearey, Jon Boden, Lisa Knapp, Spiro, Sam Lee, Stew Simpson, Fran Foote, Sam Sweeney, Fay Hield, Peta Webb, Ken Hall, Rob Harbron, Men Diamler
FROM HERE RECORDS SITW005
So Much to Defend
Chris Wood, with Gary Walsh, Justin Mitchell, Martin Butler
RUF RUFCD014
Cracks in the Room
Twelfth Day
ORANGE FEATHER RECORDS OFR005
Three Cane Whale Live at the Old Barn, Kelston Roundhill
Three Cane Whale
KELSTON RECORDS KR001CD
11.45am – Disc of the Week
Elgar: Symphony No. 2
ELGAR: Symphony No. 2 in E flat major Op. 63; Chanson de Matin Op. 15 No. 2; Mina; Carissima
Royal Liverpool Philharmonic Orchestra, Vasily Petrenko (conductor)
ONYX ONYX4165 (CD)