Main content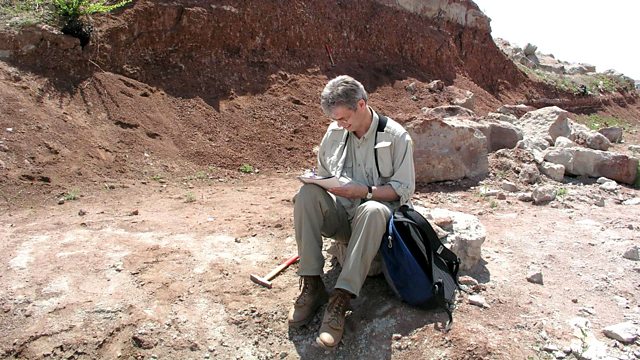 Nick Fraser on Triassic reptiles
Nick Fraser tells Jim Al-Khalili about unearthing ancient reptiles from the Triassic and an exciting fossil find in the Scottish borders.
Nick Fraser regularly travels back in time (at least in his mind) to the Triassic, a crazily inventive period in our evolutionary history that started 250 million years ago. Wherever there are ancient Triassic creatures buried underground, Nick is never far behind; and his 'fossil first' approach to life has been richly rewarded. In 2002, he unearthed a new species of gliding reptile in Virginia, USA. Last year in southern China, he identified the remains of a creature so utterly odd that the paleontologists who studied this species before him had got it all wrong. And earlier this year he was part of a tiny but hugely exciting discovery much closer to home, hidden in the Scottish borders in rocks that are over 350 million years old: an ancient amphibian, imaginatively named Tiny, that is the earliest known example of an animal with a backbone to live on land. It may even have had five fingers.
Producer: Anna Buckley.
Last on

Broadcasts