Main content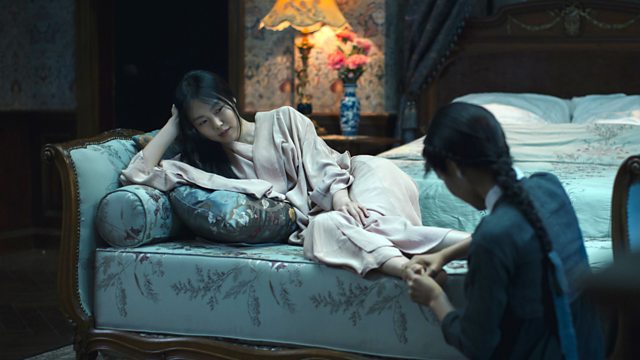 The Handmaiden, White Tears, Guards at the Taj, Born to Kill, Game Changers
Park Chan-Wook's latest film The Handmaiden, Hari Kunzru's White Tears, Guards at the Taj, a new play by Rajiv Joseph, Born to Kill on C4 and Game Changers at Somerset House.
South Korean film director Park Chan-Wook's latest film "The Handmaiden" is based on Welsh writer Sarah Waters' hit 2002 novel Fingersmith about a lesbian love affair in Victorian England transported to 1930s Korea.
Award winning British writer Hari Kunzru's fifth novel, White Tears, is a ghost story, a terrifying murder mystery, a timely meditation on race, and a love letter to all the forgotten geniuses of American music and Delta Mississippi Blues.
American Pulitzer Prize nominee Rajiv Joseph's new play opens at the newly refurbished Bush Theatre in London and tells the story of two guards at the Taj Mahal, as the magnificent monument nears completion in Agra, India in 1648.
Born to Kill is a new four-part drama exploring the mind of Sam, a teenager on the verge of acting out suppressed psychopathic desires. As this chilling coming of age drama unfolds, decades of deceit are revealed and Sam's family's long buried past returns with a vengeance. Starring Romola Garai (The Hour, Suffragette) and Daniel Mays (Line of Duty).
And Game Changers, Another Way to Play at Somerset House in London shows how designers and artists continuously adapt the mechanics of familiar games, featuring chess, billiards and mazes.
Subscribe to the Saturday Review podcast
Podcast
Sharp, critical discussion of the week's cultural events, with Tom Sutcliffe and guests