Main content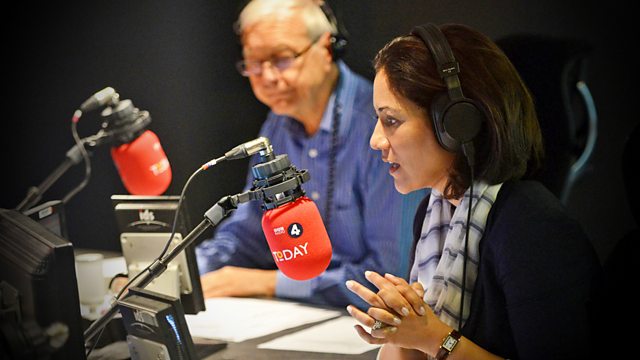 14/04/2017
Morning news and current affairs. Including Sports Desk, Weather and Thought for the Day.
Today's running order
0650
According to the teaching union the NASUWT, almost all teachers and school leaders (98 per cent) have come into contact with pupils experiencing issues including panic attacks, eating disorders, anxiety and depression. Patrick Roach is deputy general secretary of the NASUWT teachers union.
0709
After the Syrian President denied use of chemical poison on his own people, Walid al-Moualem, the Syrian foreign minister, is in Moscow for a meeting with his Russian and Iranian counterparts. Dr Lina Khatib is head of the Middle East and North Africa programme at Chatham House.
0712
New figures suggest two private companies assessing people claiming disability benefits - Personal Independence Payments - will receive millions of pounds more than was budgeted for in their contracts. Stephen Crabb is former work and pensions secretary and Debbie Abrahams is shadow work and pensions secretary.
0720
A manuscript of musical works that spent 300 or 400 years stuffed into a crack in a wall in an Oxford college and that was been partly written by one of Henry the VIII's wives gets its first modern performance tonight in London. Nick Higham reports.
0730
Both Theresa May and Jeremy Corbyn launched their local election campaigns in Nottinghamshire, where Labour run the council. It's turning into one of key battles of the local elections. Ross Hawkins reports. John Curtice is professor of Politics at the University of Strathclyde. You can see a full list of candidates here http://www.nottinghamshire.gov.uk/council-and-democracy/elections/nottinghamshire-county-council-elections.
0740
The British Film Institute is re-releasing One Flew Over the Cuckoo's Nest to celebrate the 80th birthday of Jack Nicholson who played patient Randle McMurphy. Today's Zoe Conway has been speaking to Louise Fletcher, who played Nurse Ratched.
0750
Wiltshire Police have confirmed that two people arrested following child abuse allegations against former Prime Minister Sir Edward Heath have been released. The two unnamed suspects were told they face no further action. Dr Richard Hoskins is a criminologist and author of The Boy in the River.
0810
The United States has for the first time used one of its largest conventional bombs, dropping it on hideouts of the Islamic State group in Afghanistan. PJ Crowley was an assistant secretary of state under President Obama and Professor Michael Clarke is former director general of defence and security think tank RUSI.
0820
NASA believes one of Saturn's moons, known as Enceladus, may now be the single best place to look for life beyond Earth. Maggie Aderin-Pocock is a space scientist and researcher at University College London
0830
President Trump said last night "North Korea is a problem. The problem will be taken care of". There's mounting speculation that North Korea may be preparing to conduct its sixth nuclear test to mark the anniversary on Saturday of the birth of its founding President, Kim Il-Sung. Frank Gardner is the BBC's security correspondent and John Everard is former UK Ambassador to North Korea.
0835
Richard Branson's April Fool's joke involving him setting up a sperm bank that only accepts donations from dyslexic people has led to policy change and less discrimination in sperm banks. John Humphrys has been talking to Sir Richard Branson.
0840
There were violent clashes in Indian-controlled Kashmir yesterday despite a massive security operation to avoid elections being disrupted. The new polls come after eight people were killed and more than 100 were injured in clashes with the security forces over a by-election on Sunday. The BBC's South Asia correspondent Justin Rowlatt reports.
0845
This week energy firm EDF raised the price of its electricity for customers on standard tariffs for the second time in a year and was immediately criticised by the energy regulator Ofgem which described it as "difficult to justify".  The BBC's business correspondent Jonty Bloom reports. Greg Jackson is CEO and founder of Octopus Energy and Richard Neudegg is head of regulation at uSwitch.com
0850
Does the current national curriculum fail to prepare children for living and working in the digital age? Ian Livingstone is the author of Hacking the Curriculum and thinks coding and computing are essential skills that should be taught in all modern schools. Sue Freestone is Principal of King's Ely, a school in Cambridgeshire.
All subject to change.