Main content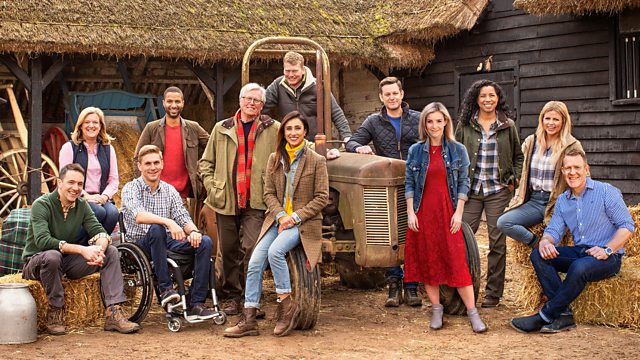 Denbighshire
Matt Baker and Ellie Harrison visit Denbighshire in north east Wales. Ellie is up at the crack of dawn to witness the spring mating rituals of grouse.
Matt Baker and Ellie Harrison visit Denbighshire in north east Wales. Matt spends a day with Daphne Tilley, who was recently awarded an MBE for services to agriculture. Jamie Oliver, the Ritz and the Queen's caterers all buy Welsh lamb from Daphne.
With woodland, wetland and moorland to explore, Denbighshire provides Ellie with some great opportunities for wildlife spotting. She is up at the crack of dawn to witness the spring mating rituals of grouse, before she heads out on to the moorland to monitor adders.
Sean Fletcher meets Sarah Hughes, a farmer whose business blossoms in spring as she has diversified into selling edible flowers.
Adam Henson is in Cumbria at the first college in the country to offer a dedicated sheepdog-handling course.
Tom Heap talks about the future of farming - from a fantastical land of butter mountains and wine lakes, he asks what UK agriculture will look like from outside the European Union.
Daphne Tilley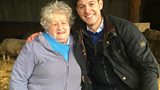 Every mum deserves a treat on Mother's Day, but how about a nomination for an MBE as an ultimate show of respect? That's what John Tilley did for his 76 year old mum Daphne for her services to agriculture. Matt Baker spends a day with Daphne on the family farm as we discover just how Daphne became a 'Lambassador' for Wales.
Adders
With its woodland, wetland and moorland to explore, Ellie Harrison is on a quest over land and water discovering the wildlife wonders of Denbighshire. From brown hares to hen harriers she learns how the North Wales Wildlife Trust is working hard to maintain and enhance the wildlife here. But there is one special reptile just waking from its winter slumber, that Ellie's hunting ... the adder.
The future of farming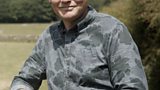 Tom Heap is discovering what farmers, environmentalists and economists would like to see replace the Common Agriculture Policy when we leave the EU. Pretty much everyone agrees that the current system could be improved and that this is our big chance to get it right, but can everyone agree on what a new system should look like?     
Cefn Du Farm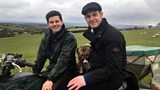 Matt Baker catches up with Daphne's grandson James, who stepped into his dads boots to manage the farm after he sadly passed away last year. After training to become a teacher, James had to learn pretty quickly the day to day running of the farm and Matt lends a helping hand.
Black Grouse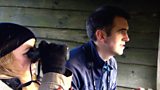 Ellie heads for the Coed Llandegla Forest in search of one of nature's spectacles. Guided by RSPB Officer Martin Cliffe, Ellie hopes to catch the male black grouse 'lekking' with puffed up chests, the strange courting dance to attract the females and with over 70% of the Welsh black grouse population living in this forest, Ellie's got a fair chance. 
Edible Flowers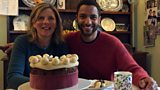 The flowers dotting the Welsh hedgerows and valleys are a sure sign spring is here and for one farming family in the Dee Valley, it's means business is blooming. Sean Fletcher meets Sarah Hughes who's family have been farming here for three generations. Recently she's taken the farm in a new direction producing edible flowers. Sean sees how they harvest the crop and learns the process for making decorative floral gems for a perfect Mother's day gift.
Sheepdog school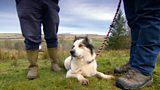 Adam's in the Lake District visiting a project training the shepherds of the future. Newton Rigg college, along with the international sheepdog council, run a course to ensure the skill of working a sheepdog is passed on. While Adam is there he catches up with one of the college's success stories, Tom Blease, who was part of the winning English team for Countryfile's One Man and His Dog last year.
Mothering Sunday feast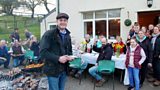 Matt meets London chef and loyal customer of Daphne's lamb, George Wood from Soho restaurant Temper, who is visiting the farm for the first time to see how the lambs are raised. George then joins forces with fellow chef Martin Anderson, to try out the lamb and cook up a proper Mothering Sunday feast.
Credits
| Role | Contributor |
| --- | --- |
| Presenter | Matt Baker |
| Presenter | Ellie Harrison |
| Presenter | Sean Fletcher |
| Presenter | Adam Henson |
| Presenter | Tom Heap |
| Series Producer | Joanna Brame |
| Executive Producer | William Lyons |