Main content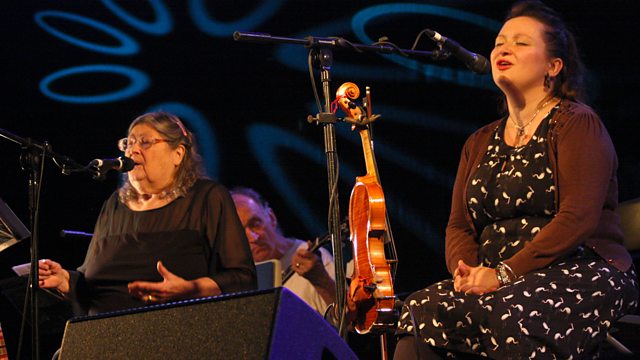 Radio 3 in Concert at Uproot Festival
Live from Hull Truck Theatre as part of Radio 3's Uproot festival for Hull UK City of Culture 2017, Kathryn Tickell introduces a celebration of folk group The Waterson Family.
The First Family of English Folk: a celebration of the Waterson Family, who come from Hull. Part of Radio 3's Uproot festival for Hull 2017.
Live from Hull Truck Theatre. Introduced by Kathryn Tickell
The Waterson Family:
Norma Waterson, Ann Waterson, Eleanor Waterson, Marry Waterson, Erin Anderson, Davoc Brady, Lauren McCormick, Emily Portman and Jim Causley (singers)
Martin Carthy (singer, guitar)
Eliza Carthy (singer, violin)
8.15 pm: INTERVAL - a profile of refugee musicians in Hull
8.15 pm Part Two
The Gift Band:
Norma Waterson (vocals)
Martin Carthy (guitar, banjo, vocals)
Eliza Carthy (Vocals, Violin)
David Donnelly (double bass, vocals)
David Delarre (guitar, mandolin, vocals)
Phil Alexander (piano, accordion, vocals)
Neil McColl (electric guitar, banjo, vocals)
Kate St John (oboe, piano accordion, vocals)
As part of the BBC's contribution to Hull UK City of Culture 2017, Radio 3 presents 'Uproot', a 3-day festival celebrating the area's folk and roots heritage as well as its international cultural connections. There are four concerts at Hull Truck Theatre from major world and folk artists, including Hull's folk royalty The Waterson Family, Eliza Cathy's innovative Arms Wide Orchestra, special appearances from Yorkshire folk artists Fay Hield and Martin Simpson, plus concerts celebrating Hull's international links from the Warsaw Village Band and Sierra Leone's Refugee All Stars. The theme is reflected widely in other programming across the three days. The theme 'Uproot' is essentially a reflection on roots, how people relate to them in fast-changing times, and what happens when people are displaced from their roots.
The Watersons were leading figures in the English folk revival in the 1960s and 70s, celebrated for their unique song repertoire and distinctive vocal harmonies. With Martin Carthy joining the family in the 1970s, and new generations of family musicians coming through, they have been a reference-point for English folk for fifty years. In this special concert for Hull City of Culture 2017, they return to their home town, with a first half that celebrates the traditions of the Watersons' vocal harmonies, and a second half with The Gift Band, fronted by Norma Waterson, the only remaining member of the original 1960s line-up, with her daughter Eliza Carthy.
Clips

Music Played
Part 1

Interval

Part 2

Post-concert
Featured in...
Radio 3 presents Uproot, a 3-day festival celebrating the area's folk and roots heritage.