Main content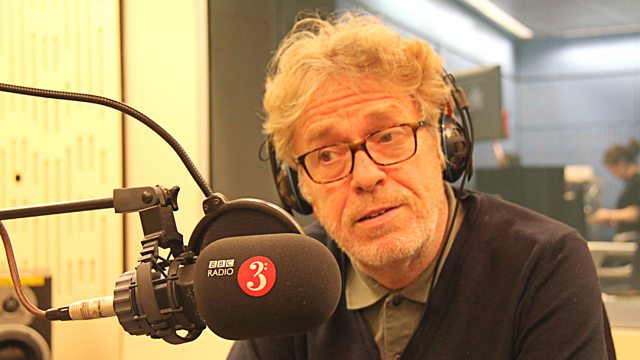 Tuesday - Sarah Walker with David Hepworth
With Sarah Walker. Including Musical challenge; Music in Time: Handel; Artist of the Week: trumpeter Hakan Hardenberger, featured in Arvo Part's Concerto Piccolo on B-A-C-H.
9am
Sarah sets the tone and mood of the day's programme with a range of music to intrigue, surprise and entertain.
9.30am
Take part in our daily musical challenge. Two pieces of music are played together. Can you identify them?
10am
Sarah's guest this week is the music journalist and broadcaster David Hepworth. David has launched and written for many of the most successful pop-culture magazines of the past 30 years, including Smash Hits, More, Heat, Q and The Word. He was a presenter of BBC2's The Old Grey Whistle Test and co-presented the BBC's coverage of the global charity concert Live Aid. As well as discussing his life's work and reflecting on popular culture, David also shares his passion for classical music choosing a selection of his favourite works. Across the week we'll hear music by composers including Copland, Walton and Philip Glass.
10.30am
Music in Time: Baroque
Today Sarah's in the Baroque period exploring a lesser-known side of Handel's career. Alongside being the star of London's opera scene, Handel also took a philanthropic interest in his adopted city. Sarah shares music he wrote for the Foundling Hospital and considers what it tells us about 18th-century London.
Double Take
Sarah explores the nature of performance by highlighting the differences in style between two interpretations of Debussy's Arabesque No.2 - one by Zoltán Kocsis and one by Pascal Rogé.
11am
Sarah's Artist of the Week is the Swedish trumpeter Håkan Hardenberger. During three decades of performing and recording, he's established a reputation for both virtuosity and versatility. His interpretations of classic repertoire such as the concertos of Haydn and Hummel have become benchmarks for the next generation, and Sarah has selected these alongside Bach's Brandenburg Concerto No.2 in F major, widely perceived as one of the most challenging pieces in the trumpet repertoire. But, Hardenberger is also committed to championing contemporary works. Sarah's selections include Pärt's Concerto Piccolo on B-A-C-H and Takemitsu's Paths - both of which were dedicated to, and premiered by him - as well as H K Gruber's 3 MOB Pieces.
Arvo Pärt
Concerto Piccolo on B-A-C-H
Gothenburg Symphony
Håkan Hardenberger (trumpet/director).
Music Played
David Hepworth's first choice

David Hepworth's second choice

David Hepworth's third choice

Music in Time: Baroque

Double Take

Artist of the Week: Håkan Hardenberger
Musical Challenge: Imperfect Harmony
The two pieces we heard simultaneously were the 2nd of Gershwin's three piano preludes & Ravel's sonata for violin & cello.