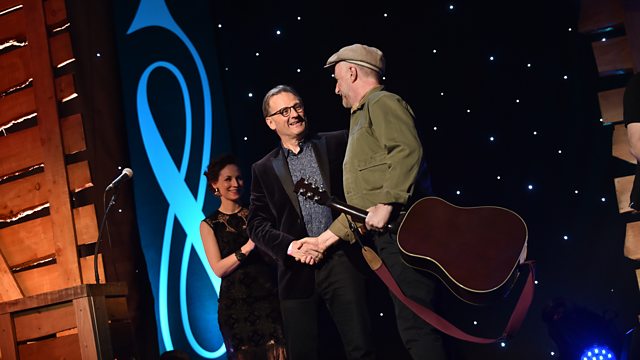 2017
Ry Cooder, Al Stewart, Billy Bragg, Shirley Collins, Jim Moray, Fara, Daoirí Farrell and Afro Celt Sound System are among the performers at the annual celebration of folk and acoustic music.
Mark Radcliffe and Scottish singer Julie Fowlis introduce all the music and special guests live from London's Royal Albert Hall.
The Folk Awards, now in its 18th year, shines a light on the most exciting and interesting artists on the British scene and beyond.
This year, American roots rock legend Ry Cooder makes a rare UK appearance as he receives a Lifetime Achievement Award in the 50th year of his career. One of the outstanding guitarists of his generation, he has recorded with The Rolling Stones, Captain Beefheart, The Chieftains, Randy Newman, Ali Farka Touré and many more. A long-time champion of folk music, he defied the US-Cuba embargo in 1997 to produce the classic Buena Vista Social Club album with veteran musicians.
Platinum-selling songwriter Al Stewart, known for a narrative brand of folk-rock that weaves tales of historical characters and events, also receives a Lifetime Achievement Award and plays live. Born in Glasgow and raised in Dorset, Stewart's enduring songs include Year of the Cat, Time Passages and On the Border.
Billy Bragg performs a special tribute to influential US folk icon Woody Guthrie, who died, tragically young, 50 years ago. Activist and songwriter Guthrie, who sang with Pete Seeger and mentored Bob Dylan, is inducted into the Folk Awards Hall of Fame. Previous inductees include Sandy Denny, Cecil Sharp and Ewan MacColl.
English traditional singer Shirley Collins MBE performs a track from her remarkable comeback album, Lodestar. Shirley was one of the key voices in the UK folk revival from the 1950s to the 1970s. Lodestar was her first release in more than 30 years.
Afro Celt Sound System and Orkney group Fara also perform live.
A specially curated performance from The Ballads Of Child Migration features the voices of former child migrants, narration by Barbara Dickson and original songs performed by Kris Drever, Jez Lowe, While & Matthews, Boo Hewerdine, O'Hooley and Tidow, John McCusker, Andy Cutting and Mike McGoldrick.
Highly-rated Dublin singer Daoirí Farrell, who is nominated in three categories, performs live, as does singer and instrumentalist Jim Moray with his full-blooded Upcetera band.
Prizes handed out to celebrate the best in folk and acoustic music include Folk Singer of the Year, Best Group, Best Traditional Track, Best Original Track, Musician of the Year and the Horizon Award for the best emerging act.
The 2017 BBC Radio 2 Young Folk Award is also presented to one of four nominees, all of whom are UK-based musicians aged 16-21. These inspiring young acts also perform live during the interval, in a special programme hosted by Northumbrian musician and broadcaster Kathryn Tickell.
The Folk Awards are also available to watch live on the BBC Radio 2 website, and highlights will be broadcast on BBC Four on Sunday 9 April.
Last on
More episodes
Previous
You are at the first episode