Main content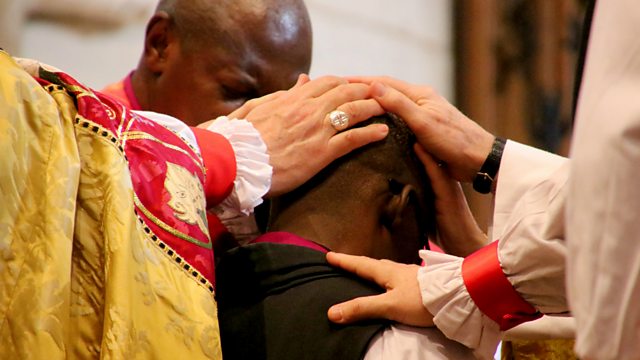 Bishop of Woolwich, Crucifixion row, 500-year-old carol recorded
Sunday morning religious news and current affairs programme.
The Church of England's first black bishop in more than 20 years says he came to Britain from Nigeria as a missionary to help a "spiritually deficient" country. William Crawley speaks to the Right Rev Dr Woyin Karowei Dorgu, the 13th Bishop of Woolwich.
The Catholic Archdiocese of Mexico has condemned as "traitors" any local businesses that help build President Donald Trump's proposed border wall. David Agren is a journalist based in Mexico.
Stephen Rasche, from the Chaldean Archdiocese of Erbil tells Edward Stourton that Iraq's oldest Christian community is at risk of a 'sudden slide towards extinction' unless action is taken to safeguard their future.
Campaigners from the art world have been lobbying the Roman Catholic Bishop of Salford, urging him to save a rare mosaic by the artist, George Mayer-Marton. It forms part of a church building in Oldham which is scheduled for closure. Kevin Bocquet reports.
To help to cover the costs of the elaborate passion play being staged at Manchester Cathedral next weekend, the fund-raising team came up with a novel idea. In return for a generous donation, you can experience 'an almost authentic' crucifixion. Alex Stewart-Clark Head of the Passion Trust defends the idea while Geoff Millard from the Manchester Passion explains why it won't be happening.
The state of Gujarat in India has passed a law to introduce a life sentence for anyone caught slaughtering a cow. Rahul Tandon reports.
A carol sung by the monks of Battle Abbey has been set to music for the first time in 500 years. Kati Whitaker was invited to the recording of the carol which was recently discovered at the 11th century Benedictine abbey.
Producers:
David Cook
Peter Everett
Editor:
Christine Morgan
Photo credit: Diocese of Southwark
Chapters
Mexico Wall

Archdiocese of Mexico has condemned local businesses that help build proposed border wall

Duration: 04:16

Salford Mosaic

Campaigners have been lobbying the Bishop of Salford urging him to save a rare mosaic

Duration: 06:47

Passion Row

Crucifixion at Manchester Cathedral

Duration: 07:13

Cow Row

The state of Gujarat has introduced life sentences for anyone caught slaughtering a cow

Duration: 04:35

Battle Abbey

Carol sung by monks of Battle Abbey has been set to music for the first time in 500 years

Duration: 06:35

Nineveh Plains

Iraq's oldest Christian community at risk of a 'sudden slide towards extinction'

Duration: 05:06

Bishop of Woolwich

William Crawley speaks to the Church of England's first black bishop in more than 20 years

Duration: 07:51