Main content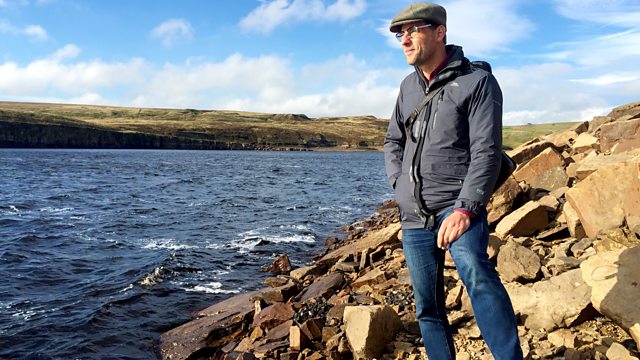 Danu - Dead Flows the Don
David Bramwell confronts his fear of water, tracing the history of the river Don from its industrial destruction to the revival of the goddess Danu by the witches of Sheffield.
'The old pagan gods, when ousted by Christianity, took refuge in the rivers, where they still dwell' - Old English saying
David Bramwell has a fascination and fear of water. He grew up by a water tower, close to the heart of Doncaster: a place of mystery and wonder to him, the highest building in the area, almost a kind of temple.
'We have wandered too far from some vital totem, something central to us that we must find our way back to, following a hair of meaning' - Alan Moore
With deep thought from cult author Alan Moore, the witches of Sheffield, ex-steel workers and the conservationists of Yorkshire, musician David Bramwell plunges into the river Don to celebrate its return to health and the revival of the worship of its goddess, Danu - the river's original name from pre-Roman times.
It's also an underwater musical experience for the listener... blending the sounds of the rivers, canals and streams of the Don, recorded with hydrophones, into new music, new sounds, with Bramwell's compositions.
Bramwell travels up the Don to its source, backwards in time, uncovering the history of its days as an industrial heartland, now a regenerated river - banked by forests of figs and swum through by deer.
He meets John Heaps who, as a teenager in the 1970s at the steel works, was instructed to throw cyanide in the river by the bucket-load; takes a boat with Professor Ian Rotherham, of Sheffield Hallam University, who guides him through the decaying, yet reviving industrial landscape of the city; hunts fresh fish with river expert Chris Firth of the Don Catchment River Trust; stares up at Vulcan on the Town Hall roof, the harsh overlord of industry, with folklorist and lecturer David Clarke; and hears from witches Anwen and Lynne Harling (also an archaeologist, handily), trying to bring back recognition for the goddess of the river.
But this is also a mystical journey - searching out the 'spirit of this dark and lonely water', in an attempt to come to peace with Bramwell's own fear, perhaps to atone for the wrongs committed to Danu by Vulcan, in the name of progress and industrialisation.
Going under, with Between the Ears.
Producer: Sara Jane Hall
Music and words performed, written and presented by David Bramwell.
Clips from Lonely Water (1973) from The COI Collection, courtesy BFI National Archive.
The film can be view on the BFI player, see link below.
Last on
Broadcasts