Main content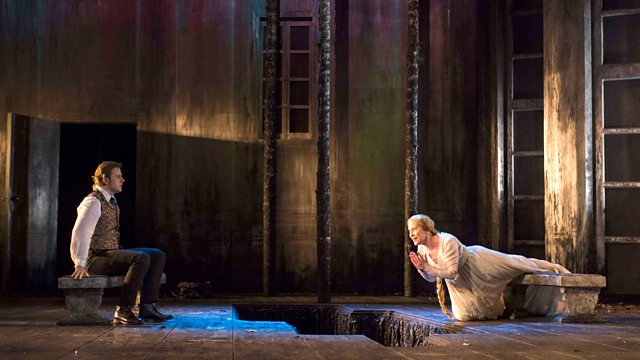 Debussy's Pelleas et Melisande
A new Scottish Opera production of Debussy's masterpiece Debussy's Pelleas et Melisande, directed by David McVicar. Starring soprano Carolyn Sampson and tenor Andrei Bondarenko.
Carolyn Sampson (Mélisande), Roland Wood (Golaud) and Andrei Bondarenko (Pelléas) star in Scottish Opera's new production of Debussy's masterpiece Pelléas et Mélisande. Prince Golaud finds a young woman, Mélisande, lost in the woods, marries her and takes her home to his castle. Mélisande however becomes increasingly unhappy and finds herself drawn to Golaud's brother Pelléas. As they fall in love, their fate is sealed.
Presented by Donald Macleod with guest Kate Molleson.
Mélisande ..... Carolyn Sampson (soprano)
Pelléas ..... Andrei Bondarenko (tenor)
Golaud ..... Roland Wood (baritone)
Arkel ..... Alastair Miles (bass)
Geneviève ..... Anne Mason (mezzo-soprano)
Yviold ..... Cedric Amamoo (treble)
Doctor ..... Jonathan May (bass-baritone)
The Orchestra of Scottish Opera
The Chorus of Pelléas et Mélisande
Stuart Stratford (conductor)
Photo credit: Richard Campbell.
Synopsis
Act I Scene 1 – In a forest
Prince Golaud of Allemonde has been out hunting but is now lost. He
notices a young girl by a pool. There is a crown in the water. The girl
refuses to let Golaud retrieve it for her. Gradually Golaud learns that
she too is lost, having fled an unknown place, and that her name is
Mélisande. Golaud persuades her to leave the forest with him.
Act I Scene 2 – A room in the castle
Six months later. Geneviève, mother to both Golaud and his halfbrother
Pelléas, reads a letter to the almost-blind Arkel, King of
Allemonde. It has been written by Golaud to Pelléas and relates
how Golaud has married Mélisande but knows as little about her
now as when they met in the forest. Golaud is worried that Arkel, his
grandfather, will not accept the marriage, so he asks Pelléas to send
a sign that all is well: a light in a tower signifies that Arkel blesses the
couple.
Pelléas enters, crying. He wants to visit his dying friend, Marcellus, but
Arkel reminds him that his own father is very ill too and that he must
stay at home. Geneviève tells Pelléas he must light the lamp in the
tower for Golaud.
Act I Scene 3 – Before the castle
Geneviève and Mélisande walk together in the dark gardens, where
they encounter Pelléas. They watch a ship put out to sea. Mélisande
recognises it as that which brought her. She believes it will sink. After
Geneviève has left to look after Yniold, Golaud's son from his first
marriage, Pelléas offers Mélisande his hand to guide her. He says that
he may have to go away the next morning. She asks him why.
Act II Scene 1 – A well in the castle gardens
Pelléas brings Mélisande to a shaded well, out of the oppressive heat.
As she reaches out into the well, Mélisande's long hair falls into the
water. Pelléas asks her about her first meeting with Golaud, but she
is unwilling to answer his questions. She plays with Golaud's ring, but
throws it too high and it falls into the well. Mélisande asks Pelléas
what she should do. He replies that she should tell Golaud 'the truth'.
Act II Scene 2 – A room in the castle
Mélisande sits beside Golaud, who is in bed, injured. He was thrown
from his horse as the clock chimed twelve, the same time Mélisande
lost his ring in the well. Mélisande says she is unhappy in the castle
and wants to leave. As Golaud seeks to comfort her, he notices her
wedding ring is missing. Mélisande says she must have lost it in a
cave by the sea where she went looking for shells for Yniold. Golaud
demands that she find the ring, and that she take Pelléas if necessary
to help her.
Act II Scene 3 – A cave
At night, Pelléas accompanies Mélisande to the cave. The moon casts
light inside, revealing sleeping beggars. Pelléas explains that there is a
famine in the land, and that these impoverished people have sought
refuge in the cave.
Act III Scene 1 – A tower of the castle
Mélisande combs her long hair at a high window. Pelléas appears. He
intends to leave the following day and would like to kiss her hand. As
Mélisande leans out, her hair falls and he kisses that instead, trapping
her by tying it to the nearby branches of the trees. Golaud suddenly
arrives. He angrily tells the pair to stop behaving like children, and
leads Pelléas away.
Act III Scene 2 – The castle vaults
Golaud forces Pelléas to look into a stagnant well.
Act III Scene 3 – The entrance to the vaults
Noon. Golaud warns Pelléas not to continue his childish games with
Mélisande. She may be pregnant and mustn't have any unexpected
shocks. Pelléas should avoid her as tactfully as possible.
Act III Scene 4 – Before the castle
Dawn. Golaud questions Yniold as to what he knows about Pelléas
and Mélisande. Yniold offers few answers. Golaud lifts him onto his
shoulders so that he can see into Mélisande's room. She is there with
Pelléas. Yniold reports that they are looking at the light. Frightened,
he struggles and begs to be let down. They leave.
INTERVAL
Act IV Scene 1 – A room in the castle
Pelléas tells Mélisande that his father is recovering his health, and has
urged Pelléas to leave on his travels. Pelléas and Mélisande arrange to
meet for a final time at the well in the gardens.
Act IV Scene 2 – The same room
Arkel tells Mélisande that he felt deeply sorry for her when she first
arrived with Golaud, but now hopes for a brighter future. Golaud
storms in, bleeding – wounded apparently by a thorn. When
Mélisande tries to help him, he demands his sword. Mélisande is
terrified. Mocking her innocent demeanour, he grabs his wife by her
hair and drags her across the floor. With her husband out of the room,
Mélisande tells Arkel that Golaud doesn't love her any more.
Act IV Scene 3 – A well in the castle gardens
Yniold is trying to free a ball from under a stone. He sees a shepherd
approach with his flock. The sheep are bleating in fear. He calls out to
the shepherd to ask why. A voice replies that this isn't the way to the
fold. Frightened, Yniold runs off.
Act IV Scene 4 – The same well
Night. Pelléas is joined by Mélisande. They finally declare their love for
each other. They hear the castle doors being locked and are resigned
to their fate. As they kiss, Golaud emerges from the shadows. He kills
Pelléas. Mélisande, wounded, flees, pursued by Golaud.
Act V – A room in the castle
Mélisande has given birth to a baby girl. A doctor is bewildered as to
why she is fading away when her wounds are so slight. Alone with
her, Golaud asks for Mélisande's forgiveness. Mélisande maintains her
innocence, though Golaud continues to press her for the truth. Arkel
returns with the baby. Mélisande sees that she doesn't cry. Mélisande
dies.