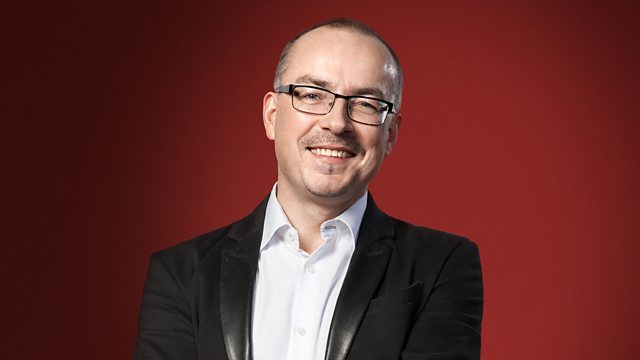 Andrew McGregor with Sarah Devonald and Stephen Johnson
with Andrew McGregor.
0930
Building a Library on Mozart's final purely instrumental work, his Clarinet Concerto - written for his friend Anton Stadler. Sarah Devonald compares recordings of what is for many the greatest of clarinet concertos.
1030
Anniversary box sets of recordings by Mstislav Rostropovich - Stephen Johnson joins Andrew to delve in to a wealth of recordings featuring Slava as both cellist and conductor.
1145
Andrew chooses an outstanding new release as his Disc of the Week.
Last on
9am
JS Bach: Ouvertures
BACH, J S: Cantata BWV119 'Preise, Jerusalem, den Herrn'; Orchestral Suite No. 1 in C major, BWV1066; Orchestral Suite No. 3 in D major, BWV1068; Cantata BWV194 'Hochsterwunschtes Freudenfest'; Orchestral Suite No. 4 in D major, BWV1069
Ensemble Zefiro, Alfredo Bernardini (director)
ARCANA A400 (CD)
Bel Canto: Tamestit & Tiberghien
BELLINI: Casta Diva (from Norma)
DONIZETTI: Il faut partir (from La fille du regiment); L'ai-je bien entendu?… O mon Fernand (from La Favorite)
MAZAS: Le Songe - Elegie on La Favorita by Donizetti Op. 92
NEY: XVe Prelude for solo viola
VIEUXTEMPS: Viola Sonata in B flat Op. 36; Elegie for viola and piano Op. 30; Capriccio in C Minor, 'Hommage a Paganini,' Op. 55
Antoine Tamestit (viola, Stradivarius 'Mahler' 1672), Cedric Tiberghien (Steinway piano)
HARMONIA MUNDI HMM902277 (CD)
Preghiera - Rachmaninov: Piano Trios
KREISLER: Preghiera (Prayer) on theme from Rachmaninov's 2nd Piano Concerto for violin & piano
RACHMANINOV: Trio elegiaque No. 1 in G minor Op. post.; Trio elegiaque No. 2 in D minor Op. 9
Gidon Kremer (violin), Giedre Dirvanauskaite (cello), Daniil Trifonov (piano)
DG 4796979 (CD)
Haydn: Keyboard Concertos (Performed on Accordion)
HAYDN: Keyboard Concerto No. 11 in D major, HobXVIII:11; Keyboard Concerto No. 4 in G major, Hob.XVIII:4; Keyboard Concerto No. 3 in F major with French horns and strings, Hob.XVIII:3; Keyboard Concerto No. 7 in F major, Hob. XVIII:7
Viviane Chassot (accordion), Kammerorchester Basel
SONY G010003653881O
9.30am - Building a Library
Composer: Wolfgang Amadeus Mozart
Piece: Clarinet Concerto in A major K622
Reviewer: Sarah Devonald
Building a Library: Mozart's Clarinet Concerto
Recommended recording:
Julian Bliss (clarinet), Royal Northern Sinfonia, Mario Venzago
SIGNUM SIGCD390 (CD)
Coupled with
MOZART: Der Liebe himmlisches Gefuhl K119 (382h); No, che non sei capace, K419
NIELSEN: Clarinet Concerto Op. 57 (FS129)
Other recommended recordings:
Below is a shortlist of other recordings which Sarah Devonald also liked, although we can't guarantee the availability of these discs.
Clarinet:
Jack Brymer (clarinet), London Symphony Orchestra, Colin Davis (conductor)
PHILIPS 443 390 2

Period Basset Clarinet:
Wolfgang Meyer (basset clarinet), Concentus Musicus Wien, Nikolaus Harnoncourt (conductor)
TELDEC 3984214762
Alessandro Carbonare (clarinet), Orchestra Mozart, Claudio Abbado (conductor)
DG 4779331 (CD)
10.20am – John Joubert
Joubert: South of the Line
JOUBERT: O Praise God in His Holiness Op. 52; O Lorde, the maker of al thing; There Is No Rose; Incantation; Pilgrimage Song Op. 169; Three Portraits Op. 97; Be not Afeard Op. 179; Sonnet Op. 123; This is the Gate of the Lord Op. 164; Autumn Rain Op. 105; South of the Line Op. 109
Birmingham Conservatoire Chamber Choir, Paul Spicer (conductor)
SOMM SOMM0166 (CD)
Joubert: Organ Music
JOUBERT: Reflections on a Martyrdom Op. 141; Prelude on the Old Hundredth Op. 15; Six Short Preludes on English Hymn Tunes Op. 125; Prelude on 'Picardy' Op. 55; Prelude on 'York' Op. 152; Recessional Op. 135; Passacaglia and Fugue Op. 35
Tom Winpenny (organ of St Albans Cathedral)
TOCCATA CLASSICS TOCC0398 (CD)
JOUBERT: Jane Eyre
April Fredrick (Jane Eyre), David Stout (Rochester), Mark Milhofer (St John Rivers/Mr Mason), Gwion Thomas (Mr Brocklehurst), Clare McCaldin (Mrs. Fairfax/Hannah), Lesley-Jane Rogers (Diana Rivers), Lorraine Payne (Mary Rivers/Leah), Charles Humphreys (Rector's Clerk), Alan Fairs (The Rev. Wood), Samuel Oram (John), Felix Kemp (Verger of Thornfield), Andrew Mayor (Briggs, Mason's Solicitor), English Symphony Orchestra, Kenneth Woods
SOMM SOMM2632 (2CD)
10.50am – Stephen Johnson reviews Rostropovich anniversary boxes
11.45am – Disc of the Week
Lully: Persee 1770
LULLY: Persee
Mathias Vidal, Helene Guilmette, Katherine Watson, Tassis Christoyannis, Jean Teitgen, Chantal Santon-Jeffery, Marie Lenormand, Cyrille Dubois, Marie Kalinine, Thomas Dolie, Zachary Wilder, Le Concert Spirituel, Herve Niquet (conductor)
ALPHA ALPHA967 (2CD)