Main content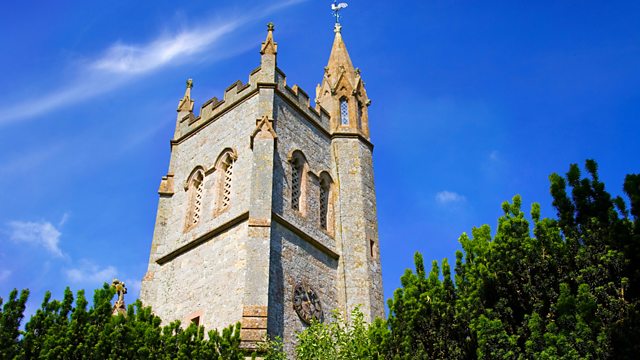 The Pearl of Great Value
Writer and broadcaster Anna Magnusson draws on personal experience for the fourth of Radio 4's special Lent series, in a reflection for Mothering Sunday.
Writer and broadcaster Anna Magnusson presents the fourth of Radio 4's Lent series on Mothering Sunday. Reflecting on Jesus washing his disciples' feet, Anna explores this reversal of roles, drawing on personal experience to reveal how service to each other in all its shifting complexity challenges ideas of power.
A link to resources for individuals and small groups based on the Archbishop of Canterbury's Lent Book is available on the Sunday Worship web pages.
Producer: Mo McCullough.
Script
ANNA
Good morning.
On this Mothering Sunday,
following the awful events of the past week,
it feels like a time for drawing close to our loved-ones,
to our family and friends,
and the people we cherish.
It also feels like a time for treasuring the humanity
beyond our circle of comfort, for taking the hand of the stranger, and stepping into the world of the other.
Maybe that way, some healing, some peace will come.
MUSIC:  Olafur Arnalds: 'Particles' from Island Songs
CD Mercury KX  481 2857
I'm watching myself getting my mother up in the morning.   The memory is so present, it's like a film running in front of my eyes. 
I'm not so clear on the year, or which stage of Alzheimers my mother had reached, but she could still talk, and walk a bit, and be taken out in the car.  But I remember it was torture for her to crawl from the cocoon of sleep to a waking world which baffled and distressed her.
A cup of tea to start the day.  Inching her out from the covers to the edge of the bed, where she shivered and moaned.  Untangling her from pyjamas, all skinny arms and legs, not able to direct themselves.  I remember making her wince because I wasn't gentle enough.
Finally, socks and slippers.
I kneel at her cold, dry feet, touching her yellowed, tough old nails.  These feet worn and battered by time.  I'm pulling up the second sock over the papery skin on her shins, trying not to hurt her, when I feel her hand on my head.  She strokes my hair.  I look up and she gives me the smile I've been longing for, that sweet, glorious smile that turns on the light in her eyes. The smile that rights the world again.
MUSIC:  Olafur Arnalds:  þu ert solin from CD '… And they have escaped the weight of darkness.'
ANNA
What I'm thinking on this Mothering Sunday is that our world is turned on its head when we begin to mother and father our parents.  How can it be that I am brushing my mother's hair, standing behind her as she looks in the mirror, and she doesn't recognize herself? 
I remember the dark winter mornings when mum woke us for school.   We trudged downstairs in our pyjamas into the living room and there, hanging up to warm in front of the coal fire, were our vests and shirts. 
These are the acts of love we carry through the ravages of the years; they return to us in moments of grace.
My mother is staring stony-faced at the mirror.  I kiss her neck, and she turns to me and smiles.
When we look after our mothers, or fathers or aunties or grandparents - we offer our own acts of love; when the roles are reversed, we give back the care we have received.
MUSIC
ANNA
Lord Jesus,
Your love comes to us in many ways.
Give us the vision to recognise your presence in all the threads of our lives:
in the commitment of all those who cherish each other, in the compassion we feel for those who suffer,
especially in times of deepest darkness, anger and fear.
When terror strikes,
we lose our footing, our sense of security.
Help us see clearly again our responsibility to keep looking outwards to the world,
The preciousness of freedom,
And the goodness of people. Amen.
MUSIC:  Come Holy Ghost, our souls inspire:  From BBC Archives
Choir of St Giles' Cathedral, Edinburgh, conducted by Michael Harris.
Organist: Peter Backhouse.
ANNA
There's a story in John's Gospel which radiates the subversive power of a physical act of caring.  The world is overturned again.
DAVID JACKSON YOUNG:  READING
Jesus Washes the Disciples' Feet
Having loved his own who were in the world, Jesus loved them to the end. During supper, knowing that the Father had given all things into his hands, and that he had come from God and was going to God, he got up from the table, took off his outer robe, and tied a towel around himself. 5Then he poured water into a basin and began to wash the disciples' feet and to wipe them with the towel that was tied around him. 6He came to Simon Peter, who said to him, 'Lord, are you going to wash my feet?' 7Jesus answered, 'You do not know now what I am doing, but later you will understand.' 8Peter said to him, 'You will never wash my feet.' Jesus answered, 'Unless I wash you, you have no share with me.'9Simon Peter said to him, 'Lord, not my feet only but also my hands and my head!' 10Jesus said to him, 'One who has bathed does not need to wash, except for the feet, but is entirely clean. And you are clean, though not all of you.' 
12 After he had washed their feet, had put on his robe, and had returned to the table, he said to them, 'Do you know what I have done to you?13You call me Teacher and Lord—and you are right, for that is what I am.14So if I, your Lord and Teacher, have washed your feet, you also ought to wash one another's feet. 15For I have set you an example, that you also should do as I have done to you. 
ANNA
There's deep discomfort at the heart of this moment in the upper room, the night before Jesus' death.  These ordinary men, these disciples to whom he's master and Messiah, they can't believe Jesus is kneeling over their dirty feet, washing them as a slave would do.  This isn't how it should be.  This upsets everything.
The act goes to the core of Christianity: all we are and have, comes from God.  And we are meant to share whatever we hold, and open ourselves to each other.
One of my nieces is a newly-qualified Staff Nurse.  Ellie's 23, and works in a vast London hospital.  She's in the kind of job which gives her insight and maturity beyond her years. Every day, she looks after strangers. We sat down together one afternoon to talk about caring, and giving back what we receive.  And what the story of Jesus washing the disciples' feet means to her:
ELLIE
It's the son of God, it is the most holy person saying I don't care if you're homeless, I don't care if you're the scum of the earth, I am here to serve you.  It's just throwing every ideal we have out the window that you have to be the most rich, you have to be clean, you have to be good at your job – as long as you are a person, that's what makes you valuable, and I am looking past anything other than you being a human – you are a human so I am going to serve you.
As a nurse you do have to do that, you have to say, I don't care if you're a drug-dealer, I don't care if you're a criminal, I don't care if you're a nun – I am going to treat you exactly the same because I have a duty to serve every person that comes through this door.
ANNA
Tell me a bit about feet, though – what kind of feet do you encounter in your work?
ELLIE
Ooh … They come in all shapes and sizes, all lengths of toenails and smelliness and grottiness.  We've got patients who come off the streets, who are homeless.  And sometimes it can be quite horrible!
ANNA
But clearly you can't allow yourself to be squeamish because that's, your job involves a lot of putting your hands on people, on giving intimate help?
ELLIE
Yeh, and I think over the years you do, you become a bit more immune to it.
I remember one of my patients, he had come off the street and he had this massive beard which he said he never used to have, and he was quite stinky, so I scrubbed him.  And you could just see the dirt all falling off.  And then goes, 'Oh, I really want to have a shave!'.  So I chopped off all of his beard with some scissors and then I got the shaver out.  And I shaved his whole beard.  And he just couldn't thank me enough, it was great.  And it was such a lovely bonding time between us, because I asked him about his life, I was able to find out what he was like when he was younger, and when he left he just couldn't stop shaking my hand.  Because it's one small thing that makes such a big difference, and I think everyone would want, I think people would want to do that, to give a tiny bit to someone and for them to receive so much from it.
MUSIC:  Ubi Caritas et Amor:  Composer - Ola Gjeilo
From CD Voices Piano Strings, performed by Voces 8 and Ola Gjeilo
ANNA
I go back to mothers. 
Jesus' mother could not save him.  Nor the women who tended to him in life, and followed him to the cross.  Yet care was there, too, that day.
The Orkney poet George Mackay Brown saw other truths in the old stories.  He could turn our perceptions upside down. In his poem 'The Good Thief', one of the three who went together to crucifixion witnesses the acts of love in the midst of Jesus' suffering:
DAVID
"I've carried millstones, wine-vats, a mast …"
Copyright material:  From ''Following a Lark'  - George Mackay Brown Poems
Published by John Murray, Copyright George Mackay Brown 1996
ISBN:  0-7195-5620-1
MUSIC:  Ubi Caritas et Amor:  Composer - Ola Gjeilo
From CD Voices Piano Strings, performed by Voces 8 and Ola Gjeilo
ANNA
A few days before Jesus washes the feet of the disciples, he's in Bethany, at the house of Lazarus and his sisters, Mary and Martha.  They're having a meal together, and Martha, as ever, is bustling about, looking after everyone.  Mary's not.  She's sitting at Jesus feet, crying. 
I talked about that moment in Bethany with Philip Blackledge, the rector of Holy Trinity Church in Melrose…
PIP     
it was 6 days before the Passover, and Mary anoints Jesus' feet with this perfume which is called Nard, or Spikenard, we call it Muskroot.  And it's said the perfume was worth 300 denarii which is basically a year's wage – I'm convinced that was her dowry, you know I think when she anointed Jesus' feet, she was basically saying 'I'm all in, my future is entirely with you'. And it must have just knocked Jesus backwards, because I can't think of another time when anybody does anything nice for Jesus, it's always giving.  And here he's receiving.  And 4 days later, he does exactly the same thing.  He's inspired by her.  The reason that he washes his disciples' feet at the Last Supper a few days later I'm sure is because of her amazing act which would have lived with him for those in-between days.  And the inspiration for him to do this huge act of servanthood is for her to touch his feet and heal him and just give her support and her love to him.
Anna
And she's also overturning the accepted order of things by, as a woman, who's no relation to Jesus at all, touching him, you know, caressing him, and crying over him.
Pip
It's an incredibly outrageous act, and there's only one thing that she can do to show her love for Jesus and so she does it, because it cuts past all those barriers of etiquette and manners and what's right.  Because love breaks that right open.
He says – you see to it that you love one another.  You must love one another.  And I think in Mary doing this for him, she fed him with what he needed, because he knew what was coming, he knew that he was going to go through that horrible dark valley of pain, and maybe she just said, 'Even on the cross you're not going to be alone'.  And maybe that's what he needed to have the courage to do what came.
MUSIC:  Beatitude V: Beati Qui Persecutionem, Composer Howard Goodall
From CD Howard Goodall's Enchanted Voices
Performers: Alison Hill, Daisy Fancourt, Howard Goodall, Peter Gregson, The Enchanted Voices.   Music Publisher: Faber Music Ltd
PIP
A couple of years ago there was a young man who was a homeless chap and I got to know through the church.  And he'd come and go and he had mental health problems, and he came to the Rectory where I was living.  And it was – my wife and I were just going through the process of adoption and so, you know, we'd been hearing about the backgrounds of adopted children, and you know your compassion just welled up within you.  And I saw this – couldn't have been more than 17, this lad that I really just wanted to help.  So anyway, he came to the Rectory and he asked me for a pair of shoes, he was about the same size as me and so I had a spare pair of shoes.  And he took his own shoes and socks off and his feet were a terrible mess, and you know I said we're going to have to clean you up a bit because they could easily get infected.  And his feet were sore and he didn't want me to touch them cos his feet were so sore, but I got some water and it took ages but we slowly cleaned his feet and then we sat out in the sun so that they could sort of harden off a bit and put his shoes back on.  And then I took him to the station because he wanted to go back into Edinburgh and – it was really hard to let him go, it was really hard not to say to him – Oh I'll look after you, you know.  And that day was Maundy Thursday and of course the tradition of our church is that on Maundy Thursday me as a priest gets on my hands and knees and washes people's feet, and I did that that very evening.  And hard as it was to let him go I was then presented with the feet of other people that we have to wash, old and young, and feet that are calloused and broken and feet that are very slim and fragile.  And it was a message to me that, you, like Mary, you can do a bit, you can do a little thing, and sometimes that little thing is all you can do, and then, like Mary, you let them go.
Anna
Pip can ask, what happened to that boy that you looked after?
Pip
I've no idea, I never saw him again, and that was, what, 7 or 8 years ago so he's probably 24, 25 now if he'd around.  And I often think about him who knows, maybe in years to come he can remember that and it will remind him that people who didn't know him very well thought enough of him to give him that help.
MUSIC:  Beatitude V: Beati Qui Persecutionem, Composer Howard Goodall
From CD Howard Goodall's Enchanted Voices
Performers: Alison Hill, Daisy Fancourt, Howard Goodall, Peter Gregson, The Enchanted Voices.   Music Publisher: Faber Music Ltd
PIP
Lord of our salvation, you are found in every kindly deed, every gentle act, every yearning heart.  May we be inspired by the love that surrounds us, that when acts of kindness that are given to us, we may in our turn be inspired to a greater good.
We pray for those who this day are walking through the dark valley of pain, anxiety and despair. We pray for the refugees, for the children of Syria. We ask you God to come to us with that stirring gift of justice, that our daily bread may make us hungry for righteousness to flourish, so that we may not rest until all your children are fed.
Come to us gracious God, come to us through the stranger, the loved one, the pilgrim, the beggar. Come and share our journeys, that we may always walk closer with you, in time, and in eternity. Amen.
MUSIC:  Lord's Prayer – Robert Stone
From CD 'Hail, Gladdening Light' – Music of the English Church
Performers: The Cambridge Singers directed by John Rutter.
CD Collegium COLCD 113
ANNA
I've a friend in London who used to work for a home-care service.  
The allocated time for each visit was 15 minutes, and it was never enough.  She couldn't allow herself to leave someone soiled or half-dressed, so she would over-run. Then she had to rush off to the next person, always behind schedule, always distressed over what she could not do to help. 
She was paid peanuts and, in the end, she couldn't continue and care for her own family as well.
She trained as a bus driver instead, and was paid a decent wage. 
People like my friend look after the oldest, most frail, most vulnerable people.  And they're among the lowest-paid workers.   That's the value we place on the washing of feet, on the care of the stranger. 
ELLIE
One of the main reasons I love nursing, and especially when I was a student – I was able to give more of myself to them because I wasn't pressured by being a staff nurse, I had that little bit of extra time take the effort to make sure that it's done in the most lovely way, to say, no don't rush this, this is someone, this is your grandma, this is your mum, take the time to make this as nice as it can be – even if it's just 10 minutes, giving someone a little bed-bath in their hospital bed. And then very quickly you're getting a picture of their life.  So I never view them really as strangers.
MUSIC:  I heard the voice of Jesus say (Tune: The Rowan Tree) From BBC Archives
Choir and Congregation of St Salvator's Chapel, University of St Andrews, conducted by Thomas Wilkinson. Organist: Sean Heath .
ANNA
I was sitting reading in the kitchen one morning.  The radio was on, but I wasn't really listening, until I heard the voice of a woman talking about her mother, who had dementia.  Instantly my mother was beside me.  And the world turned upside down again as I listened to a daughter living through the days and nights of mothering.  Sue's 47 and for the last six years she's cared for her 88-year-old mother, Patricia, at home.  She does have other people coming in most days to help, but the main caring responsibility is hers.  
The reporter, Ena Miller, spent time with Sue and her mum for BBC Radio 4's Woman's Hour…
Woman's Hour clip 1
ENA
It's what about 2 o'clock now.  It's really peaceful.
SUE
Yes it is, well Mummy's asleep at the moment she's so worn out because she's been up through the night.
ENA
So when you have times when it's this quiet, what do you do with yourself?
SUE
The last sort of hour while I was waiting for you and waiting for Simon to turn up I literally sat next to her and it has been quite peaceful.
It sounds awful but sometimes when we are at peace like that, I sometimes think it would be quite easy just, and nice, to drift away together.  Em –
ENA
And then when somebody knocks on the door and it's your carer and that moment is broken, do you feel guilty feeling that?
SUE
No I don't feel guilty.
ENA
But you have to carry on.
SUE
Yes
ENA
Things need to be done.
SUE
Yes they do, and then you're quickly brought down to reality.
And when your carer goes sick like this morning you know you have to just deal with it, no matter what your cry for help, if someone can't come they can't come, and that's when you feel alone.
[Mother calling]  I need to go to her now.
MOTHER
Get me out of here!
SUE
Please have something to eat – no don't, no please cos that's hot tea.
MOTHER
Open the front door!  Get me out in the car and I'll be alright.
Sue, please!
SUE:  I feel as if I'm losing my best friend, my beautiful best friend.  The laughter is not there anywhere near as much.
Let me just hang my coat up and I can get you sorted out, ok?
I'll need to change her straight away.
MOTHER
Get on with it!
SUE
Ok so we're going to slide to me, ready, set, slide, and I'm now going to clean her from the back first. One other day last week it took 3 hours to get her changed and cleaned.
She's still my mother so I have to respect her as my mother and yet I am the person who has become the mother, who has become the decision-maker.
Taking her out is the best way to calm her down.
ENA
That's what I thought was lovely actually, she was just looking ahead, and at one point she took your hand and kissed it.
SUE
Yes, sometimes she'll hit me when I'm driving, and so for her to take my hand and kiss it, yes, is nice.
ANNA
Listening to Sue and her mother agitated my own memories. I felt, I saw again the crumbling of the strong tower my mother had been.
But something else returned to me.  I remembered sitting in the car by the side of a country road, on my way home from looking after Mum.  It had been an awful evening of tears and distress, and now it was nearly midnight and I felt despair.
I rolled down the window and let in the night.
MUSIC:  Olafur Arnalds: 'Particles' from Island Songs
CD Mercury KX  481 2857
It was cold and quiet, just a rustle of wind and the lights of Glasgow winking in the distance.  I stared up at the faraway, blank moon, and looked down on my own insignificance. 
And when I was empty, new strength came.  I don't know from where. 
Is this grace, to be comforted when no comfort is near?  
One other thing I remember from Sue's story on Woman's Hour.  That love is tenacious and goes deeper than grief. That returning what we've been given is precious. And that we're never truly transformed from mothered, to mother.
Woman's Hour Clip 2
ENA
What's on your list of things to do today?
SUE
I need to give my mother breakfast, her medication, I then need to clean her teeth, help her with her oral hygiene – that can be quite difficult.
ENA
But you do all of that because?
SUE
Because of love.  Yeh, because of love. 
Aw – bye! Bye Mummy!  See you in a minute.
ENA
It's just peaceful isn't it, so shall I go and make you a cup of tea and we'll enjoy some quiet before she gets back?
SUE
Yes, though I have to say on that point it's funny although it is lovely to have that peace, though I get shouted and screamed at all day long and all evening and all through the night, it's funny, if that voice disappeared, I don't know what I'd do with myself.  But take that little voice away, you've taken the heartbeat out of the house, out of the home.  Yeh.  I'd rather hear her screaming and demanding to go out or being changed or whatever – I'd rather have that than that silence.  That silence can be a very lonely silence.
MUSIC:  Huw Warren, Piano
'Teares' from CD 'Infinite Riches in a Little Room'
ANNA:  PRAYER
God of Grace
When the world tilts, and we look up to meet our mothers, and then pass them on the unsteady earth – in those moments, may love hold us, may love direct us, may love work through the touching of hands, the stroke of a forehead, the steadying arm, the re-membered, re-turned gifts of care.
Wherever it is, whomever we are with, stranger or friend,
In love may we give back all that you have given us, all that we have received.
Amen
_________________________________________________________________
One last picture of feet. 
My mother's feet in the bath, curling away from the hot water.  The same bath we sat in as children, three in a row, squabbling about who had to be at the tap end.  The same bath the grandchildren splashed in.  I can see Mum yet: with her sleeves rolled up to the elbow, she kneels on the bath mat and plunges her arms into the water, tickling the children, washing them, singing to them.
Getting mum into the bath safely is hard work.  She's unsteady on her feet and feels cold and afraid.  But when at last she lies back in the steamy water, she closes her eyes, smiles and breathes one word: 'Bliss'.
I recorded my mother off and on in her last couple of years.  For a while, bath times were bliss for all of us.  Words and songs and memories came back to her.   She would recite limericks and make jokes. My sister and I used to sit on the floor and sing with her, and marvel that, in the midst of all that was slipping away, she held on to voice and song and sweetness. 
The world righted itself when my mother sang. 
Mamie and Anna sing 'The Hills are Alive'
MUSIC:  Huw Warren, Piano
'Teares' from CD 'Infinite Riches in a Little Room'