Main content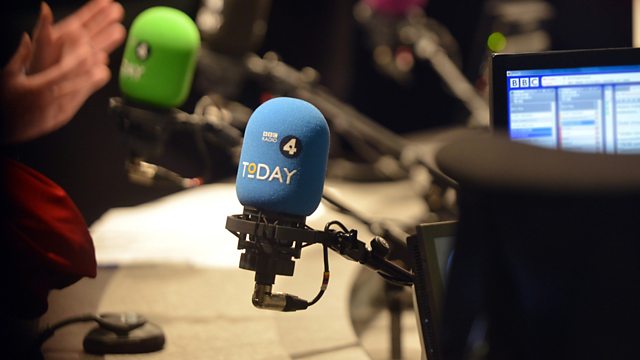 30/03/2017
Morning news and current affairs. Including Yesterday in Parliament, Sports Desk, Weather and Thought for the Day.
Last on
Today's running order
0650
Theresa May has promised the devolved administrations in Scotland and Wales a "significant increase" in devolved powers following Brexit as European powers are repatriated. Carwyn Jones is the first minister of Wales and leader of Welsh Labour.
0710
Plans to repatriate more than forty years' worth of powers from the European Union will begin in earnest this morning with the publication of a draft of The Great Repeal Bill. Today's Ross Hawkins reports. Lord Lisvane is a crossbench peer and former clerk of the House of Commons.
0712
Hilary Clinton's campaign manager has told the BBC there needs to be an independent commission to investigate Russian interference in the election. The BBC's security correspondent Gordon Corera reports.
0720
A new study has found that birds that are killed in traffic tend to have smaller brains than others that have learned to adapt to speed limits and the flow of traffic. Emily Shepard is professor of biosciences at Swansea University.
0730
Many of Europe's most influential leaders are meeting in Malta as they consider their formal response to Theresa May's letter to trigger Article 50. Sylvie Bermann is French ambassador to the UK and Manfred Weber is chair of the European People's Party, the pro-European political party in the European Parliament.
0740
As the Syrian war enters its seventh year, the city of Homs is now almost totally back in government control. The BBC's special correspondent Lyse Doucet reports with a young girl she first met three years ago.
0750
New guidelines from Public Health England for the UK food industry say 200,000 tonnes of sugar can be removed from every day food per year by 2020. Dr Alison Tedstone is director of diet and obesity at Public Health England and Tim Rycroft is director of corporate affairs at Food and Drink Federation.
0810
Having formally triggered Brexit, ministers are promising a "smooth and stable transition" with legislation ending the supremacy of EU judges. David Davis is Brexit secretary and Laura Kuenssberg is the BBC's political editor.
0820
Jane Birkin, one of the biggest stars of the Sixties and Seventies, is releasing an album of her lover Serge Gainsbourg's songs. It's called Le Symphonique as the songs will, for the first time, be accompanied by a 90 piece symphony orchestra. She has been talking to the BBC's arts correspondent Rebecca Jones.
0830
19,000 EU rules and regulations will move onto our statute books as part of the Great Repeal Bill, which will take shape in a white paper published today. Tim Martin is the founder and chairman of Wetherspoons pub chain and a prominent Leave campaigner.
0840
A new exhibition, 64 bits, opens on Thursday in east London, exploring the early years of the web and giving the public a chance to browse the first website from 1991.Rhiannon Williams is a tech correspondent at the Independent and Jim Boulton is a digital curator who created the exhibition.
0850
The Duke and Duchess of Cambridge and Prince Harry are putting out ten films as part of their 'Heads Together' mental health campaign. Stephen Manderson, the rapper and songwriter "Professor Green" is in one of the films speaking to former England cricketer Freddie Flintoff about mental health problems.  
0855
As Article 50 has now been triggered, how has the rest of Europe reacted to the long awaited arrival of the start of Brexit negotiations? Stefanie Bolzen is  the London correspondent of German newspaper Die Welt and Bartosz Wielinksi is foreign editor for Polish newspaper Gazetta Wybortschr.
All subject to change.
Broadcast