Main content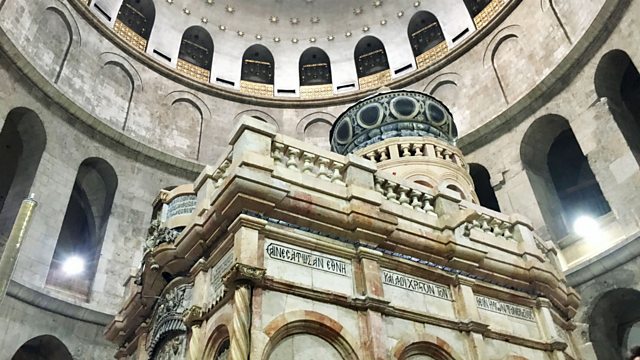 Henry VIII's mass; Converts to Islam; Renovations to the Tomb of Jesus.
The mass heard by Henry VIII; converts to Islam; the completed renovations at Jesus' tomb; Martin McGuiness' Catholic faith; how will Brexit affect the funding of UK charities?
Yollande Knell reports on the completed renovations at the tomb of Jesus in the Church of the Holy Sepulchre in Jerusalem.
Baroness Pitkeathly, Chair of the House of Lords Select Committee on Charities, talks about her new report on the future of British charities and how Brexit is going to affect their funding.
Last week, Jeffrey John, the Dean of St Albans, publicly accused the Bishops of the Church in Wales of "anti-gay discrimination" after he was informed that his name will not be taken forward as a candidate for the See of Llandaff. A few days later, a group of Welsh MPs published an open letter to the Church in Wales College of Bishops in support of Jeffrey John. Madeleine Moon MP for Bridgend explains why she co-ordinated the letter and the Bishop of Swansea - the Rt Rev'd John Davies - responds to Jeffrey John's criticisms.
Following the death of Martin McGuiness, two of his friends discuss the fact that he was a devout Roman Catholic. David Latimer (a Presbyterian Minister) and Father Michael Canny both took part in his funeral service.
Ben Moore reports from the 16th-century chapel at The Vyne in Hampshire where they have created a 'soundscape' of a Tudor Lady Mass, as Henry VIII might have heard it when he visited in October 1535.
It has been revealed that the man who committed the terrorist attack at Westminster on Wednesday was a Muslim convert who, it is believed, turned to Islam whilst in prison for violent crimes. His actions have been widely condemned by the Muslim community but how can British mosques identify and prevent the development of those who join the faith to pursue a Jihadist path? To discuss, Edward is joined by Jamal Heath (a convert to Islam in later life) and by Ibrahim Asmary (a Senior Outreach Worker in Westminster).
Last on
Chapters
British Charities

Baroness Pitkeathly talks about her new report on the future of British charities.

Duration: 04:37

The Church of the Holy Sepulchre

Yollande Knell on renovations at the tomb of Jesus in the Church of the Holy Sepulchre.

Duration: 05:07

C of E Letter

Review of the process that led Philip North to refuse the position as Bishop of Sheffied.

Duration: 04:09

Martin McGuinness

Two friends of Martin McGuiness discuss the fact that he was a devout Roman Catholic.

Duration: 06:16

Jeffrey John

Jeffrey John has accused the Bishops of the Church in Wales of "anti-gay discrimination".

Duration: 07:53

The Lady Mass

A chapel at The Vyne in Hampshire have created a 'soundscape' of a Tudor Lady Mass.

Duration: 05:58

Westminster Attack

Can mosques prevent the development of those who join the faith to pursue a Jihadist path?

Duration: 07:39

Broadcast

Pathways to Prayer – Lent Retreat 2021

All the colours of the rainbow