Main content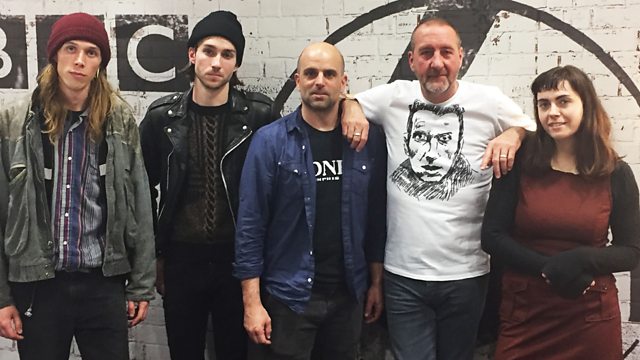 Blaha
Marc Riley has a live session from Mike Blaha's new project, Blaha.
Blaha in session tonight, which is Mike Blaha's - The Blind Shake/Shadow in the Cracks, new project.
Mike has recorded with noise legend Michael Yonkers and Drive Like Jehu, Hot Snakes, Rocket From the Crypt swami John Reis and all of those influences are being brought together in his new heavy psychedelic surf record, the Art of Not released in 2017.
The live band also consists of Dylan Rosen guitar, Allison Gunderson bass, and Karl TeBeest drums.
Last on
Music Played
Steve Harley & Cockney Rebel

Judy Teen

Boss Hog

Shh Shh Shh

Brood X.
Bronze Rat Records.
004.

Ty Segall

Take Care (To Comb Your Hair)

The Orielles

Sugar Tastes Like Salt

Dutch Uncles

Same Plane Dream

Gang of Four

Damaged Goods

The Box Tops

I'm Your Puppet

The Yummy Fur

Shivers (John Peel session 22nd Feb 1998)

Ian Dury & The Blockheads

What A Waste

Sweet Baboo

Badminton

Wild Imagination.
Moshi Moshi.

Desmond Dekker

&

The Aces

It Mek

Delta 5

Journey (John Peel session 2nd Sept 1980)

Johnny Cash

Big River

The Man in Black: The Definitive Collection.
Columbia.
019.

Richard & Linda Thompson

I'll Regret it all in the Morning (John Peel session 12th Feb 1974)

The Blind Shake

Broken Racehorse

Celebrate Your Worth.
Goner Records.

Tav Falco

The Drone Ranger

The Chameleons

Intrigue (Janice Long Session, 13 Mar 1985)

The Clash

Complete Control
Broadcast