Main content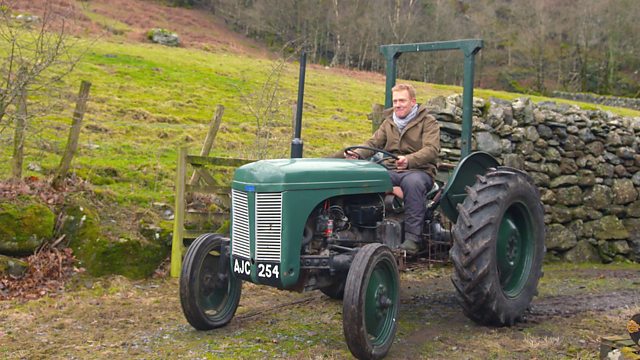 Farming Now and Then
Adam Henson is in Snowdonia to discover how farming has changed in the past 60 years, with the help of some recently unearthed BBC archive.
Countryfile is in Snowdonia where, with the help of some recently unearthed BBC archive, Adam Henson discovers how farming has changed in the past 60 years. He also looks back through Countryfile's own archive to the times the programme has explored farming then and now. From when Matt Baker put a Little Grey Fergie tractor to the test to when Adam discovered a space-age underground farm in the heart of London.
Music Played
Timings (where shown) are from the start of the programme in hours and minutes
00:22

Bombay Bicycle Club

Always Like This
Away from it all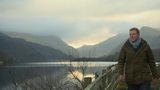 In 1956 broadcaster Christopher Chattaway presented "Away from it all" for the BBC. He went to find out if a townsman could live and work in Snowdonia. 60 years later, Adam Henson is following in his footsteps visiting the spectacular Nant Gwynant valley. Recalling an interview with Chattaway and hill farmer, Pyrs Williams, Adam visits Williams' old farm, Hafod y Llan, which is now run by the National Trust. There he meets shepherd Elgan Jones and Trystan Edwards from the National Trust to find out how the decades have changed the farm's work and outlook. 
Matt and Harry Ferguson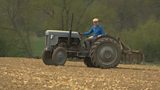 One thing that certainly has changed in the last 60 years is tractors. Today there are more than 200 tractor manufacturers, but few if any have had such impact as Harry Ferguson. Matt Baker spends the day with tractor enthusiasts Andy and Pete Drinkwater on their farm in Gloucestershire, to find out what made Ferguson's tractor so revolutionary. Between them these two brothers have over a hundred Little Grey Fergie tractors and tools. Matt gets a first-hand account of Harry Ferguson from his driver, and right hand man Peter Warr. Then he takes to the wheel to compete with Andy in a cultivating competition.
Gwastadanas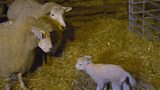 When Chataway interviewed Pyrs Williams 61 years ago, it was at the shearing shed at Hafod-y-Llan's neighbouring farm, Gwastadanas. They discussed falling lamb prices, lack of protection from cheap New Zealand imports and difficulties in finding young labour. Adam has come along to meet current tenant farmer Bedwyr Jones to find out if he's facing the same problems and what the future looks like for a young family on a hill farm.
Old Hall Farm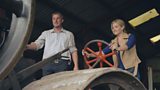 Helen Skelton is out exploring what it was like to work the land in days gone by. She pays a visit to Old Hall Farm; a traditional Lakeland farm that was saved from dereliction a decade ago by owners Alex and Charlotte Sharphouse. Combining their passion for heavy horses and old steam machines, it is still a working, productive farm and Helen discovers how these two methods for cultivating the land can exist harmoniously side-by-side. She also learns how Alex's passion for restoring old machines has lead him to his biggest challenge yet.
Sheep washing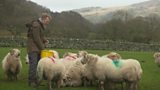 Back in 1956 it was common practice in Snowdonia to wash the sheep before shearing to get rid of any dirt and oil from the fleeces. Something that Christopher Chataway was lucky enough to witness as it turned out the sheep were herded up and manhandled into the local river. Adam returns to the exact spot where the sheep washing was filmed in 1956 but in very different weather conditions. 
Growing underground
Having looked back at the past, Adam looks to the future of farming and visits a farm deep below the streets of London. Underneath Clapham High Street, the tunnels were originally built during World War II to protect families from the blitz. This air-raid shelter had the capacity to accommodate 8,000 people. Today it's used to farm a range of salad and herbs. The state-of-the-art system uses LED lighting technology and hydroponics to replicate ideal growing conditions. With the city above, it's close to the consumer and with a growing population could it be the future of food production?
Lucy and Harold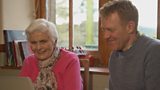 When Christopher Chataway came to Nant Gwynant in the 1950's he met toast of the valley and Secretary of the local Young Farmers Federation, Lucy Jones. Having grown up at Gwastadanas, Lucy was keen to take on a neighbouring farm and marry her sweetheart, Harold Williams. Lucy returns to the farm where she grew up to meet Adam and tell him all about farming back then in the valley and what happened next. 
Electric sheep
PhD student Pip Jones is determined to bring traditional Welsh hill farming bang up to date, with a woolly bleater that looks like the real thing, but is in fact electric. Sceptical Adam learns that Pip's four-year project to study the effects of temperature change on grazing sheep is far from 'baa-rmy' and is set to benefit local farmers with data on the impact of wind-chill and other thermal fluctuations.
Jack's Farm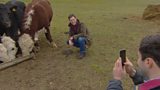 Matt meets Jack Stilwell a self-confessed cattle geek, now twenty five Jack has always wanted to be a beef farmer and he's succeeded but in an unusual way. Matt finds out how Jack took to social media to raise the funds he needed. With some crowd funding money behind him he has put together his herd of 200 Angus and Hereford beef cattle. Matt spends the day on Jack's farm and meets his prized cattle. Finally after a long winter indoors Jack's cattle are turned out onto the new spring grass.
Credits
| Role | Contributor |
| --- | --- |
| Presenter | Adam Henson |
| Presenter | Matt Baker |
| Executive Producer | William Lyons |
| Series Producer | Joanna Brame |