Main content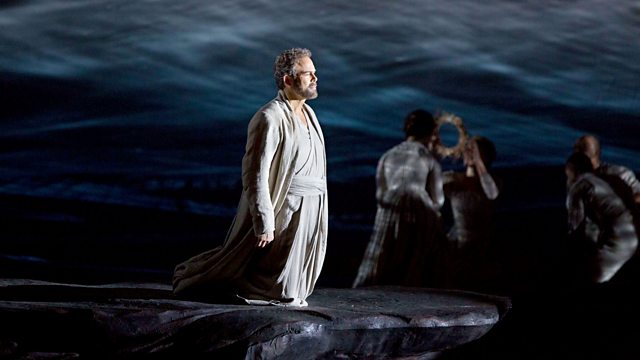 Rossini's Guillaume Tell
From the Metropolitan Opera in New York, a performance of Rossini's Guillaume Tell, an epic telling of the William Tell fable. With baritone Gerald Finley and soprano Marina Rebeka.
Rossini's epic telling of the William Tell fable returns to the Met stage after an absence of more than 80 years, in a new production by Pierre Audi recorded last autumn. Gerald Finley sings one of his signature roles as Tell, the revolutionary on a quest for freedom. Marina Rebeka is Mathilde and Bryan Hymel is her suitor, Arnold. Fabio Luisi conducts Rossini's final, crowning operatic achievement.
Presented in New York by Mary Jo Heath
Rossini: Guillaume Tell
Guillaume Tell.....Gerald Finley (baritone)
Mathilde.....Marina Rebeka (soprano)
Jemmy.....Janai Brugger (soprano)
Hedwige.....Maria Zifchak (soprano)
Arnold von Melcthal.....Bryan Hymel (tenor)
Melcthal.....Kwangchul Youn (bass)
Gesler.....John Relyea (bass)
Walter Furst.....Marco Spotti (bass)
Ruodi.....Michele Angelini (tenor)
Leuthold.....Michael Todd Simpson (bass)
Rodolphe.....Sean Panikkar (tenor)
A Huntsman.....Ross Benoliel (baritone)
Metropolitan Opera Chorus and Orchestra
Fabio Luisi (conductor).
Synopsis
ACT I
In Bürglen, on the shore of Lake Lucerne, the townspeople are preparing to celebrate the wedding of three couples. While the fishermen Ruodi flirts with his sweetheart, Guillaume Tell muses on the political situation in his fatherland, which is suffering under the Habsburg occupation. Tell's wife Hedwige and his son Jemmy greet the elder Melcthal, who is to bless the couples. His son Arnold cannot participate in the festivities, as he is in love with the Habsburg princess Mathilde, who is part of the cruel governor Gesler's entourage. Arnold has saved her from an avalanche and is now torn between his budding love for Mathilde and loyalty to his fatherland. Tell notices his friend's dilemma and tries to persuade him that fighting for his country's freedom is the only true choice. As Gesler's arrival is announced, Arnold is won over by Tell's revolutionary élan and the two men swear to overthrow the tyrant. Melcthal presides over the marriage ceremony. For the villagers, this happy day is a welcome respite from their miserable existence. While Jemmy is hailed as the champion archer, Arnold slips away in search of Mathilde. The festive mood is disrupted by the entrance of Leuthold: he has killed an Austrian soldier who tried to abduct his daughter, and is now being pursued by Gesler's troops. His only recourse is to flee to the far side of the lake, but Ruodi refuses to take him there, as a storm is brewing. But Tell, a skilled and intrepid oarsman, is willing to brave the storm and bring his compatriot to safety. Rodolphe, the captain of Gesler's guard, looks on impotently. He presses the villagers to name Leuthold's rescuer, threatening them with the death penalty. When Melcthal answers that there are no traitors amongst the Swiss, Rodolphe has him arrested and orders his men to raze the village.
ACT II
In nature, too, various forces are at work. Austrian hunters have shot Swiss chamois on the Rütliberg; shepherds can be heard singing about the sunset. Mathilde leaves the Austrian hunting party behind: she knows that Arnold has followed her and she enjoys the solitude of dusk. She is happier here in the forest than in the sumptuous palaces. Arnold finally appears. He professes his love, but says he is prepared to give her up and to die far from his fatherland. Mathilde indicates that the feelings are mutual. By excelling in battle, he could overcome their social differences and conflicting political positions. A future together seems possible after all. The lovers must separate when Tell and Walter Furst approach, but they first agree to meet the next morning. Tell, of course, is aware that Arnold was not alone. He and Furst fear that Arnold will rejoin the enemy forces: Mathilde is, after all, a member of the rival camp. He appeals to Arnold's patriotism. Does he want to be an accessory to Switzerland's downfall? Tell and Furst then inform Arnold that Gesler has executed his father, and now, wracked by guilt, Arnold at once chooses the side of the Swiss. In the darkness, the three men take an oath of vengeance: independence or death. One by one, emissaries from the neighboring cantons Unterwald, Schwyz, and Uri join them. Together they plan to rise up against the overlords and avenge the murder of Arnold's father.
ACT III
Mathilde and Arnold keep their date in a chapel. But in light of the recent events, the impossibility of their love is evident. Arnold swears to avenge himself on Gesler, and Mathilde chooses seclusion, to cherish her beloved in her heart.

On the market square in Altdorf, Gesler forces the Swiss to commemorate their hundred-year occupation. The townsfolk are required to pay homage to his hat, raised up on a pole. They are ordered to dance until they collapse. Tell and his son Jemmy arrive but Tell refuses to bow to the hat. Rodolphe arrests them and recognizes Tell as Leuthold's rescuer. Tell tries to dispatch Jemmy to his mother's protection, so that the boy can give the signal for the uprising when the time comes. But Gesler intercedes and, incensed by Tell's defiance, orders him to shoot an apple off Jemmy's head with his crossbow. If he refuses, both father and son will die. Even when Tell does fall to his knees before Gesler, the governor is implacable. Jemmy speaks encouraging words to his father: he is confident of his marksmanship. And indeed, Tell shoots off the apple in a clean shot. Gesler discovers, however, a second arrow in Tell's quiver. The archer plainly admits that it was intended for Gesler himself, should he have missed the apple and hit Jemmy. Furious, Gesler has his guards seize them both. But Mathilde rushes in and, in the name of the emperor, takes custody of the boy. Gesler intends to escort the archer himself to Küssnacht on the opposite shore of the lake, where he is to be thrown to wild animals in the dungeon. Rodolphe warns his superior of the hazardous conditions, but Gesler is not to be swayed. When their pleas for mercy go unheeded, the Swiss folk curse their oppressor. As Tell is taken away, Gesler's army confronts the Swiss rebels.
ACT IV
Beset by doubt, Arnold enters his late father's house for the last time. There he passes out weapons, hidden by Melcthal and Tell, to his fellow freedom fighters. Now properly armed, they set out to liberate Tell.

A fierce storm erupts on the lakeshore. The Swiss womenfolk only just manage to restrain Hedwige in her determination to go after Gesler: it would mean certain death. But what, she argues, is the use of living without her husband and child? Both mother and son are overjoyed when Mathilde reunites Jemmy and Hedwige. Leuthold tells them that Tell's shackles were unbound so he could steer the boat in the storm. They all rush to the shore and watch as Tell leaps onto a rocky outcrop. Gesler manages to quit the boat. Having removed the cache of weapons to a safe spot, Jemmy sets his family home alight as the signal for the rebellion to begin. He hands Tell his crossbow, and his father shoots the tyrant. The rebels arrive, joined by Arnold and Walter Furst: Altdorf is liberated! To his surprise, Arnold spots Mathilde. She has found a new cause at the side of the Swiss people, but their love affair is a closed book. The storm recedes and the clouds disperse, opening up a vista of the lake and the mountains. Switzerland is free. —Reprinted courtesy of Dutch National Opera
- See more at: http://www.metopera.org/Discover/Synopses/Guillaume_Tell/#sthash.0UbIP8pt.dpuf