Main content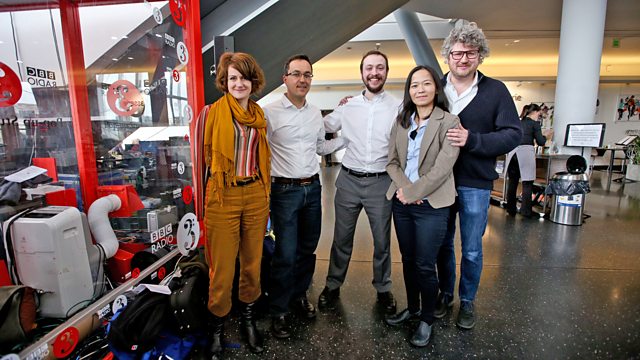 Music in the Time of Our Lives
Live from Sage Gateshead as part of the Free Thinking Festival 2017, Tom Service presents a special programme exploring our perception of music and time in daily life.
Presented by Tom Service, live from BBC Radio 3's Pop Up Studio at Sage Gateshead as part of the Free Thinking Festival.
This special edition of Music Matters explores our perceptions of music and time in the routines and activities of daily life.
The performer and producer Kate Romano squeezes a day of listening into three minutes, and explains how we can curate our everyday experience of music and sound, and as Tom looks at the influence of the social media mindset on our listening habits, the psychologist and neuroscientist Daniel Levitin talks about the social function of music and how we can use it control the pace of our lives. Tom sets a challenge for Eliot Van Buskirk, Spotify's Data Storyteller, to tell us when the UK listens to fast and slow music, and explores attention spans in the digital world with Twitter's Alyson Gausby and Zeena Feldman from King's College London.
Plus the Music Matters Lab, in partnership with Newcastle University's Institute of Neuroscience. Tom is joined by Professor Chris Petkov and students to reveal results from psychoacoustic experiments conducted at the Free Thinking Festival, and discovers how the brain's natural rhythms are influenced by the music we hear, and how they can themselves control music.
Try a simple online experiment that shows how tempo can warp our ability to keep time.
Credits
| Role | Contributor |
| --- | --- |
| Presenter | Tom Service |
| Interviewed Guest | Kate Romano |
| Interviewed Guest | Daniel Levitin |
| Interviewed Guest | Eliot Van Buskirk |
| Interviewed Guest | Alyson Gausby |
| Interviewed Guest | Zeena Feldman |
| Interviewed Guest | Christopher Petkov |