Main content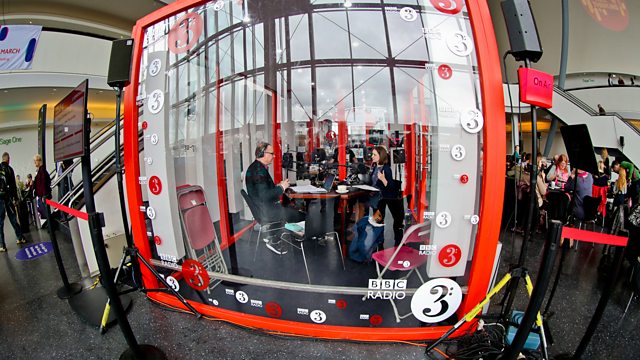 Andrew McGregor with Kate Molleson and Kirsten Gibson
With Andrew McGregor. Including Building a Library: Messiaen: Quartet for the End of Time; New releases of music by Dowland and his contemporaries; Disc of the Week.
with Andrew McGregor.
0930
Building a Library on Messiaen's Quartet for the End of Time. Kate Molleson in conversation with Andrew guides us through this unique work of chamber music which deals with different aspects of time.
Messiaen was captured by the German army in 1940. As a prisoner of war he managed to obtain some paper and a small pencil from a sympathetic guard. The quartet was premiered at the camp, outdoors and in the rain in 1941. The musicians had beaten-up old instruments and an audience of fellow prisoners and guards. Messiaen said: "Never was I listened to with such rapt attention and comprehension." Messiaen was inspired by a text from the the Book of Revelation: "And I saw another mighty angel come down from heaven, clothed with a cloud: and a rainbow was upon his head, and his face was as it were the sun, and his feet as pillars of fire."
1030
Kirsten Gibson reviews a collection of new releases of music by the Tudor composer John Dowland and his contemporaries, and including a modern reinterpretation of Dowland's music by David Gorton. This set of discs underlines the constant presence of Dowland's famous 'Lachrimae' in one guise or another - it speaks both to its popularity in Dowland's lifetime and its enduring popularity and fascination with modern composers, musicians and audiences. It clearly captured the imagination of 17-century musicians across Europe in myriad ways and continues to act as a catalyst for further musical creativity right up to the present day. These recordings also show the recurring theme of musical borrowing amongst 16th-century musicians.
1145
Andrew chooses an outstanding new release as his Disc of the Week.
9am
Stravinsky: The Soldier's Tale
STRAVINSKY: L'Histoire du Soldat; Fanfare for a New Theatre
Harrison Birtwistle (The Soldier), George Benjamin (The Devil), Dame Harriet Walter (narrator), Royal Academy of Music, Oliver Knussen (conductor)
LINN CKD552 (CD)
Benjamin Appl: Heimat
BRAHMS: Wiegenlied Op. 49 No. 4 (Lullaby); Mondnacht, WoO 21; Mein Madel hat einen Rosenmund (No. 25 from Deutsche Volkslieder, WoO 33)
BRITTEN: Greensleeves
GRIEG: Til Norge (To Norway) Op. 58 No. 2; Seks Sange Op. 48 No. 6 'Ein Traum'
IRELAND: If there were Dreams to Sell
POULENC: Hyde Park
REGER: Des Kindes Gebet Op. 76 No. 22
SCHUBERT: Seligkeit D433 (Holty); Der Einsame, D800; Nachtstuck, D672
(Mayrhofer); Drang in die Ferne, D770; Der Wanderer an den Mond D870 (Seidl); Das Heimweh, D456 (Winkler); Der Wanderer, D489
STRAUSS, A: Ich weiss bestimmt, ich werd Dich wiedersehn
STRAUSS, R: Allerseelen Op. 10 No. 8
VAUGHAN WILLIAMS: Silent Noon
WARLOCK: My Own Country; The Bachelor
WOLF, H: Verschwiegene Liebe (No. 3 from Eichendorff-Lieder)
Benjamin Appl (baritone), James Baillieu (piano)
SONY 88985393032 (CD)
MANSURIAN: Requiem, for soprano, baritone, mixed chorus and string orchestra
Anja Petersen (soprano), Andrew Redmond (bass), RIAS Chamber Choir Berlin, Munich Chamber Orchestra, Alexander Liebreich (conductor)
ECM 4814101 (CD)
LISZT: A Faust Symphony, S108
Steve Davislim (tenor), Orchester Wiener Akademie, Chorus Sine Nomine, Martin Haselbock (conductor)
ALPHA ALPHA475 (CD)
9.30am – Building a Library
Composer: Olivier Messiaen
Piece: Quartet for the End of Time
Reviewer: Kate Molleson
Building a Library: Messiaen's Quartet for the End of Time
Recommended recording:
Marie-Madeleine Petit (piano)/ Hugette Fernandez (violin)/ Jacques Neilz (cello)/ Guy Deplus (clarinet)
WARNER CLASSICS 2564621622 (18CD)
From the Messiaen Edition - An 18 CD set  offering a comprehensive overview of Messiaen's work in recordings made between 1963-2000
For more information: Messiaen Edition on Warner Classics
Other recommended recordings:
Below is a shortlist of other recordings which Kate Molleson also liked, although we can't guarantee the availability of these discs.
Pascal Moragues & Trio Wanderer: Vincent Coq (piano)/ Jean-Marc Phillips-Varjabedian (violin)/ Raphael Pidoux (cello)/ Pascal Moragues (clarinet)
Harmonia Mundi HMC 901987
Olli Mustonen (piano)/ Joshua Bell (violin)/ Steven Isserlis (cello)/ Michael Collins (clarinet)
Decca 452 899-2
10.30am – Warner Classics Telemann Collection
Telemann - The Collection
WARNER CLASSICS 9029586013 (13CD)
10.50am – Kirsten Gibson on Dowland the Elizabethans
DOWLAND: Lachrimae, or Seaven Teares
Elizabeth Kenny (lute), Phantasm
LINN CKD527 (Hybrid SACD)
David Gorton: Variations On Dowland
DOWLAND: Forlorn Hope Fancy (Fantasie No. 2)
GORTON, D: Flow my tears fall from your springs; Lachrymae Variations; Forlorn Hope; Pavana Lachrymae
MORLEY: Pavan and Galliard
Stefan Ostersjo (guitar), Longbow, Peter Sheppard Skaerved
TOCCATA CLASSICS TOCC0396 (CD)
English Virginal Music from the Golden Age
BYRD: La Volta; My Lady Nevell's Ground
DOWLAND: Time stands still; Pavana Lachrymae (set by William Byrd)
FARNABY, G: Pawles Wharfe
JOHNSON, R: Alman, CXLVI
PURCELL: Suite No. 2 in G minor, Z 661; Air; A New Irish Tune Z646; March in C major, Z 648; Riggadoon, Z653; Suite No. 4 in A minor, Z 663; A New Ground in E minor, Z. T682; Hornpipe
TOMKINS: Ground, MB 5/39
Friederike Chylek (harpsichord)
OEHMS OC1864 (CD)
Music from The Globe's Landmark Productions
BYRD: The Battell
CHARDAVOINE: Une jeune fillette
DOWLAND: Lachrimae, or Seaven Teares; Can she excuse my wrongs? (First Booke of Songes, 1597); Frog Galliard; Mrs Winter's Jump
GERVAISE: Bransle de Champaigne; Pavane di Angletere; Deux Branles Simples; Fin de Galliard
GREEBE: Paduana - Galliard
HOLBORNE: Spring Dance; Wanton; The Funerals; Paradizo
KAMPEN: Come away, Death
MORLEY: Lavolto
PLAYFORD: Half Hannikin/All in a Garden Green/Sellenger's Round
PRAETORIUS, M: Galliard
WEELKES: Tantara Cries
The Musicians of Shakespeare's Globe, Claire van Kampen
GLOBE MUSIC GM002 (CD)
11.45am – Disc of the Week
Tetzlaff Quartet play Schubert & Haydn
HAYDN: String Quartet Op. 20 No. 3 in G minor
SCHUBERT: String Quartet No. 15 in G Major, D887
Tetzlaff Quartet
ONDINE ODE12932 (CD)