Main content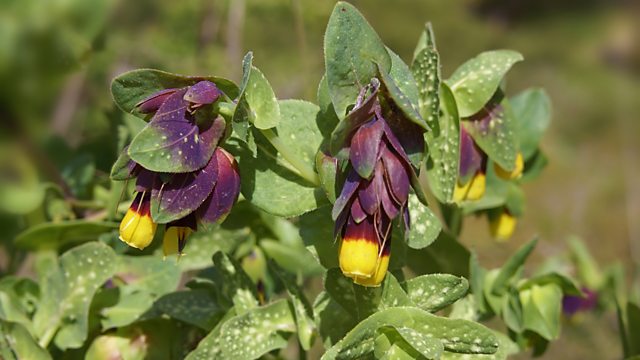 Eric Robson and his panel answer the horticultural questions from Kent. With Anne Swithinbank, Pippa Greenwood and Bob Flowerdew.
Eric Robson and his panel answer the horticultural questions from Kent. Joining him this week are Anne Swithinbank, Pippa Greenwood and Bob Flowerdew.
In the programme they tackle the necessity of crocks in pots, what to grow to engage young children with gardening, and how to decorate a large brick wall with climbers.
For the feature, Matthew Wilson investigates the positive impact of plants in the workplace.
Produced by Dan Cocker
Assistant Producer: Laurence Bassett.
Fact Sheet
Q – Is it necessary to put crocks at the bottom of pots?
Pippa – To me it makes a huge amount of sense
Anne – Plastic pots you don't need to
Bob – Agreed; you need crocks more with earthenware pots
Q – Would you consider that Cerinthe is a weed?
Anne – A weed is just a plant you don't like in the wrong place.   Cerinthe does self-seed but they are very easy to pull out
Bob – There's no such thing as a weed. They are just plants you haven't found a use for yet.
Eric – What about Japanese Knotweed?
Bob – Japanese Knotweed actually attracts one of the Hawk Moths, the shoots are apparently edible, and it's very decorative.
Q – I want to start growing vegetables with my five-year old son. What can you recommend?
Bob – Almost anything.  Quick-growers in pots are great.  A broad bean seed for example.  My kids really enjoy fruit because it's nicer to eat!  Strawberries and blueberries grown in containers are ideal.
Anne – Carrots.  Potatoes.  French beans.  Calabrese.  Herbs too for the scent
Pippa – Don't do radishes! Try sweetcorn if you've got the space
Q – Our garden is a thin skin of turf on rubble, how can we make it into a wildlife-friendly area?
Bob – Put in more native plants.  They attract caterpillars.  Our natives are quite wild so will suit this ground. 
Eric – Yellow rattle would help the soil
Pippa – Try using a barrel as a pond to encourage more wildlife
Q – How long do I need to wait before growing vegetables after chickens have been on the land?
Bob – As soon as you turn the soil it will be wonderful.  Maybe a little bit acidic so you might need to lime it.  Start off with brassicas.  For salad crops I'd put them through horticultural paper or paper tablecloths to keep the soil from splashing onto them.
Anne – You could grow pumpkins
Q – Which gardening practice or tradition should we consider stopping in order to encourage more wildlife?
Bob – Burning prunings.  Make bundles of them instead for wildlife to live in.
Anne – Over-zealous pest control. 
Pippa – Using polystyrene plant trays
Eric – Don't be too tidy!
Bob – Especially with Globe Artichokes, Clematis and Thistles that produce fluffy stuff for birds to use in nests
Q – I have a beautiful 80-foot, south-facing redbrick wall with an established Wisteria at one end.  What climber with scent and colour can you recommend for the wall?
Pippa – Cytisus battanderii (the Pineapple Broom). 
Anne – Roses.  Peachy/apricot ones like 'Lady Hilligdon'.  Through that put through the Chilean potato vine (Solanum crispum) or the Solanum laxum. 
Bob – 'Doyenne du Commise' Pear.  Train it as an espalier.  Get a 'Beurre Hardy' to pollinate.  Then put a grapevine in too – I'd recommend 'Siegerrebe', and 'Boskoop Glory', 'Flame'.  Also, squeeze in a Passiflora caerulea. 
Q –I have a Mimosa tree (4ft tall/1.2m) where should I plant it and how should I care for it?
Anne – This is Acacia dealbata.  It will survive winters down to about -10C.  They need good drainage and some shelter.  Make sure you plant into a moist pot.