Main content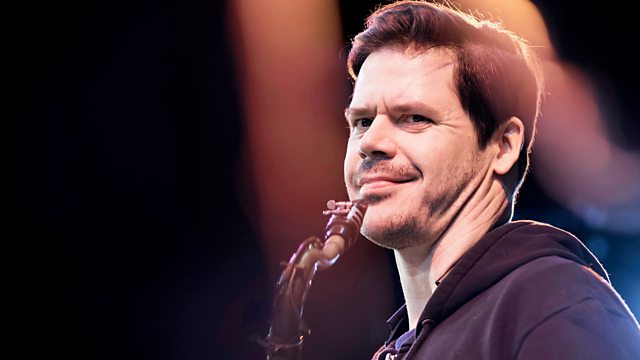 Seamus Blake
Soweto Kinch with a concert set by American saxophonist Seamus Blake recorded during his recent UK tour at 7 Arts in Leeds, with Ross Stanley, organ, and James Maddren, drums. Plus a look forward to the upcoming festival at London's Vortex, celebrating bassist Barry Guy's 70th birthday.
PLAYLIST
DISC
Artist             Soweto Kinch
Title               The Healing
Composer   Kinch
Album           The Legend of Mike Smith
Label             Soweto Kinch Recordings
Number       SKP003 CD 2 Track 39
Duration      57"
Performers:            Soweto Kinch, as, rhodes, prog; Shabaka Hutchings, ts; Karl Rasheed-Abel, b; Graham Godfrey, d. . 2015 
MUSIC by SEAMUS BLAKE ORGAN TRIO
Seamus Blake, tenor; Ross Stanley, Hammond organ; James Maddren, drums. Seven Arts Leeds; 9 Feb 2017.
1) Silver Pockets (Blake) 12.24                                   
2) Willow Weep For Me (Ronell) 13.12                                   
3) The Song That Lives Inside (Blake) 11.54
4) Jupiter Line 11.59
5) Way Out Willie (Blake) 11.48
Soweto chats with Barry Guy
DISC
Artist             Barry Guy – Evan Parker
Title               Alar
Composer   Barry Guy
Album           Birds and Blades
Label             Intakt
Number       080
Duration      3'47"
Performers:            Evan Parker, Sax; Barry Guy, bass   
DISC
Artist             Barry Guy New Orchestra
Title               Inscape – Tableaux Part VII
Composer   Barry Guy
Album           Inscape - Tableaux
Label             Intakt
Number       066
Duration      5'12"
Performers:            Barry Guy, b; Marilyn Crispell, p; Evan Parker, Mats Gustrafsson, sax; Hans Koch, cb cl/sax; Johannes Bauer, tb; Herb Robertson, tp; Per Ake Holmlander, tu; Paul Lytton, Raymond Strid, perc      
DISC
Artist             Maya Homburger – Barry Guy
Title               Promise
Composer   Barry Guy
Album           Tales Of Enchantment
Label             Intakt
Number       202
Duration      2'53"
Performers:            Maya Homburger, baroque violin; Barry Guy, bass      
DISC
Artist             Soweto Kinch
Title               The Healing
Composer   Kinch
Album           The Legend of Mike Smith
Label             Soweto Kinch Recordings
Number       SKP003 CD 2 Track 39
Duration      26"
Performers:            Soweto Kinch, as, rhodes, prog; Shabaka Hutchings, ts; Karl Rasheed-Abel, b; Graham Godfrey, d. . 2015