Main content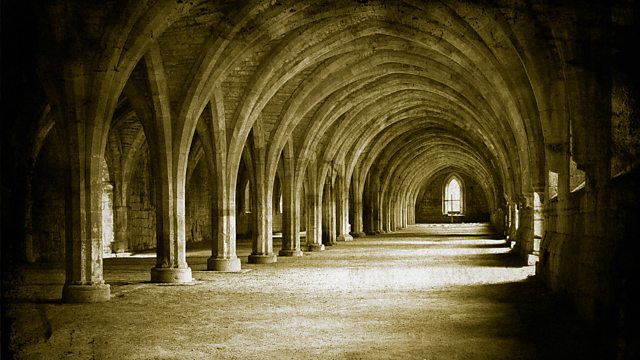 Barak runs for help after Shardlake is attacked while pursuing a lead in the case of a killer inspired by a prophecy from the Book of Revelation. CJ Sansom's Tudor crime novel.
Atmospheric dramatisation of C. J. Sansom's bestselling Tudor crime novel, the fourth in the series featuring lawyer detective Matthew Shardlake.
London, 1543. A serial killer prowls the city, each death worse than the last - but what links the victims? Shardlake has been asked by Archbishop Cranmer to conduct a secret investigation and catch the killer before word of the bloodshed reaches the King: one of the victims was close to Catherine Parr, Henry's current romantic obsession, and an ally of the reformers' cause; Cranmer knows that such a taint will ruin any chance of her becoming Queen. While pursuing a lead, Shardlake has been stabbed by an unknown attacker in a crowded street.
Shardlake must also attend to another pressing case, that of a young man driven mad by the conviction that he is damned and that the Lord has forsaken him. Adam Kite is being held in the Bedlam for his own safety - his wild ranting about Hell and damnation verge on heresy - but Shardlake hopes his friend Guy the Apothecary can help ease his suffering.
Other parts are played by members of the cast.
Dramatist ..... Colin MacDonald
Writer ..... C. J. Sansom
Producer and Director ..... Kirsteen Cameron.
Credits
| Role | Contributor |
| --- | --- |
| Shardlake | Justin Salinger |
| Barak | Bryan Dick |
| Harsnet | Carl Prekopp |
| Guy | Vincent Ebrahim |
| Adam | Luke MacGregor |
| Cantrell | David Seddon |
| Lockley | Patrick Brennan |
| Bunce | Clare Perkins |
| Meaphon | Sean Baker |
| Bystander | Kirsty Oswald |
| Director | Kirsteen Cameron |
| Producer | Kirsteen Cameron |
| Author | CJ Sansom |
| Adaptor | Colin MacDonald |