The Stately Pleasure Dome
Poet Michael Symmons Roberts gets under the glowing domes of Manchester's Intu Trafford Centre, the largest shopping centre ever seen in the UK when it was built in 1998, to argue that it makes a unique poetic and architectural statement. It's a landmark that attracts more than thirty million visitors a year, and displays over two thousand works of art. Michael ventures behind its facades to ask whether we've been looking at this building in the right way, and to find inspiration for new poetry.
The main dome of this shopping centre is one of its most evocative and striking features - Michael has long thought of it as a relative of Samuel Taylor Coleridge's 'stately pleasure dome' from his great poem 'Kubla Khan'. Michael discovers that this 'people's palace' has uncanny echoes of 'Kubla Khan' - from the dome itself, through to the 'intermittent fountains' and the presiding figure of 'Kubla Khan'.
Music was specially composed for this documentary by Scanner, a musician who has long experimented with the terrain between sound, space, and image. Scanner was asked to help Michael find a way to tune into the visual music of a building that can hard be to take in - because of its sheer scale and detail. He has previously worked on projects with artists including Bryan Ferry, Wayne MacGregor, Michael Nyman, Steve McQueen, and Laurie Anderson. Michael Symmons Roberts' new collection of poems 'Mancunia' will be published later this year.
Coleridge's 'Kubla Khan' is also part of the soundscape, performed here by members of INTU staff, who work under the changing light of a real stately pleasure dome.
Presenter: Michael Symmons Roberts
Composer: Scanner
Studio Manager: Sue Stonestreet
Producer: Faith Lawrence.
Michael Symmons Roberts in the Great Hall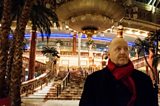 Image Credit: Martin Bence
Michael in the Great Dome with the mural that is said to feature a Manchester United Scarf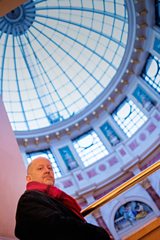 Image credit: Martin Bence
Michael looks into one of the Intu Trafford Centre's domes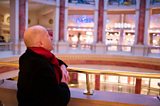 Image credit: Martin Bence
Michael overlooking Circe's fountain on Regent Crescent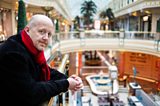 Image credit: Martin Bence