Main content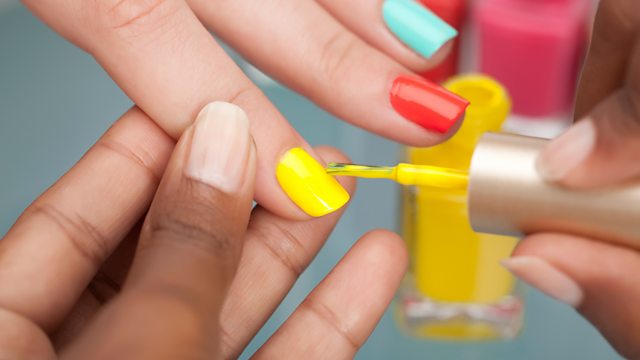 Nail treatments, Food waste, BBC accounts
The risks of doing nail treatments at home. Could clearer labels reduce the amount of food we throw away? Yet another password to remember, this time for the BBC iPlayer.
Leading skin care experts have told You & Yours they've seen a surge in serious allergic reactions to some nail treatment products. They are concerned about the safety of using these products at home, though they are widely sold in high streets shops and online. Dermatologists are worried about a number of chemicals used to bond and cure acrylic and gel nail treatments. If used correctly they are harmless, but experts believe their increased use at home is leading to more and more serious allergic reactions.
The campaign group Wrap claims that 350,000 tonnes of edible food, worth a billion pounds a year, is being needlessly thrown away in the UK and the waste could be prevented by simple changes to the dates and advice on food packaging. In a recent report, the group says that although retailers have helped to reduce food waste, many shoppers are still baffled by labels. We ask the Food and Drink Federation what more the industry could do to help us cut down on the amount of food we throw away.
If you use the BBC iPlayer, you will soon have to set up a personal account with the BBC and login using a password. The BBC says it will allow them to offer a more personalised service, and suggest programmes that people might like, based on what they have watched in the past. To set up an account, you will need to put in your postcode and some have suggested that this could be used to help enforce payment of the licence fee. The BBC says it has no current plans to do this. Others complain that it will mean remembering another password, so they can use a service they have already paid for. A senior BBC executive explains why the change is being made.
Producer: Jonathan Hallewell
Presenter: Winifred Robinson.
Chapters
Home Nail Treatments

Serious allergic responses to chemicals used in some home nail treatments.

Duration: 07:26

DIY Train Companies

The communities coming together to restore train services.

Duration: 06:43

Food Waste

Could improved food labelling dramatically reduce the amount of food we throw away?

Duration: 06:26

Park Homes Rally

Park home residents who object to paying 10% to park owners when they sell their homes.

Duration: 06:37

Odd Shoes

An odd shoes trend is gaining popularity since being featured in Paris Fashion Week

Duration: 02:24

BBC Accounts

Logging into an account to use the BBC iPlayer.

Duration: 04:43

Insurance Renewals

Insurers are forced to remind you of last year's premium, when you renew your policy.

Duration: 06:24