Main content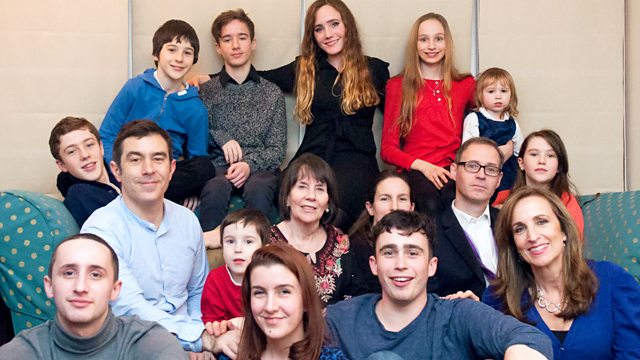 Smile! The Nation's Family Album
Using images and stories from different families and generations, a revealing portrait how of we have documented our changing lives through the family photograph.
In today's digital age, the classic family photo album has become an object of nostalgic affection. But it's much more than just a collection of sentimental snapshots.
Celebrating everyday moments and shared experiences, family photography offers an intimate portrait of Britain's postwar social history. And each generation had a different camera to tell their story.
Discovering how new technologies and evolving social attitudes inspired the nation to pick up a camera, the film charts a journey from the Box Brownie to Instagram, offering a touching portrait of our changing lives, taken not by the professional photographer but on our own cameras.
With increasingly affordable, quick-to-load and easy-to-use cameras, domestic photography became part of family life in the 20th century.
Suddenly we could all now document our family's celebrations, holidays and hobbies, and capture the most fleeting and precious memories, from birth to death.
We became a nation obsessed with taking photos, and tirelessly curating scrapbooks, and filling shoeboxes and albums with pictures that tell our family's own story.
But with the advent of digital cameras, the era of patiently waiting for the holiday snaps to come back from the processor and carefully arranging them in photo albums feels a long way from today's frenzy of digital images, instantly shared and uploaded...
The film features expert voices explaining the impact of different camera technologies, the role of Kodak in helping create an industry of popular photography, the impact of the digital revolution and the way changes in family photography have also reflected shifts in the family dynamic itself. It's no longer just dad in control of the camera, and mobile phones and social media have turned kids into photographers from a young age...
Among the stories featured in the film...
Using her father's Box Brownie as a young girl, then armed with the latest Kodak instamatic in her teens, and now using a digital SLR, Jenny Bowden's photos capture the past 60 years, from the 1950s street parades to the 60s mods, the 70s fashions when she married and started her own family, the various birthdays, graduations and weddings and deaths, and in the past decade the arrival of her own grandchildren, her albums span across her house. Today when her grandchildren visit, they head straight to the shelves as they love to flick through the albums and see themselves as babies.
Besotted and first-time mum Astrid has taken thousands of photos on her iPhone of her son Alexander since his birth eight months ago. Unlike her own mother Terry, whose photos of Astrid as a baby were considered and less frequent due to the costs of 35mm film, Astrid has the luxury of snapping away all day, taking advantage of the ease and low costs of the digital age, as she records her and Alexander's first year together. Proud Astrid spreads the happiness Alexander brings with Terry and other family via WhatsApp and Instagram.
We meet the English eccentric John Dobson, who has 161 carefully annotated scrapbooks - and counting! His careful curating of happy family memories helped him overcome his own childhood spent in a children's home.
We also meet the devoted Yorkshire dad Ian Macleod, who took a photo of his son every single day until his 21st birthday, and the Slight family in Essex, whose larger-than-life characters grew up in a pub and captured an East End way of life that no longer exists.
And we discover the emotional impact of family photos, with a family movingly sharing the very last film taken on a father's camera before he died.
From the extraordinary to the mundane, family photos capture the intimate moments of our lives. Often overlooked in the official story of photography, this film champions the family photo and the unique portrait it reveals of how the nation tells its own story.
Clips

Music Played
Timings (where shown) are from the start of the programme in hours and minutes
Credits
| Role | Contributor |
| --- | --- |
| Producer | Kath Pick |
| Director | Kath Pick |
| Executive Producer | Richard Bright |