Main content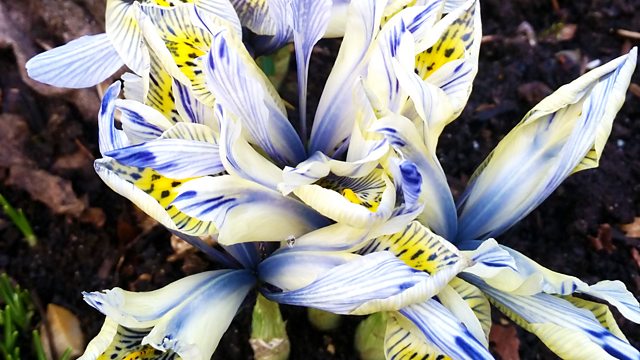 Eric Robson and the panel are in Fife.
Produced by Dan Cocker
Assistant Producer: Laurence Bassett
A Somethin' Else production for BBC Radio 4.
Fact Sheet
Q – I want to grow pumpkins, how do I do it?
Anne – you need to plant several to pollinate each other. Grow 'Crown Prince' – but it is not big and orange. You could use the 'three sisters' method and grow runner beans, sweetcorn and squash plants together.
Bunny – Collect compost now in a large bag. Move pumpkins from the greenhouse to a builders' bag in May. They take a lot of watering.
Q – We have a large, old Holly tree which continually sheds its leaves, is it dying?
Bunny – Holly can get a vascular disease with small black spots and it defoliates them. To stop this, you can lift the lower foliage to keep the leaves clear of splashing from the ground. You could add a bark mulch all around (but not against the trunk), 150mm thick to increase the health of the micro-organisms.
Q – Every year my Solomon's Seal is decimated by Sawfly, what can I do?
Matthew – I would cultivate it when cold and dry, and then cover it over with a thick layer of mulch.
Anne – You could use a certain nematode. I look up the life cycle and understand it in order to outwit it. 
Q – Could the panel suggest an alternative to Stipa gigantea (Giant Feathergrass) to use with Verbena bonariensis to create a see-through screen.
Matthew – Molinia 'Transparent' which grows later in the season and flowers in August.
Bunny – Luzula is an evergreen grass. Liriope muscari (Lily Turf) has good blue flowers.
Anne – You could use a lot of Allium 'Purple Sensation', Gillenia trifoliate or Gaura lindheimeri.
Q – I bought two small patio lilac trees which haven't been growing well, how best can I revive them?
Anne – Put them in larger pots with some compost and mix with John Innes (grit) and some garden soil. Keep them moist but don't over water them.
Q – What climbing plant would the panel suggest for a sheltered spot on an east-facing, 6ft (1.8m) fence in a long thin garden?
Bunny – You could try Hydrangea seemanii. Campsis radicans has a red flower that takes a few years to begin flowering but is very special when it does.
Anne - Garrya elliptica (silk tassel bush) or Abelia phylum distichum (White Forsthiya) which is perfumed.
Matthew - Itea ilicifolia is a long tassel plant or Clematis alpina has blue flowers.
Q – Our garden is now turf and pebbles and gabion basket walls, what can we plant?
Bunny – Lots of herbs such as Thyme and Lavender.
Anne – Wallflowers and Aubretia. Hardy roses would grow up well.
Matthew – You could use Clematis Montana to climb up the baskets.