Main content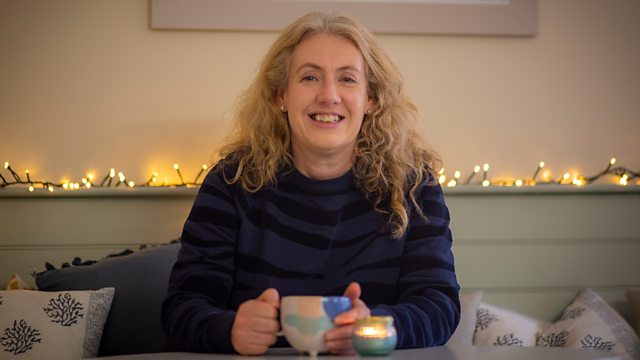 National Butchers' Week
Neil Forbes gives a masterclass in how to joint a chicken for National Butchers' Week, plus Sumayya Usmani cooks an easy spicy lunch or midweek tea.
We are unashamedly meaty on this week's Kitchen Cafe! For National Butchers' week, Chef Neil Forbes gives us a masterclass in how to joint a chicken and Sumayya Usmani turns the simplest of ingredients into a deliciously spicy and different quick lunch or midweek tea. Plus, we visit rare breed goat farmer Ruth Harris in Strathaven and find out about the art of charcuterie from craft butcher Rachel Hammond at the Edinburgh Farmers' Market.
Chicken ginger karhai by Sumayya Usmani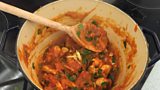 Ingredients
350 g chicken, thigh pieces cut into 2 inch pieces
6-8 tomatoes, chopped roughly
1 clove garlic, crushed
1 tbsp ghee or 1 tbsp unsalted butter and 2 tsp vegetable oil together
1 tsp cumin
1/2 tsp crushed black peppercorn
1 tsp crushed dry roasted coriander seeds
1 dried red chilli
salt to taste
fresh coriander leaves, chopped
1 inch fresh ginger, julienned
Method
Add chopped tomatoes, garlic and chicken to a wok style pan and let them boil until all the moisture from the tomatoes starts to dry and the chicken is cooked through. Tomatoes should be soft and very little liquid left.
Add ghee, cumin and start to stir fry until combined. Add pepper, coriander seeds (crushed), one dried red chilli and salt. Stir fry until combined.
To serve, top with julienned ginger and chopped coriander leaves.
Podcast
Celebrate the joy of Scotland's larder with recipes, reviews, tips and delicious ideas!