Main content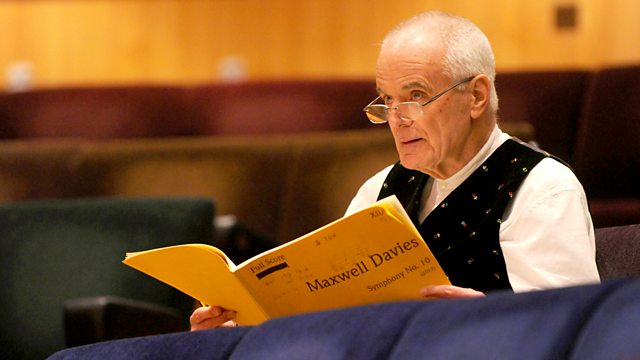 Rage Against the Dying of the Light
Donald Macleod on Maxwell Davies's remarkable journey from enfant terrible to Master of the Queen's Music, as well as his music for the Anglican liturgy and his last symphony.
Donald Macleod explores the music of Peter Maxwell Davies, who died a year ago this week at the age of 81. The contribution this former Master of the Queen's Music had made to the musical life of these islands as a hugely prolific composer, performer and teacher, is incalculable. Born in Salford in the 1930s, one of the composer's first musical memories was listening to foxtrot records under his parents' staircase as the bombs were falling during the Second World War. In the 1960s he was considered the 'enfant terrible' of new British music, writing the soundtrack for Ken Russell's controversial film 'The Devils' and even provoking an audience walk-out during the BBC Proms. However his music and life was to change as he came under the spell of the desolate Orkney islands, which he first visited in the early 1970s before moving there a few years later for the rest of his life.
By the turn of the twenty-first century, Maxwell Davies had completed a remarkable journey from enfant terrible to a highly decorated figure within the music world. A lifelong republican, he received a knighthood before taking the post of Master of the Queen's Music from 2004 for a decade. He insisted that by taking these titles his voice and opinions would carry more weight. He spoke out against the closure of music libraries and the declining standard of music education in British schools. His music was never shy of tackling environmental issues or reflecting his pacifism, as in his third Naxos Quartet, written at the outset of the Iraq war in 2003.
Fanfare for Lowry
The Wallace Collection
Naxos Quartet No.3 (first movement)
Maggini Quartet
Magnificat and Nunc Dimitis (The Edinburgh Service)
Michael Bonaventure, organ
Choir of St Mary's Cathedral, Edinburgh
Matthew Owens, conductor
Symphony No.10 (part four)
Markus Butter, baritone
London Symphony Chorus
London Symphony Orchestra
Antonio Pappano, conductor
Lullaby for Lucy
Choir of St Mary's Cathedral, Edinburgh
Peter Maxwell Davies, conductor.
More episodes
Next
You are at the last episode